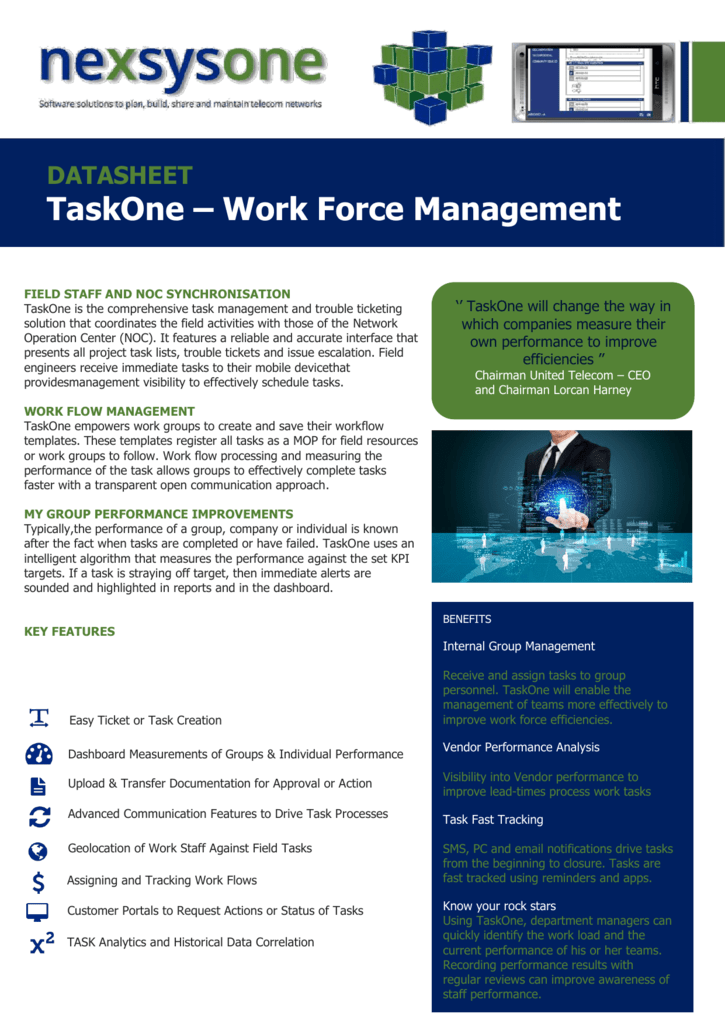 DATASHEET
TaskOne – Work Force Management
FIELD STAFF AND NOC SYNCHRONISATION
TaskOne is the comprehensive task management and trouble ticketing
solution that coordinates the field activities with those of the Network
Operation Center (NOC). It features a reliable and accurate interface that
presents all project task lists, trouble tickets and issue escalation. Field
engineers receive immediate tasks to their mobile devicethat
providesmanagement visibility to effectively schedule tasks.
'' TaskOne will change the way in
which companies measure their
own performance to improve
efficiencies ''
Chairman United Telecom – CEO
and Chairman Lorcan Harney
WORK FLOW MANAGEMENT
TaskOne empowers work groups to create and save their workflow
templates. These templates register all tasks as a MOP for field resources
or work groups to follow. Work flow processing and measuring the
performance of the task allows groups to effectively complete tasks
faster with a transparent open communication approach.
MY GROUP PERFORMANCE IMPROVEMENTS
Typically,the performance of a group, company or individual is known
after the fact when tasks are completed or have failed. TaskOne uses an
intelligent algorithm that measures the performance against the set KPI
targets. If a task is straying off target, then immediate alerts are
sounded and highlighted in reports and in the dashboard.
KEY FEATURES
Easy Ticket or Task Creation
Dashboard Measurements of Groups & Individual Performance
BENEFITS
Internal Group Management
Receive and assign tasks to group
personnel. TaskOne will enable the
management of teams more effectively to
improve work force efficiencies.
Vendor Performance Analysis
Upload & Transfer Documentation for Approval or Action
Visibility into Vendor performance to
improve lead-times process work tasks
Advanced Communication Features to Drive Task Processes
Task Fast Tracking
Geolocation of Work Staff Against Field Tasks
SMS, PC and email notifications drive tasks
from the beginning to closure. Tasks are
fast tracked using reminders and apps.
Assigning and Tracking Work Flows
Customer Portals to Request Actions or Status of Tasks
TASK Analytics and Historical Data Correlation
Know your rock stars
Using TaskOne, department managers can
quickly identify the work load and the
current performance of his or her teams.
Recording performance results with
regular reviews can improve awareness of
staff performance.