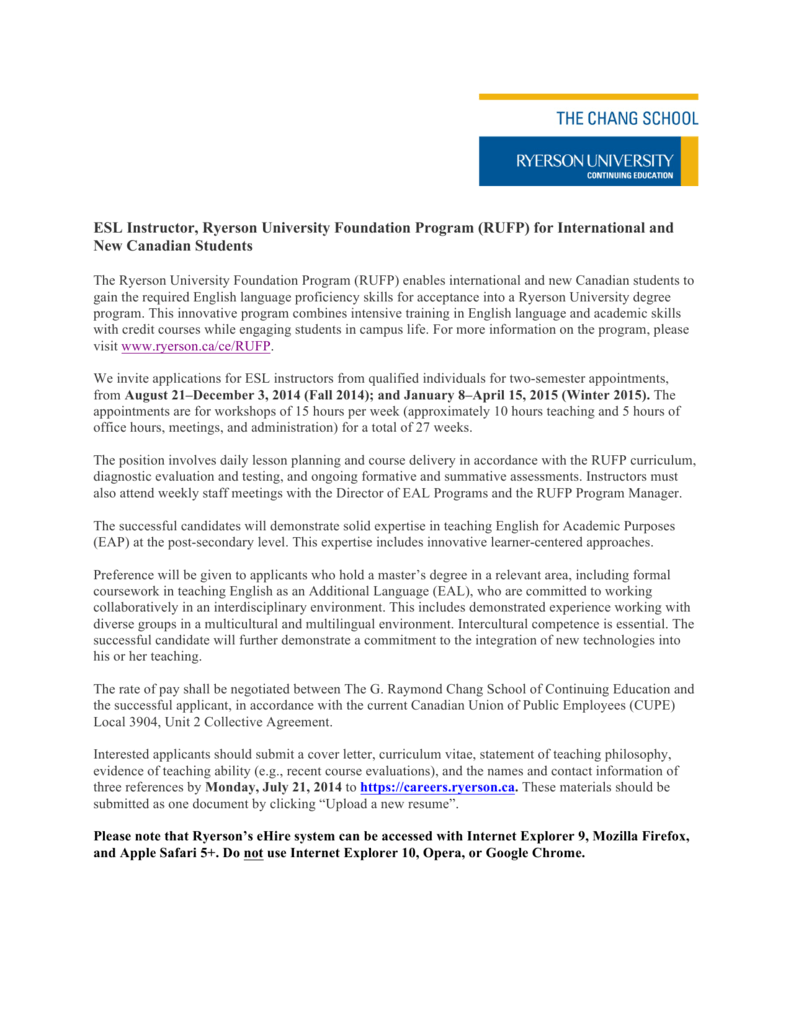 ESL Instructor, Ryerson University Foundation Program (RUFP) for International and
New Canadian Students
The Ryerson University Foundation Program (RUFP) enables international and new Canadian students to
gain the required English language proficiency skills for acceptance into a Ryerson University degree
program. This innovative program combines intensive training in English language and academic skills
with credit courses while engaging students in campus life. For more information on the program, please
visit www.ryerson.ca/ce/RUFP.
We invite applications for ESL instructors from qualified individuals for two-semester appointments,
from August 21–December 3, 2014 (Fall 2014); and January 8–April 15, 2015 (Winter 2015). The
appointments are for workshops of 15 hours per week (approximately 10 hours teaching and 5 hours of
office hours, meetings, and administration) for a total of 27 weeks.
The position involves daily lesson planning and course delivery in accordance with the RUFP curriculum,
diagnostic evaluation and testing, and ongoing formative and summative assessments. Instructors must
also attend weekly staff meetings with the Director of EAL Programs and the RUFP Program Manager.
The successful candidates will demonstrate solid expertise in teaching English for Academic Purposes
(EAP) at the post-secondary level. This expertise includes innovative learner-centered approaches.
Preference will be given to applicants who hold a master's degree in a relevant area, including formal
coursework in teaching English as an Additional Language (EAL), who are committed to working
collaboratively in an interdisciplinary environment. This includes demonstrated experience working with
diverse groups in a multicultural and multilingual environment. Intercultural competence is essential. The
successful candidate will further demonstrate a commitment to the integration of new technologies into
his or her teaching.
The rate of pay shall be negotiated between The G. Raymond Chang School of Continuing Education and
the successful applicant, in accordance with the current Canadian Union of Public Employees (CUPE)
Local 3904, Unit 2 Collective Agreement.
Interested applicants should submit a cover letter, curriculum vitae, statement of teaching philosophy,
evidence of teaching ability (e.g., recent course evaluations), and the names and contact information of
three references by Monday, July 21, 2014 to https://careers.ryerson.ca. These materials should be
submitted as one document by clicking "Upload a new resume".
Please note that Ryerson's eHire system can be accessed with Internet Explorer 9, Mozilla Firefox,
and Apple Safari 5+. Do not use Internet Explorer 10, Opera, or Google Chrome.