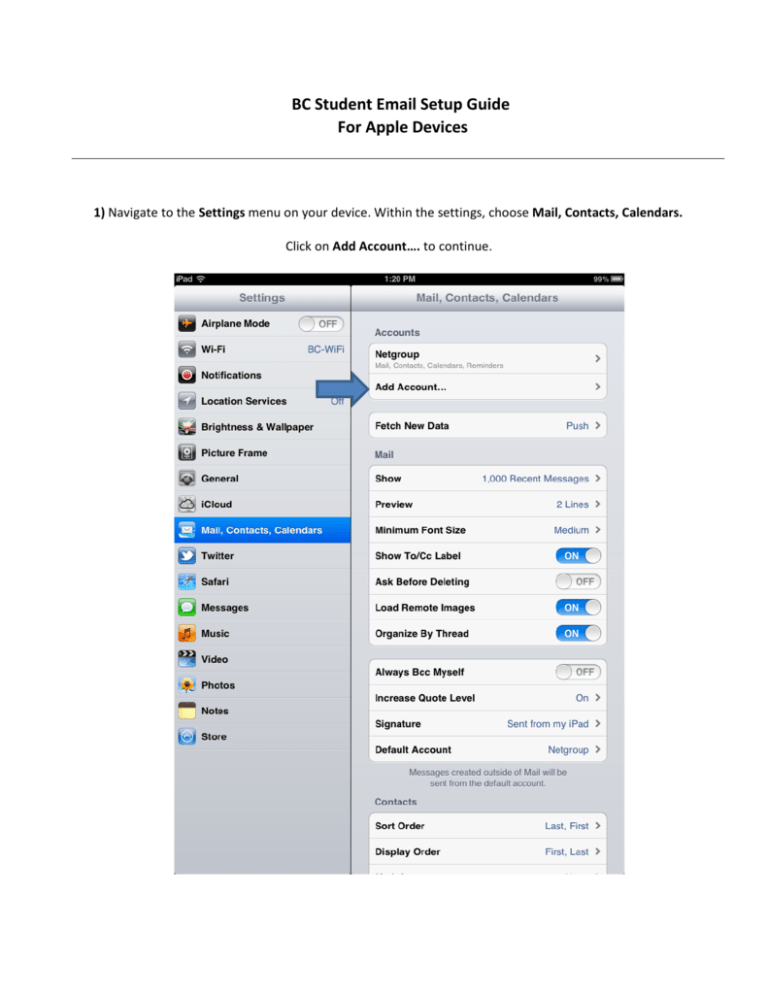 BC Student Email Setup Guide
For Apple Devices
1) Navigate to the Settings menu on your device. Within the settings, choose Mail, Contacts, Calendars.
Click on Add Account…. to continue.
2) Select Exchange as the account type.
3) Enter the following credentials:
• Email address: Your full BC student email address (e.g. jane.doe90@bcmail.brooklyn.cuny.edu)
• Server: studmail.brooklyn.cuny.edu
• Domain: leave blank
• Username: Your BC Email ID, followed by @bcacad.local (e.g. jane.doe90@bcacad.local)
• Password: Your regular Brooklyn College email password
• Description: Whatever you would like the mailbox to be named within your device
Note: If you are unsure of your credentials, please verify within the "My Info" tab of the Brooklyn College
WebCentral portal.
Make sure to click on Save to continue.
4) Once the account settings have been verified, you will see a screen asking if you would like to sync the Mail,
Contacts, Calendars, and Reminders of this account. By default, all are enabled. You may change these if you
prefer to. Click on save once more to proceed.
Your BC Email should now be setup.
To access it, please open up your default mail app, and select it from the list of available mailboxes.