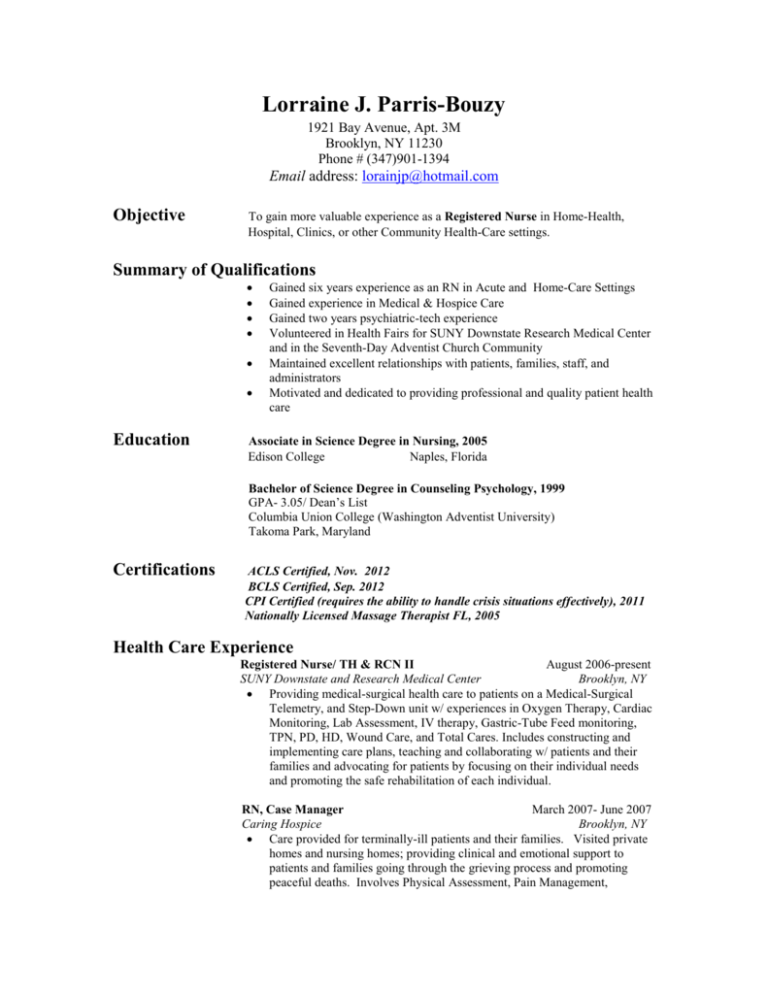 Lorraine J. Parris-Bouzy
1921 Bay Avenue, Apt. 3M
Brooklyn, NY 11230
Phone # (347)901-1394
Email address: lorainjp@hotmail.com
Objective
To gain more valuable experience as a Registered Nurse in Home-Health,
Hospital, Clinics, or other Community Health-Care settings.
Summary of Qualifications






Education
Gained six years experience as an RN in Acute and Home-Care Settings
Gained experience in Medical & Hospice Care
Gained two years psychiatric-tech experience
Volunteered in Health Fairs for SUNY Downstate Research Medical Center
and in the Seventh-Day Adventist Church Community
Maintained excellent relationships with patients, families, staff, and
administrators
Motivated and dedicated to providing professional and quality patient health
care
Associate in Science Degree in Nursing, 2005
Edison College
Naples, Florida
Bachelor of Science Degree in Counseling Psychology, 1999
GPA- 3.05/ Dean's List
Columbia Union College (Washington Adventist University)
Takoma Park, Maryland
Certifications
ACLS Certified, Nov. 2012
BCLS Certified, Sep. 2012
CPI Certified (requires the ability to handle crisis situations effectively), 2011
Nationally Licensed Massage Therapist FL, 2005
Health Care Experience
Registered Nurse/ TH & RCN II
August 2006-present
SUNY Downstate and Research Medical Center
Brooklyn, NY
 Providing medical-surgical health care to patients on a Medical-Surgical
Telemetry, and Step-Down unit w/ experiences in Oxygen Therapy, Cardiac
Monitoring, Lab Assessment, IV therapy, Gastric-Tube Feed monitoring,
TPN, PD, HD, Wound Care, and Total Cares. Includes constructing and
implementing care plans, teaching and collaborating w/ patients and their
families and advocating for patients by focusing on their individual needs
and promoting the safe rehabilitation of each individual.
RN, Case Manager
March 2007- June 2007
Caring Hospice
Brooklyn, NY
 Care provided for terminally-ill patients and their families. Visited private
homes and nursing homes; providing clinical and emotional support to
patients and families going through the grieving process and promoting
peaceful deaths. Involves Physical Assessment, Pain Management,
Interdisciplinary Referrals, and Collaboration for effective treatment plans
rendered, meanwhile, promoting safety.
RN, Case Manager
June 2006-Nov. 2006
Alternate Staffing
Brooklyn, NY
 Visited clients and their families in the Brooklyn, Queens, Manhattan, and
Bronx areas. Assessed clients for clinical needs, administered and
organized medications for clients, provided wound care and nutrition
counseling, and provided health based teaching for clients and their families,
and constructed treatment plans for their home-health care nursing assistants
to follow through as well as coordinated nursing assistant & home attendant
visits billed by the client's appropriate insurance plan. As well as asessed
each client's homes environment for safety concerns and disaster
preparedness.