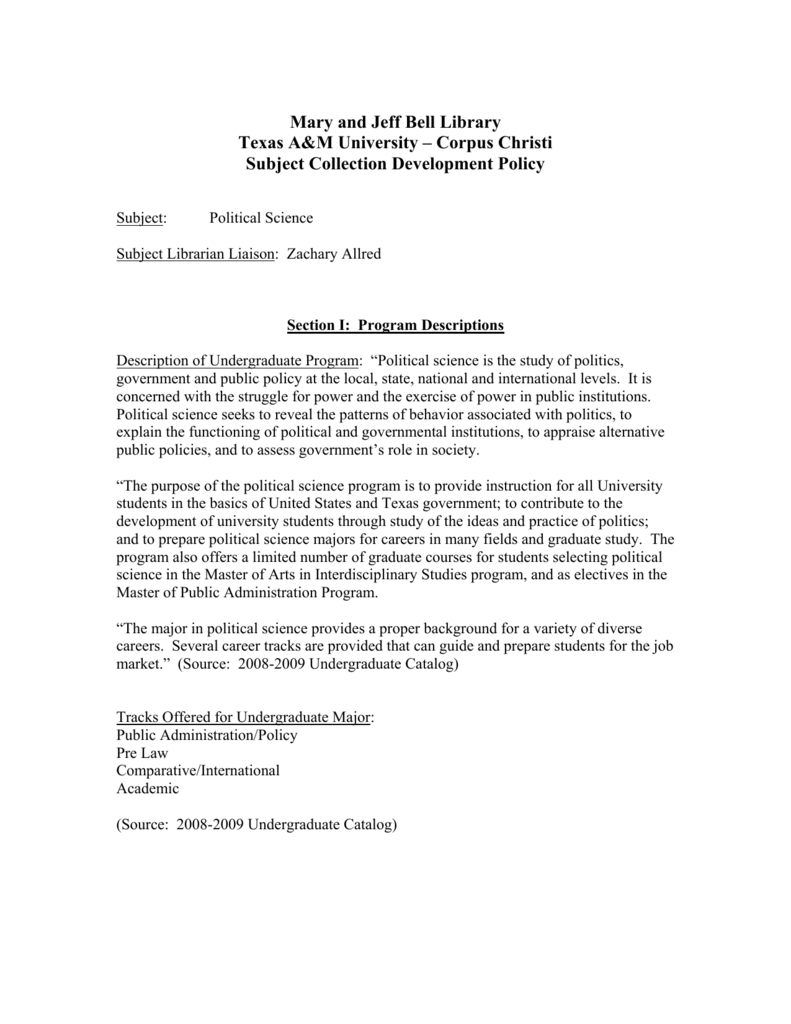 Mary and Jeff Bell Library
Texas A&M University – Corpus Christi
Subject Collection Development Policy
Subject:
Political Science
Subject Librarian Liaison: Zachary Allred
Section I: Program Descriptions
Description of Undergraduate Program: "Political science is the study of politics,
government and public policy at the local, state, national and international levels. It is
concerned with the struggle for power and the exercise of power in public institutions.
Political science seeks to reveal the patterns of behavior associated with politics, to
explain the functioning of political and governmental institutions, to appraise alternative
public policies, and to assess government's role in society.
"The purpose of the political science program is to provide instruction for all University
students in the basics of United States and Texas government; to contribute to the
development of university students through study of the ideas and practice of politics;
and to prepare political science majors for careers in many fields and graduate study. The
program also offers a limited number of graduate courses for students selecting political
science in the Master of Arts in Interdisciplinary Studies program, and as electives in the
Master of Public Administration Program.
"The major in political science provides a proper background for a variety of diverse
careers. Several career tracks are provided that can guide and prepare students for the job
market." (Source: 2008-2009 Undergraduate Catalog)
Tracks Offered for Undergraduate Major:
Public Administration/Policy
Pre Law
Comparative/International
Academic
(Source: 2008-2009 Undergraduate Catalog)
Undergraduate Catalog Course Listings: The course listings are available in the
University's Undergraduate Catalog, which is available at:
http://www.tamucc.edu/academics/index.html
Section II: Collection Levels
The designated collection levels will provide the appropriate support for the University's
curriculum and academic programs.
The library adheres to library collection standards set by the State Higher Education
Coordinating Board (http://www.thecb.state.tx.us/), the Southern Association of Colleges
and Schools (http://www.sacs.org/), and other accreditation agencies
Subjects
LC Call Number Range
Collection Level
General Legislative and Executive Papers
United States
Presidents' Messages/Papers
Other Regions and Countries
J (1)-981
J 80-87
J 80-82
J 100-981
3
3
2
1
Political Science (General)
Congresses
History
JA 1-92
JA 35.5
JA 81-84
2
1
2
Political Theory
Oriental State
Islamic State
Ancient State
Medieval State
Modern State
Nationalism
Political Geography
Forms of State
JC 11-605
JC 47
JC 49
JC 51-93
JC 109-121
JC 131-273
JC 311-314
JC 319-323
JC 348-397
2
1
1
1
0
1
1
1
2
Political Institutions and Public Administration
Comparative Government
History
Organs and Functions of Gov.
Political Rights & Participation
Public Administration
Civil Service
Political Parties
JF 20-2112
JF 20-1177
JF 51-56
JF 225-619
JF 799-1177
JF 1338-2112
JF 1501-1521
JF 2011-2112
2
2
1
1
2
2
1
1
Political Institutions and Public Administration (North America)
JJ 1000-1019
1
Political Institutions and Public Administration (United States)
JK 1-9993
United States
JK 1-9593
Government
JK 404-1685
Political Rights
JK 1717-2217
Political Parties
JK 2255-2391
State Government
JK 2403-9593
Confederated States of America
JK 9663-9993
3
3
3
2
2
2
1
Political Institutions and Public Administration (Canada, Latin America, etc.)
JL 1-3899
2
Canada
JL 1-500
1
West Indies/ Caribbean
JL 599.5-839
1
Mexico
JL 1200-1299
2
Central America
JL 1400-1679
2
South America
JL 1850-3899
2
Political Institutions and Public Administration (Europe)
JN 1-9689
General
JN 1-97
2
1
Political Institutions and Public Administration (Asia, Africa, Australia, Pacific, etc.)
JQ 21-6651
1
Asia
JQ 21-1852
1
Africa
JQ 1870-3981
1
Atlantic Ocean Islands
JQ 3981.5-3986.7
1
Australia, New Zealand, Pacific Islands
JQ 3995-6651
1
Local and Municipal Governments
History
Executive Branch/Mayor
Legislative
Elections
United States
JS 39-8500
JS 55-68
JS 141-163
JS 171
JS 221-227
JS 300-1583
1
1
1
0
1
1
Colonies, Colonization, Emigration, Immigration and International Migration
JV 1-9480
1
Colonies and Colonization
JV 1-5397
1
Societies
JV 10-19
0
History
JV 61-152
1
Colonizing Nations
JV 500-5397
1
Emigration, Immigration and International Migration
JV 6001-9480
Emigration
JV 6091-6124
Immigration
JV 6201-6347
United States
JV 6403-7127
2
1
2
2
International Relations
JZ 5-6530
Societies, Associations, Academies, Institutions, etc. JZ 24-38
Scope of International Relations/Political Theory
JZ 1305-2060
State Territory and its Parts
JZ 3674-3875
Promotion of Peace
JZ 5511.2-6300
The Armed Conflict/War and Order
JZ 6385-6405
Neutrality
JZ 6422-6422.5
Humanitarian Aspects of War
JZ 6530
1
0
1
1
1
1
1
1
Please note that the Mary and Jeff Bell Library is a Selective Federal Depository and the
materials in the Government Documents Collection are available for student, faculty and
public use. However, materials from the Government Documents Collection do not
factor in to the collection levels listed above.
Section III: Preferred Collection Formats and Languages
Preferred Collection Format(s):
Electronic for periodicals and indexes; Print for
monographs.
Lower-Priority Collection Formats: Microform.
Language:
English is the language of the collection.
Section IV: Noteworthy Publishers:
Houghton Mifflin
Holt, Rinehart & Winston
Macmillan
Lexington Books
HarperCollins
http://www.hmco.com/indexf.html
http://holtmcdougal.hmhco.com/hm/home.htm
http://us.macmillan.com/
http://www.lexingtonbooks.com/
http://www.harpercollins.com/
Section V: Specialized Lists/Bibliographies in this Subject Area:
Guide to the Records of the United States Senate at the National Archives, 1789-1989 /
Robert W. Coren ... [et al.] ; prepared under the direction of Walter J. Stewart
Washington, D.C. : U.S. G.P.O., 1989 [CD3042 .S46 U54]
Guide to U.S. Government Publications / Donna Batten, Editor; Michigan: Thomson
Gale; 2008 [Z1223 .Z7 A574]
Section VI: Weeding Policy
(Including Frequency of Collection Assessment):
The collections for Political Science (in the Main and Reference collections) will be
examined, and weeded, every 3 years.
Weeding criteria include (1) Currency and relevance of material to the curriculum;
(2) Updated/revised editions; and (3) Physical condition of the title (please see the
"Weeding" section of the General Collection Development Policy).
Section VII: Gift Policy:
The library will accept donations of materials (monographs, periodicals, etc.) in this
subject area. All donors are encouraged to fill out, and sign, a form with the Technical
Services Department when the library accepts those materials. If the donor allows the
library to keep all donated materials, then the library has the discretion about whether to
integrate those materials into the collections or use them in another capacity, such as: (1)
Donating those titles to another library; (2) Including them in the annual book sale; or (3)
Recycling the materials if no other parties or organizations can use the materials.
However, the donor can also specify on the form that they would like all donated
materials returned to them if the library cannot add those materials to the collections.
The library will add gift books to the collections only if they support the curriculum and
student research in Political Science.
The Library will generally add print periodical titles to its collections under the following
conditions: (1) The library already has a current subscription to that title; (2) The library
has determined that there is adequate room for older print volumes of that title; (3) The
library does not own those titles but they fit the subject's selection criteria.
Revised by Z. Allred, 7/21/09.
Approved by Library Director, 8/15/2009.