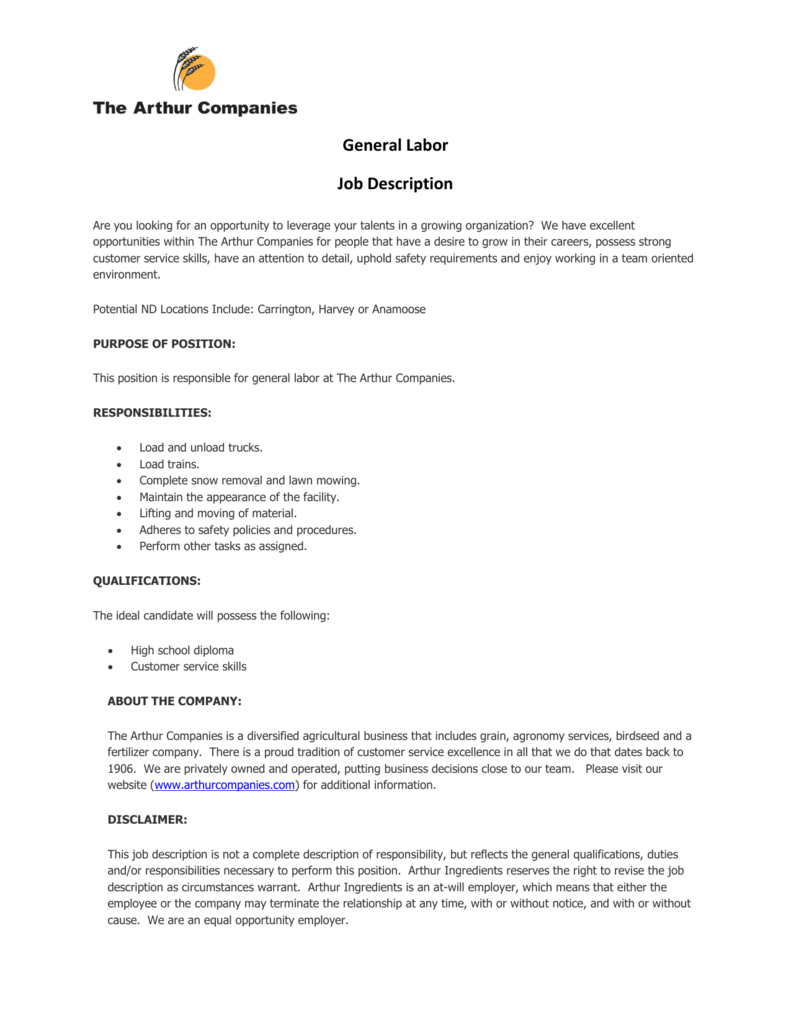 General Labor
Job Description
Are you looking for an opportunity to leverage your talents in a growing organization? We have excellent
opportunities within The Arthur Companies for people that have a desire to grow in their careers, possess strong
customer service skills, have an attention to detail, uphold safety requirements and enjoy working in a team oriented
environment.
Potential ND Locations Include: Carrington, Harvey or Anamoose
PURPOSE OF POSITION:
This position is responsible for general labor at The Arthur Companies.
RESPONSIBILITIES:







Load and unload trucks.
Load trains.
Complete snow removal and lawn mowing.
Maintain the appearance of the facility.
Lifting and moving of material.
Adheres to safety policies and procedures.
Perform other tasks as assigned.
QUALIFICATIONS:
The ideal candidate will possess the following:


High school diploma
Customer service skills
ABOUT THE COMPANY:
The Arthur Companies is a diversified agricultural business that includes grain, agronomy services, birdseed and a
fertilizer company. There is a proud tradition of customer service excellence in all that we do that dates back to
1906. We are privately owned and operated, putting business decisions close to our team. Please visit our
website (www.arthurcompanies.com) for additional information.
DISCLAIMER:
This job description is not a complete description of responsibility, but reflects the general qualifications, duties
and/or responsibilities necessary to perform this position. Arthur Ingredients reserves the right to revise the job
description as circumstances warrant. Arthur Ingredients is an at-will employer, which means that either the
employee or the company may terminate the relationship at any time, with or without notice, and with or without
cause. We are an equal opportunity employer.