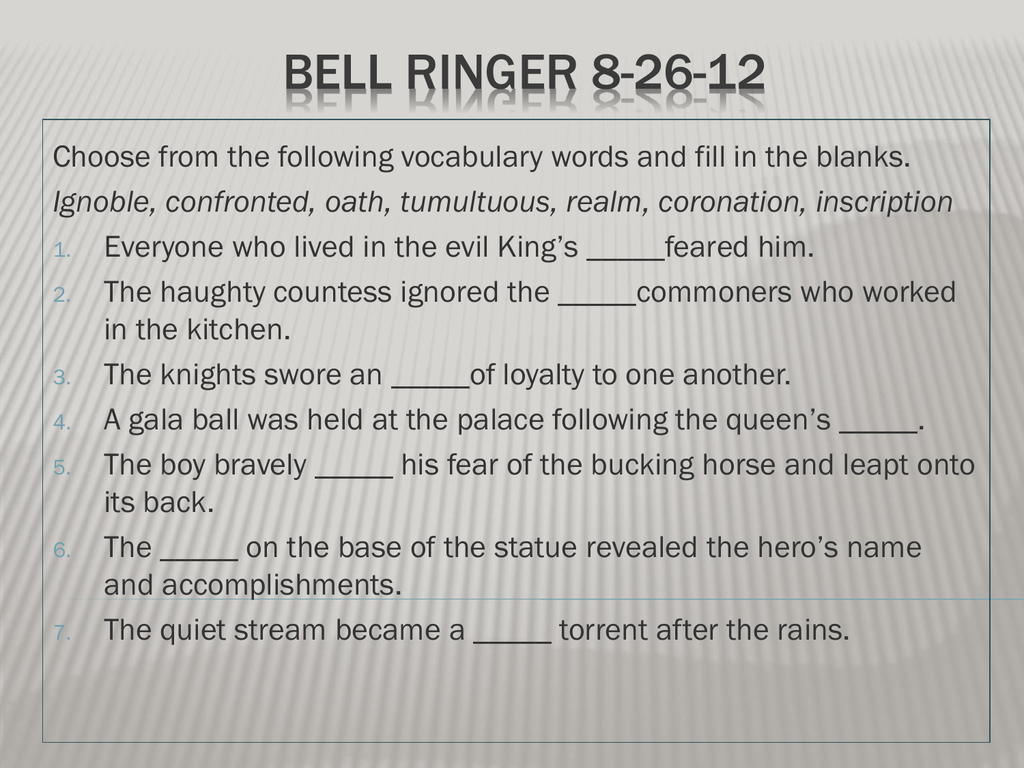 BELL RINGER 8-26-12
Choose from the following vocabulary words and fill in the blanks.
Ignoble, confronted, oath, tumultuous, realm, coronation, inscription
1.
Everyone who lived in the evil King's _____feared him.
2.
The haughty countess ignored the _____commoners who worked
in the kitchen.
3.
The knights swore an _____of loyalty to one another.
4.
A gala ball was held at the palace following the queen's _____.
5.
The boy bravely _____ his fear of the bucking horse and leapt onto
its back.
6.
The _____ on the base of the statue revealed the hero's name
and accomplishments.
7.
The quiet stream became a _____ torrent after the rains.
YOU NEED TO TAKE NOTES!!!!

Introduction to the archetypal hero's journey

http://www.slideshare.net/chrismurban/heroarchetype
HERE IS A VISUAL REPRESENTATION OF THE
HERO'S JOURNEY

https://bl2prd0210.outlook.com/owa/redir.asp
x?C=yx6iFIfvA0GFlDqF_dDR8iY0hEPfV88IkRcX
WrCqDTdpas8u9Rh6TASeauXyGRKJ9m6nB6M
gG4Y.&URL=http%3a%2f%2fwww.youtube.com
%2fwatch%3fv%3d_meL5H60szA
READ THE SWORD IN THE STONE

You will be reading "The Sword in the Stone"
beginning on page 755.
 Be

sure to start with the background information!!!!
You will be practicing the before, during and
after reading strategy.
 You
will have questions to answer before, during
and after your reading of the story.
QUESTIONS


















Before Reading: Write what you know about the following terms. If you have no prior knowledge, state that
beside the term.
King Arthur
Excalibur
Merlin
Sir Lancelot
Round table
During Reading
1. Paraphrase the inscription on the anvil in modern English. (page 756)
2. Why might a sword be used as a symbol of leadership?
3. What is the significance of Arthur freeing the sword from the stone without effort or forethought?
4. How is Sir Kay a foil to Arthur's heroic character traits? (foil-a character who highlights another character's
personality by displaying contrasting traits)
5. According to Arthurian legend, whom do the nobles want as king?
6. What does the behavior of the nobles indicate about the society of the time?
7. In this retelling of the legend, how is the balance of power addressed?
After Reading
8. What heroic values does this story teach? Which of these values is still important today?
9. Why does the tale have special appeal to the commoners of Arthur's time?
10. Why do you think the story of Arthur has had lasting appeal? What does the story of Arthur provide for the
reader?