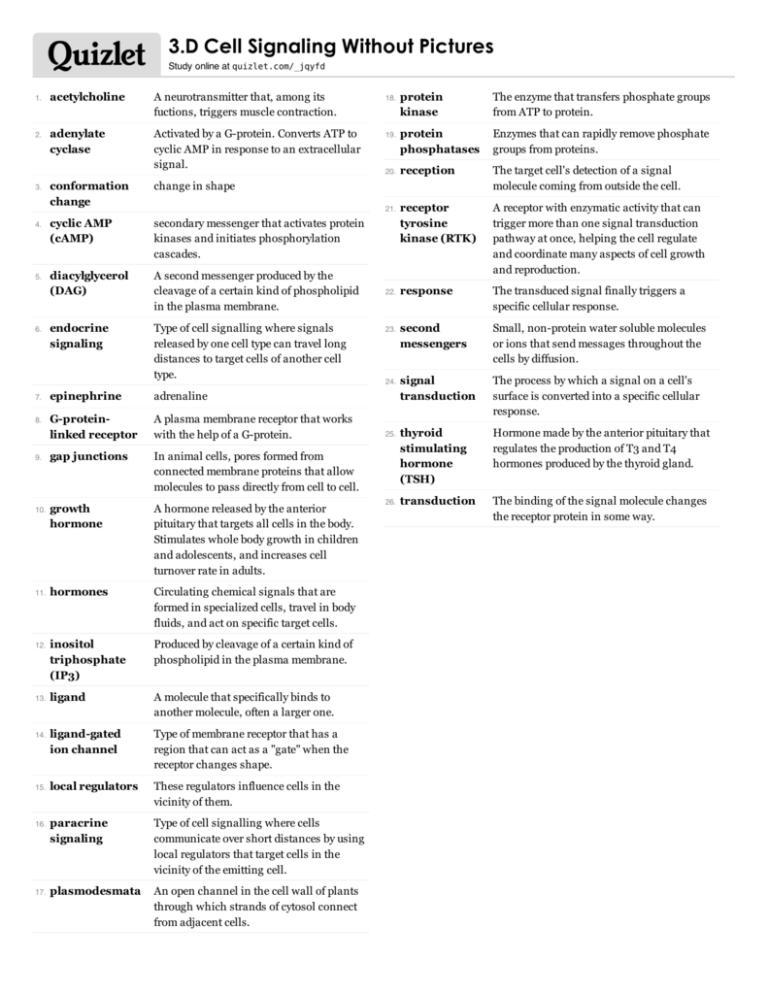 3.D Cell Signaling Without Pictures
Study online at quizlet.com/_jqyfd
1.
2.
3.
4.
5.
6.
7.
8.
9.
10.
11.
12.
13.
14.
15.
16.
17.
acetylcholine
A neurotransmitter that, among its
fuctions, triggers muscle contraction.
adenylate
cyclase
Activated by a G-protein. Converts ATP to
cyclic AMP in response to an extracellular
signal.
conformation
change
change in shape
cyclic AMP
(cAMP)
secondary messenger that activates protein
kinases and initiates phosphorylation
cascades.
diacylglycerol
(DAG)
A second messenger produced by the
cleavage of a certain kind of phospholipid
in the plasma membrane.
endocrine
signaling
Type of cell signalling where signals
released by one cell type can travel long
distances to target cells of another cell
type.
epinephrine
adrenaline
G-proteinlinked receptor
A plasma membrane receptor that works
with the help of a G-protein.
gap junctions
In animal cells, pores formed from
connected membrane proteins that allow
molecules to pass directly from cell to cell.
growth
hormone
A hormone released by the anterior
pituitary that targets all cells in the body.
Stimulates whole body growth in children
and adolescents, and increases cell
turnover rate in adults.
hormones
Circulating chemical signals that are
formed in specialized cells, travel in body
fluids, and act on specific target cells.
inositol
triphosphate
(IP3)
Produced by cleavage of a certain kind of
phospholipid in the plasma membrane.
ligand
A molecule that specifically binds to
another molecule, often a larger one.
ligand-gated
ion channel
Type of membrane receptor that has a
region that can act as a "gate" when the
receptor changes shape.
local regulators
These regulators influence cells in the
vicinity of them.
paracrine
signaling
Type of cell signalling where cells
communicate over short distances by using
local regulators that target cells in the
vicinity of the emitting cell.
plasmodesmata
An open channel in the cell wall of plants
through which strands of cytosol connect
from adjacent cells.
18.
19.
20.
21.
22.
23.
24.
25.
26.
protein
kinase
The enzyme that transfers phosphate groups
from ATP to protein.
protein
phosphatases
Enzymes that can rapidly remove phosphate
groups from proteins.
reception
The target cell's detection of a signal
molecule coming from outside the cell.
receptor
tyrosine
kinase (RTK)
A receptor with enzymatic activity that can
trigger more than one signal transduction
pathway at once, helping the cell regulate
and coordinate many aspects of cell growth
and reproduction.
response
The transduced signal finally triggers a
specific cellular response.
second
messengers
Small, non-protein water soluble molecules
or ions that send messages throughout the
cells by diffusion.
signal
transduction
The process by which a signal on a cell's
surface is converted into a specific cellular
response.
thyroid
stimulating
hormone
(TSH)
Hormone made by the anterior pituitary that
regulates the production of T3 and T4
hormones produced by the thyroid gland.
transduction
The binding of the signal molecule changes
the receptor protein in some way.