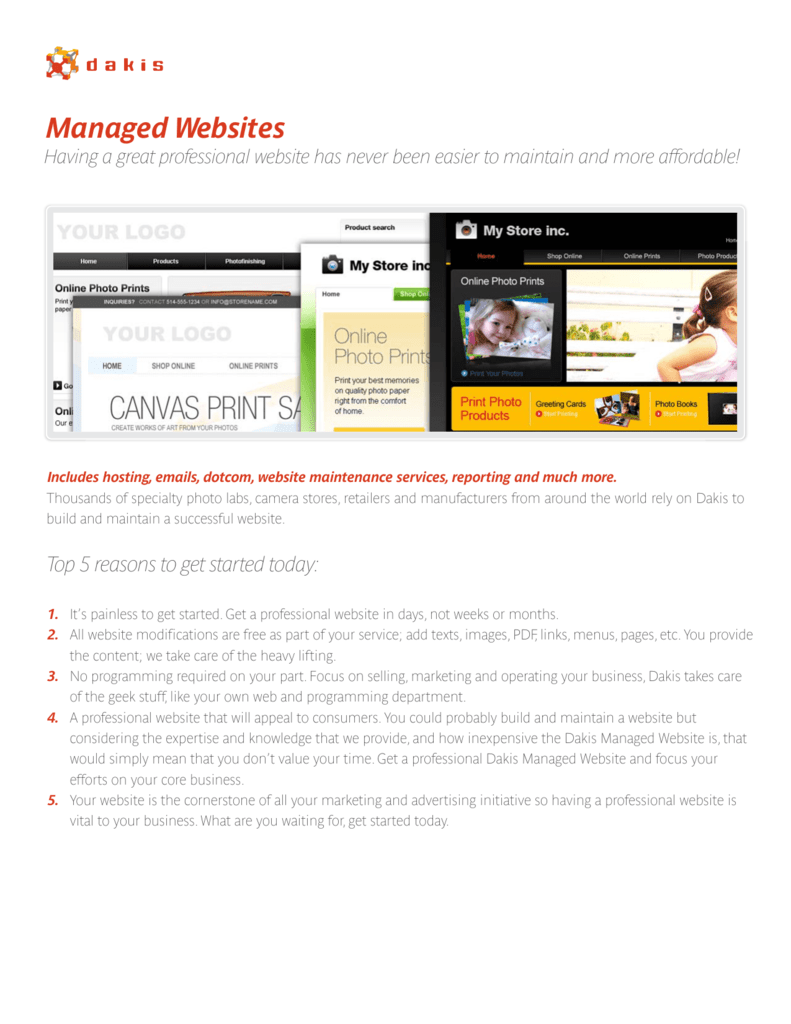 Managed Websites
Having a great professional website has never been easier to maintain and more affordable!
Includes hosting, emails, dotcom, website maintenance services, reporting and much more.
Thousands of specialty photo labs, camera stores, retailers and manufacturers from around the world rely on Dakis to
build and maintain a successful website.
Top 5 reasons to get started today:
1. It's painless to get started. Get a professional website in days, not weeks or months.
2. All website modifications are free as part of your service; add texts, images, PDF, links, menus, pages, etc. You provide
the content; we take care of the heavy lifting.
3. No programming required on your part. Focus on selling, marketing and operating your business, Dakis takes care
of the geek stuff, like your own web and programming department.
4. A professional website that will appeal to consumers. You could probably build and maintain a website but
considering the expertise and knowledge that we provide, and how inexpensive the Dakis Managed Website is, that
would simply mean that you don't value your time. Get a professional Dakis Managed Website and focus your
efforts on your core business.
5. Your website is the cornerstone of all your marketing and advertising initiative so having a professional website is
vital to your business. What are you waiting for, get started today.
Now there's a better way to build and operate a successful website: Save time and money!
With Dakis you get more than a website, you get a partner that makes your life a whole lot easier! Considering how
rapidly the web evolves, it reassuring to know that Dakis is like an extension of your own business; it's like having your
own professional web and programming department. We help you build a professional website; we take care of the
maintenance and make modifications to your website based on your requests. We continuously invest in new
technologies and solutions to make you successful and to keep you ahead of the game. You can now focus on selling,
marketing and operating your core business and have the peace of mind that Dakis is doing the heavy lifting and
programming to operate and update your website. You can now operate an online presence like the big boys and still
have time to enjoy nights and weekends with family and friends.
All the best features that you need to operate a complete website
With Dakis' Managed Website service you get:
• All website modifications are free as part of your service (add texts, images, PDF, links, menus, pages, etc). You provide
the content; we take care of the heavy lifting.
• Website hosting and bandwidth
• Emails
• 1 free domain name (.com)
• Home page rotating banners
• Google Maps
• Dakis Online reporting & statistics
• Linking of third party applications like email marketing module, Facebook and Twitter links and more.
A few customers in action
To see a few clients in action using the Dakis Managed Website Service, visit these sites:
www.bobsphoto.com | www.jackscamera.com | www.fotofast.com.au
www.photoplus.co.nz | www.centrejaponaisphoto.com | www.photoplaceonline.com
How to get started - The process is simple:
• First: Complete and return the Dakis Order Form.
• Second: Select a predesigned website layout or ask for a custom design.
(ask us for our complete list of predesigned layouts)
• Third: We will adapt the layout based on your business and priorities, port the content from your current site and
make initial modifications. Your new site goes live. Website modifications are included as part of your service so
make sure to always send in content to update your website, new promotions banners, new store service description
and other content to enhance your web presence.
What choice of website design do I have?
Depending on the level of involvement, the level of customization that you desire and your budget, you can select
between:
• Dakis' professional yet affordable website designs
• Semi-custom design project
• Or full custom web development and consulting
How about Search Engine Optimization?
Dakis websites are built to be search engine friendly. We also have various services to optimize your website in search
engines. Get in touch with Dakis for additional information.
How to get started?
Start growing your business faster. Selling Made Easy, let's get in touch!
Contact Dakis at [email protected] or 514-931-8820 ext 221.