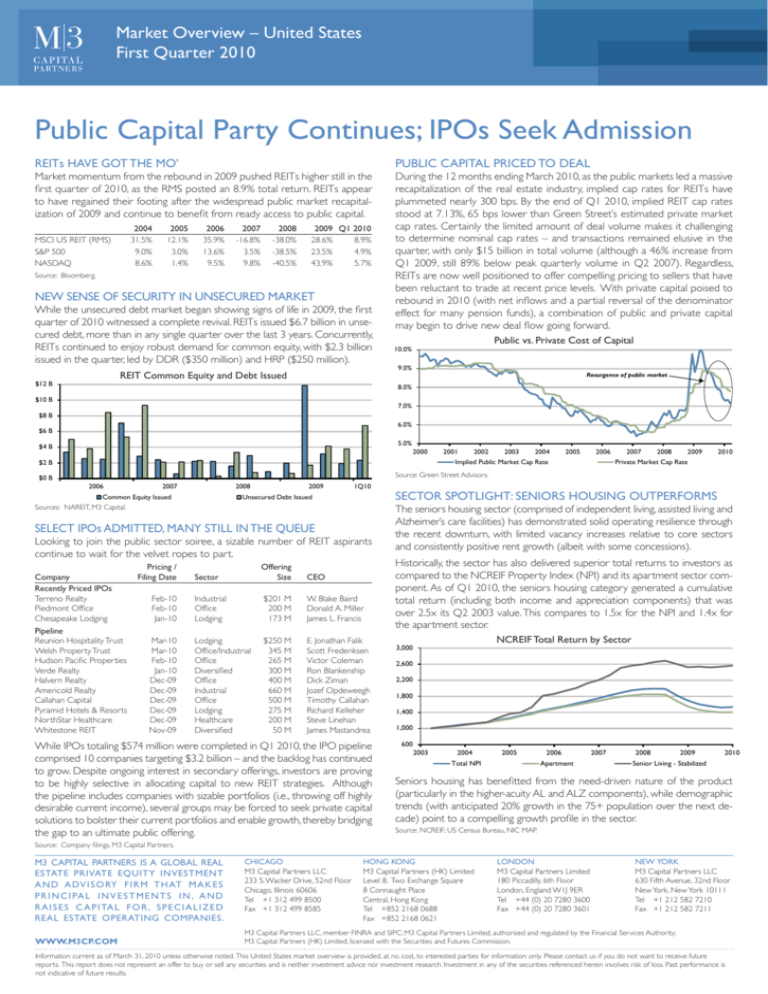 Market Overview – United States
First Quarter 2010
Public Capital Party Continues; IPOs Seek Admission
REITs HAVE GOT THE MO'
Market momentum from the rebound in 2009 pushed REITs higher still in the
first quarter of 2010, as the RMS posted an 8.9% total return. REITs appear
to have regained their footing after the widespread public market recapitalization of 2009 and continue to benefit from ready access to public capital.
MSCI US REIT (RMS)
S&P 500
NASDAQ
2004
31.5%
9.0%
8.6%
2005
12.1%
3.0%
1.4%
2006
35.9%
13.6%
9.5%
2007
-16.8%
3.5%
9.8%
2008
-38.0%
-38.5%
-40.5%
2009 Q1 2010
28.6%
8.9%
23.5%
4.9%
43.9%
5.7%
Source: Bloomberg.
NEW SENSE OF SECURITY IN UNSECURED MARKET
While the unsecured debt market began showing signs of life in 2009, the first
quarter of 2010 witnessed a complete revival. REITs issued $6.7 billion in unsecured debt, more than in any single quarter over the last 3 years. Concurrently,
REITs continued to enjoy robust demand for common equity, with $2.3 billion
issued in the quarter, led by DDR ($350 million) and HRP ($250 million).
REIT Common Equity and Debt Issued
$12 B
PUBLIC CAPITAL PRICED TO DEAL
During the 12 months ending March 2010, as the public markets led a massive
recapitalization of the real estate industry, implied cap rates for REITs have
plummeted nearly 300 bps. By the end of Q1 2010, implied REIT cap rates
stood at 7.13%, 65 bps lower than Green Street's estimated private market
cap rates. Certainly the limited amount of deal volume makes it challenging
to determine nominal cap rates – and transactions remained elusive in the
quarter, with only $15 billion in total volume (although a 46% increase from
Q1 2009, still 89% below peak quarterly volume in Q2 2007). Regardless,
REITs are now well positioned to offer compelling pricing to sellers that have
been reluctant to trade at recent price levels. With private capital poised to
rebound in 2010 (with net inflows and a partial reversal of the denominator
effect for many pension funds), a combination of public and private capital
may begin to drive new deal flow going forward.
Public vs. Private Cost of Capital
10.0%
9.0%
Resurgence of public market
8.0%
$10 B
7.0%
$8 B
6.0%
$6 B
5.0%
$4 B
2000
2001
2002
2003
2004
2005
2006
Implied Public Market Cap Rate
$2 B
2007
2008
2009
2010
Private Market Cap Rate
Source: Green Street Advisors.
$0 B
1Q06
2006
1Q07
2007
1Q08
Common Equity Issued
2008
1Q09
2009
1Q10
Unsecured Debt Issued
SECTOR SPOTLIGHT: SENIORS HOUSING OUTPERFORMS
SELECT IPOs ADMITTED, MANY STILL IN THE QUEUE
The seniors housing sector (comprised of independent living, assisted living and
Alzheimer's care facilities) has demonstrated solid operating resilience through
the recent downturn, with limited vacancy increases relative to core sectors
and consistently positive rent growth (albeit with some concessions).
Company
Recently Priced IPOs
Terreno Realty
Piedmont Office Chesapeake Lodging
Historically, the sector has also delivered superior total returns to investors as
compared to the NCREIF Property Index (NPI) and its apartment sector component. As of Q1 2010, the seniors housing category generated a cumulative
total return (including both income and appreciation components) that was
over 2.5x its Q2 2003 value. This compares to 1.5x for the NPI and 1.4x for
the apartment sector.
Sources: NAREIT, M3 Capital.
Looking to join the public sector soiree, a sizable number of REIT aspirants
continue to wait for the velvet ropes to part.
Pipeline
Reunion Hospitality Trust
Welsh Property Trust
Hudson Pacific Properties
Verde Realty
Halvern Realty
Americold Realty
Callahan Capital
Pyramid Hotels & Resorts
NorthStar Healthcare
Whitestone REIT
Pricing / Filing Date
Sector
Offering
Size
CEO
Feb-10
Feb-10
Jan-10
Industrial
Office
Lodging
$201 M
200 M
173 M
W. Blake Baird
Donald A. Miller
James L. Francis
Mar-10 Mar-10 Feb-10 Jan-10 Dec-09 Dec-09 Dec-09 Dec-09 Dec-09 Nov-09 Lodging
Office/Industrial
Office
Diversified
Office
Industrial
Office
Lodging
Healthcare
Diversified
$250 M
345 M
265 M
300 M
400 M
660 M
500 M
275 M
200 M
50 M
E. Jonathan Falik
Scott Frederiksen
Victor Coleman
Ron Blankenship
Dick Ziman
Jozef Opdeweegh
Timothy Callahan
Richard Kelleher
Steve Linehan
James Mastandrea
While IPOs totaling $574 million were completed in Q1 2010, the IPO pipeline
comprised 10 companies targeting $3.2 billion – and the backlog has continued
to grow. Despite ongoing interest in secondary offerings, investors are proving
to be highly selective in allocating capital to new REIT strategies. Although
the pipeline includes companies with sizable portfolios (i.e., throwing off highly
desirable current income), several groups may be forced to seek private capital
solutions to bolster their current portfolios and enable growth, thereby bridging
the gap to an ultimate public offering.
NCREIF Total Return by Sector
3,000
2,600
2,200
1,800
1,400
1,000
600
2003
2004
2005
Total NPI
2006
2007
Apartment
2008
2009
2010
Senior Living - Stabilized
Seniors housing has benefitted from the need-driven nature of the product
(particularly in the higher-acuity AL and ALZ components), while demographic
trends (with anticipated 20% growth in the 75+ population over the next decade) point to a compelling growth profile in the sector.
Source: NCREIF; US Census Bureau, NIC MAP.
Source: Company filings, M3 Capital Partners.
M3 CAPITAL PARTNERS IS A GLOBAL REAL
ESTATE PRIVATE EQUITY INVESTMENT
A N D A DV I S O RY F I R M T H AT M A K E S
P R I N C I PA L I N V E S T M E N T S I N , A N D
R A I S E S C A P I TA L F O R , S P E C I A L I Z E D
REAL ESTATE OPERATING COMPANIES.
WWW.M3CP.COM
CHICAGO
M3 Capital Partners LLC
233 S. Wacker Drive, 52nd Floor
Chicago, Illinois 60606
Tel +1 312 499 8500
Fax +1 312 499 8585
HONG KONG
M3 Capital Partners (HK) Limited
Level 8, Two Exchange Square
8 Connaught Place
Central, Hong Kong
Tel +852 2168 0688
Fax +852 2168 0621
LONDON
M3 Capital Partners Limited
180 Piccadilly, 6th Floor
London, England W1J 9ER
Tel +44 (0) 20 7280 3600
Fax +44 (0) 20 7280 3601
NEW YORK
M3 Capital Partners LLC
630 Fifth Avenue, 32nd Floor
New York, New York 10111
Tel +1 212 582 7210
Fax +1 212 582 7211
M3 Capital Partners LLC, member FINRA and SIPC; M3 Capital Partners Limited, authorised and regulated by the Financial Services Authority;
M3 Capital Partners (HK) Limited, licensed with the Securities and Futures Commission.
Information current as of March 31, 2010 unless otherwise noted. This United States market overview is provided, at no cost, to interested parties for information only. Please contact us if you do not want to receive future
reports. This report does not represent an offer to buy or sell any securities and is neither investment advice nor investment research. Investment in any of the securities referenced herein involves risk of loss. Past performance is
not indicative of future results.