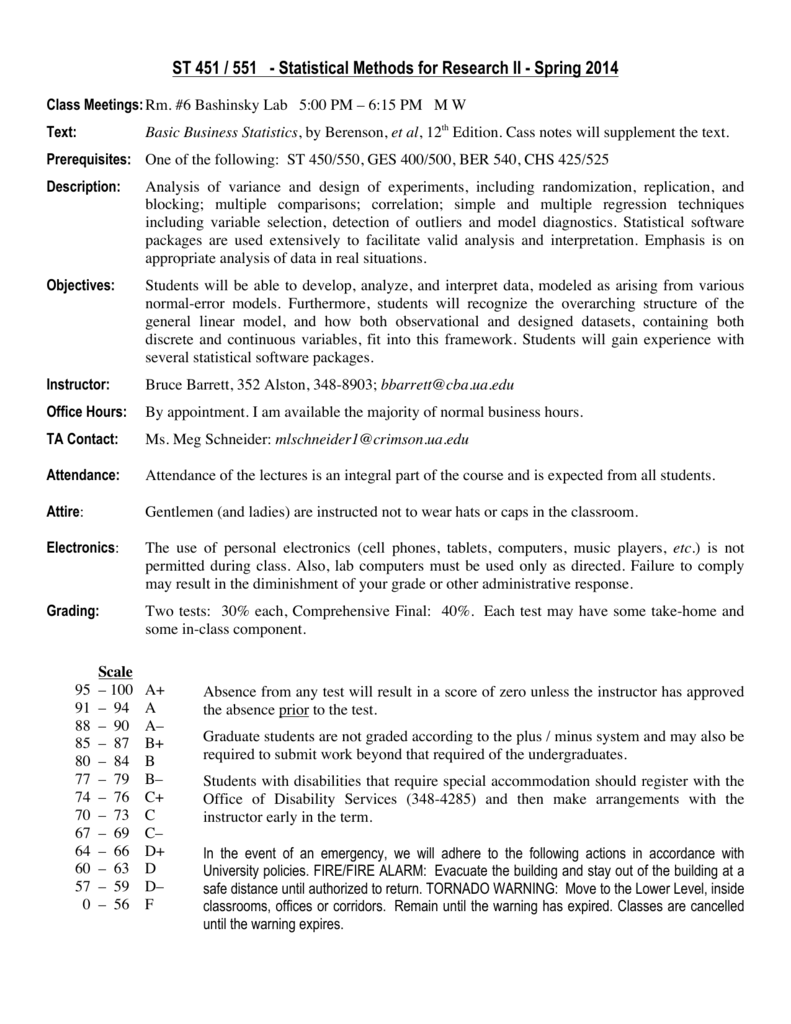 ST 451 / 551 - Statistical Methods for Research II - Spring 2014
Class Meetings: Rm. #6 Bashinsky Lab 5:00 PM – 6:15 PM M W
Text:
Basic Business Statistics, by Berenson, et al, 12th Edition. Cass notes will supplement the text.
Prerequisites: One of the following: ST 450/550, GES 400/500, BER 540, CHS 425/525
Description:
Analysis of variance and design of experiments, including randomization, replication, and
blocking; multiple comparisons; correlation; simple and multiple regression techniques
including variable selection, detection of outliers and model diagnostics. Statistical software
packages are used extensively to facilitate valid analysis and interpretation. Emphasis is on
appropriate analysis of data in real situations.
Objectives:
Students will be able to develop, analyze, and interpret data, modeled as arising from various
normal-error models. Furthermore, students will recognize the overarching structure of the
general linear model, and how both observational and designed datasets, containing both
discrete and continuous variables, fit into this framework. Students will gain experience with
several statistical software packages.
Instructor:
Bruce Barrett, 352 Alston, 348-8903; [email protected]
Office Hours:
By appointment. I am available the majority of normal business hours.
TA Contact:
Ms. Meg Schneider: [email protected]
Attendance:
Attendance of the lectures is an integral part of the course and is expected from all students.
Attire:
Gentlemen (and ladies) are instructed not to wear hats or caps in the classroom.
Electronics:
The use of personal electronics (cell phones, tablets, computers, music players, etc.) is not
permitted during class. Also, lab computers must be used only as directed. Failure to comply
may result in the diminishment of your grade or other administrative response.
Grading:
Two tests: 30% each, Comprehensive Final: 40%. Each test may have some take-home and
some in-class component.
95
91
88
85
80
77
74
70
67
64
60
57
0
Scale
– 100
– 94
– 90
– 87
– 84
– 79
– 76
– 73
– 69
– 66
– 63
– 59
– 56
A+
A
A–
B+
B
B–
C+
C
C–
D+
D
D–
F
Absence from any test will result in a score of zero unless the instructor has approved
the absence prior to the test.
Graduate students are not graded according to the plus / minus system and may also be
required to submit work beyond that required of the undergraduates.
Students with disabilities that require special accommodation should register with the
Office of Disability Services (348-4285) and then make arrangements with the
instructor early in the term.
In the event of an emergency, we will adhere to the following actions in accordance with
University policies. FIRE/FIRE ALARM: Evacuate the building and stay out of the building at a
safe distance until authorized to return. TORNADO WARNING: Move to the Lower Level, inside
classrooms, offices or corridors. Remain until the warning has expired. Classes are cancelled
until the warning expires.