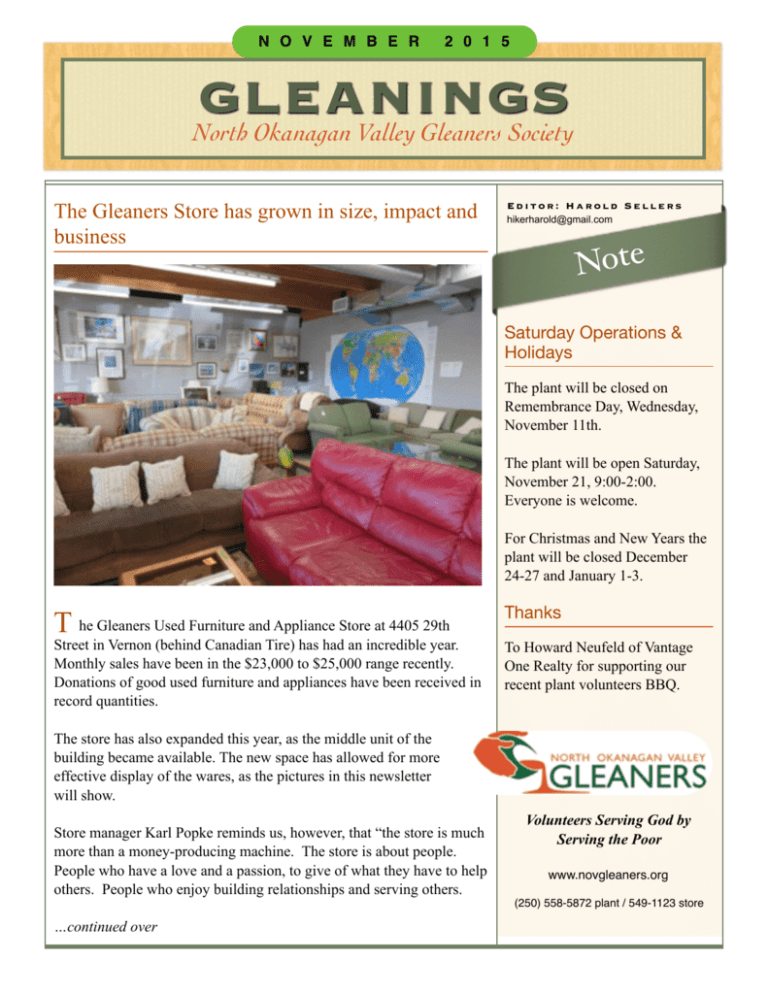 N O V E M B E R
2 0 1 5
GLEANINGS
North Okanagan Valley Gleaners Society
The Gleaners Store has grown in size, impact and
business
Editor: Harold Sellers
hikerharold@gmail.com
Note
Saturday Operations &
Holidays
The plant will be closed on
Remembrance Day, Wednesday,
November 11th.
The plant will be open Saturday,
November 21, 9:00-2:00.
Everyone is welcome.
For Christmas and New Years the
plant will be closed December
24-27 and January 1-3.
T he Gleaners Used Furniture and Appliance Store at 4405 29th
Street in Vernon (behind Canadian Tire) has had an incredible year.
Monthly sales have been in the $23,000 to $25,000 range recently.
Donations of good used furniture and appliances have been received in
record quantities.
Thanks
To Howard Neufeld of Vantage
One Realty for supporting our
recent plant volunteers BBQ.
The store has also expanded this year, as the middle unit of the
building became available. The new space has allowed for more
effective display of the wares, as the pictures in this newsletter
will show.
Store manager Karl Popke reminds us, however, that "the store is much
more than a money-producing machine. The store is about people.
People who have a love and a passion, to give of what they have to help
others. People who enjoy building relationships and serving others.
Volunteers Serving God by
Serving the Poor
www.novgleaners.org
(250) 558-5872 plant / 549-1123 store
…continued over
Store continued
North Korea Report
"People who, with thanksgiving and praise, leave
In 2015 the NOV Gleaners sent 8,640 bags of
soup and 8,640 bags of apple bits to First Steps for
their aid work in North Korea. They report:
behind all kinds of signs that say, 'Done in Jesus
name.' People love to work together, and give of
their time and efforts when they enjoy what they
are doing, enjoy who they are working with, and
are encouraged when they see the fruit of their
labor."
If you haven't been to the store, drop by some day
and meet the dedicated volunteers. Take a look at
the new world map on the wall and the other
improvements. Buy some furniture! Tell your
friends about the great deals available and
encourage donations of items that will help an
individual or family who comes to the store.
Well done, store volunteers!
"A First Steps team recently visited North Korea
from August 5 to 15 where we visited three
orphanages in Wonsan, as well as one in Nampo.
All the orphanages enthusiastically expressed how
happy they were with the soup mix you sent which
they received on May 3!
"The director of the Wonsan Primary Boarding
School (home to 536 orphans) told us that the
children largely subsisted on the soup mix from
May 3 until it was all consumed on July 21. At the
Wonsan Secondary Boarding School (723
orphans), we were told that the soup mix is
especially important for children during March,
April and May when they run out of vegetables
and other foods. At the Wonsan Baby Home, the
director explained that they are saving the soup
mix for this coming winter. She said that the soup
mix has a 'clean' taste and will be used in a variety
of ways, such as for dumplings, fried rice, soup,
bean meat and side dishes! The kids eat it all!"
"Thank you too for your amazing gift of dried
apple chips! The shipment was received in North
Korea on July 26. We cherish and thank you for
your continued support and partnership. You are
blessing the lives of hungry children!"
Thanks to Our Supporting Businesses
OBC Automotive provides
excellent vehicle maintenance
to our store. Consider them for
your needs. 45th Ave & 29th St,
Vernon, 250-545-3378.
Kal Tire in Vernon
has been our supplier
of truck tires.