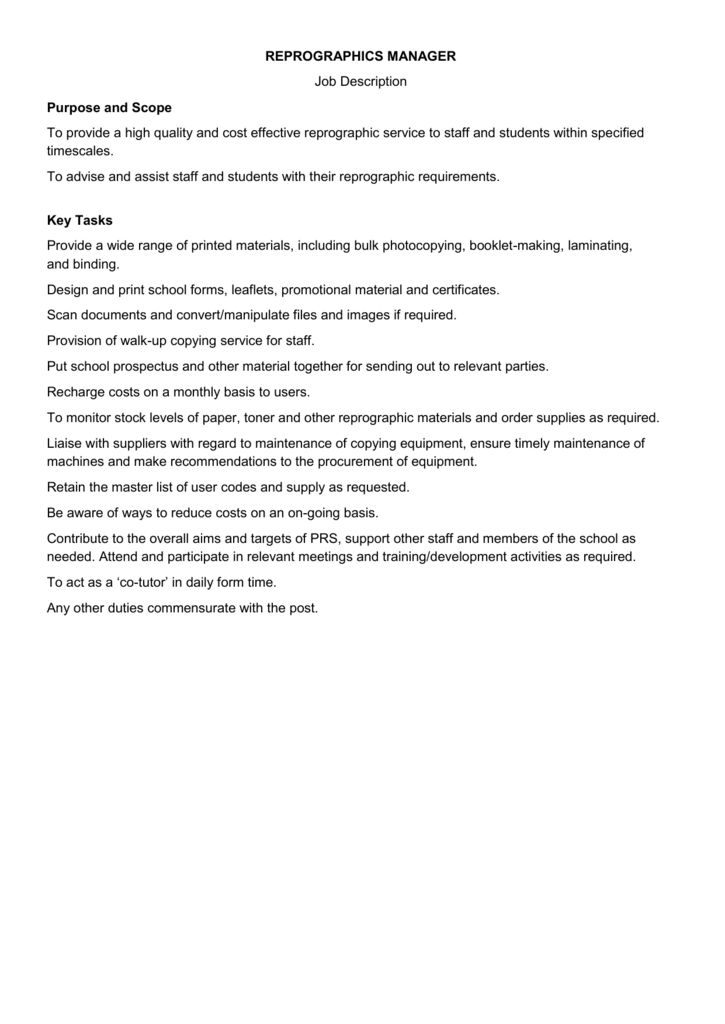 REPROGRAPHICS MANAGER
Job Description
Purpose and Scope
To provide a high quality and cost effective reprographic service to staff and students within specified
timescales.
To advise and assist staff and students with their reprographic requirements.
Key Tasks
Provide a wide range of printed materials, including bulk photocopying, booklet-making, laminating,
and binding.
Design and print school forms, leaflets, promotional material and certificates.
Scan documents and convert/manipulate files and images if required.
Provision of walk-up copying service for staff.
Put school prospectus and other material together for sending out to relevant parties.
Recharge costs on a monthly basis to users.
To monitor stock levels of paper, toner and other reprographic materials and order supplies as required.
Liaise with suppliers with regard to maintenance of copying equipment, ensure timely maintenance of
machines and make recommendations to the procurement of equipment.
Retain the master list of user codes and supply as requested.
Be aware of ways to reduce costs on an on-going basis.
Contribute to the overall aims and targets of PRS, support other staff and members of the school as
needed. Attend and participate in relevant meetings and training/development activities as required.
To act as a 'co-tutor' in daily form time.
Any other duties commensurate with the post.