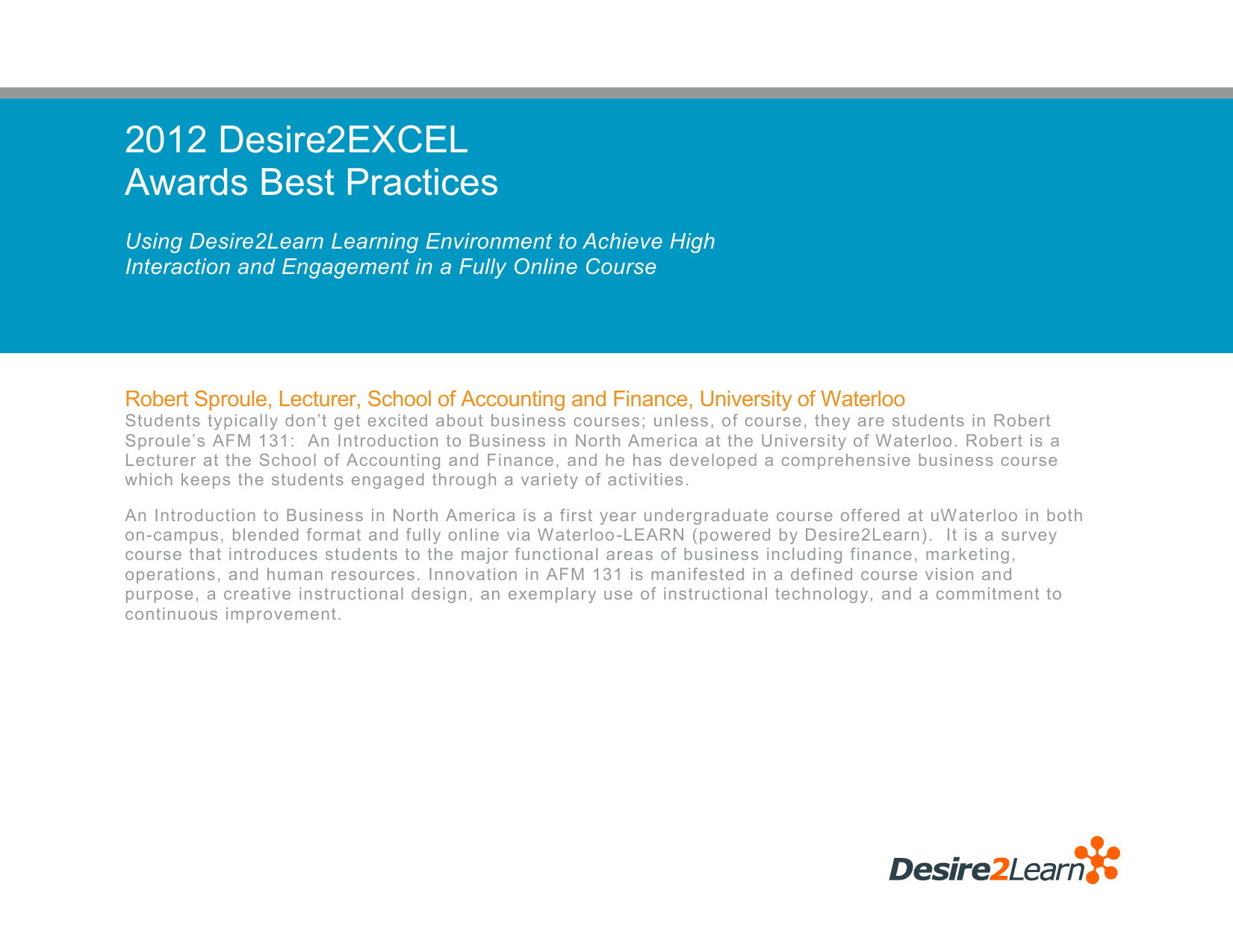 2012 Desire2EXCEL
Awards Best Practices
Using Desire2Learn Learning Environment to Achieve High
Interaction and Engagement in a Fully Online Course
Robert Sproule, Lecturer, School of Accounting and Finance, University of Waterloo
Students typically don't get excited about business courses; unless, of course, they are students in Robert
Sproule's AFM 131: An Introduction to Business in North America at the University of Waterloo. Robert is a
Lecturer at the School of Accounting and Finance, and he has developed a comprehensive business course
which keeps the students engaged through a variety of activities.
An Introduction to Business in North America is a first year undergraduate course offered at uW aterloo in both
on-campus, blended format and fully online via Waterloo -LEARN (powered by Desire2Learn). It is a survey
course that introduces students to the major functional areas of business including finance, marketing,
operations, and human resources. Innovation in AFM 131 is manifested in a defined course vision and
purpose, a creative instructional design, an exemplary use of instructional technology, and a commitment to
continuous improvement.
Problem
The course's purpose and learning outcomes were developed based on a number of critical and possibly challenging factors: it is a required
course for many programs at the university, it needs to adequately prepare new students for the rigors of further academic study in a variety of
programs, and it is one of the largest enrollment courses at uWaterloo. The author sought to develop a course that provides a consistent,
active, and engaging learning environment for students regardless of the delivery format. Students entering today's world of business need a
solid foundation in its major concepts; at the same time, they must appreciate how these areas are linked together in a successful organization.
An innovative concept map serves as an overview and introduction to the course content. The visual representation of an oil rig links various
components of the content and connects the key functional areas of business addressed in the course. This helps students to better understand
how these areas support each other. The concept map is initially presented to students in a course syllabus and reinforced throughout the
program. Creative course design, delivery, and support elements illustrating AFM 131-based innovation all drive a team-based, experiential
learning approach which culminates in three major ways: an online business simulation game, an ongoing and meaningful assessment of
student learning and achievement, and a multi-layered student support model.
Solution
The ability to work successfully in teams is a requirement of today's
business world. This teamwork structure provides, for each student,
both the type of experiential learning opportunity not normally found in
large enrollment courses and the chance to improve teamwork skills.
Groups are involved in activities from initial team development
(including the creation of a team contract using a template) to
business decision-making and presenting final reports.
Teaching Assistants (TAs) provide formative feedback to teams on
the quality of their analysis after each week's discussion, preparing
groups for the culminating, end-of-course report. The TAs also
evaluate the co-operative learning experience of individual students
using a rubric designed to reward students for high quality discussion
posts. Collectively, these assessment strategies provide students with
ongoing feedback throughout the term – atypical for large courses.
The simulation is competitive, which adds an additional element of
authenticity. As the term progresses, students are promoted in the
business simulation so the scope of their responsibilities increases in
parallel with course content. This provides an opportunity for
immediate application. Students consistently rate the teamwork
component of both the course and the business simulation game as
an integral part of their learning experience.
Each module provides resources to support student learning. For
example, culminating worksheets help students reflect on the
module's core concepts, how those concepts apply to other modules
in the course, and how they may be adopted in the real world. Online
modules begin with a landing page to orient students; they contain a
concise list of modular learning outcomes, linked modular content,
and additional resources for learning support and extension.
Instructor-student interaction is enhanced in the on-campus version of
the course by the use of iClickers to respond to topical questions
during a low risk, in-class activity. The iClicker not only helps students
self-assess their own knowledge, but also gives the instructor an
indication of which course concepts are problematic and require
further review. Assessment is used both to evaluate student
achievement and evaluate student learning. Both formative and
summative assessment methods are used, including: four weekly
online discussions, peer evaluations, mid-term exams, in-class
iClicker questions and follow-up discussions, online modular selfassessment quizzes, the business simulation's team-based report,
and a final examination.
A rich array of multimedia is used to present and enable meaningful
interaction with the course content. Students have access to online
lectures (web-based version) and podcasts (in-class version) that
they can review often to reinforce course concepts. Business experts
visit the virtual classroom space through video interviews hosted and
recorded by the instructor. TA-monitored-and-supported team
discussions are also part of the online business simulation exercise.
Outcome
About University of Waterloo
AFM 131 takes an active and experiential approach to learning. This
methodology is introduced in the course syllabus and manifested in
the design of each of the twelve learning modules covering a specific
aspect of business. An experiential team-based activity is a central
component of the course. The course design incorporates ongoing
and meaningful assessment of student learning and achievement and
a multi-layered student support models. Students are expected to take
an active role in learning, working to apply course content primarily
through the unique, online business simulation activity.
The University of Waterloo, located at the heart of Canada's
Technology Triangle, is one of Canada's leading comprehensive
universities. We're home to 34,000 full- and part-time undergraduate
and graduate students who are dedicated to making the future better
and brighter. Waterloo, known for the largest post-secondary cooperative education program of its kind in the world, supports
enterprising partnerships in learning, research and discovery. For more
information about Waterloo, visit us at uwaterloo.ca
Takeaways
About Robert Sproule
Combining the formal and informal learning experience, Desire2Learn
Learning Environment is propelling the eLearning experience into the
future. We pair innovative learning tools, accessibility best practices,
powerful assessment options, and standards-based technology with
integrated social learning and sharing, pervasive collaboration and
connecting capabilities, and customized personalization options.
Desire2Learn Learning Environment is redefining what an LMS should
be.
Bob hails from Western Canada where he has lived for most of his life.
He completed a B.Comm. from Carleton University in 1970 and his
M.B.A. from the University of Calgary in 1978. In 1974, he received his
C.M.A. designation. He has held numerous financial and general
management positions throughout his career. Since 1998 he has been
a full time lecturer for the School of Accounting and Finance at the
University of Waterloo. His primary teaching responsibility is for large
section first year courses in Accounting and Business. In 2009, Bob
was honored by MERLOT who named him Volunteer of the Year. In
2010, he co-wrote a book entitled Understanding Canadian Business,
7th edition. He and his co-authors are updating that edition with a soon
to be released (2013) Understanding Canadian Business, 8th edition.
In 2012, Bob won both the Desire2EXCEL Innovation Award and the
Desire2Learn Teaching Innovation Award (STLHE).
As seen in this showcase, these capabilities were introduced through
a number of exceptional and engaging activities featuring students
constructing knowledge together through true collaboration.
For more information about Desire2Learn Learning Environment, visit
http://desire2learn.com/products/learning-environment or email
[email protected]
About Desire2EXCEL Awards
Each year, Desire2Learn honors the best of the best with our
Desire2EXCEL Awards. These awards recognize organizations and
institutions using Desire2Learn technology to deliver innovative and
collaborative learning experiences that have had a high, significant,
or extraordinary impact. This white paper showcases one of the year's
nominees who have used Desire2Learn technology for instructional
purposes to enhance teaching and learning, focusing specifically on
high class interaction and collaboration with a unique twist. It is
through our clients that Desire2Learn succeeds, and because of our
clients that we continue to develop the best products possible in an
effort to transform education.
A global leader in cloud-based (SaaS) learning solutions, Desire2Learn
provides an open and extensible platform to more than 700 clients and 10
million learners in higher education, K-12, healthcare, government and the
corporate sector, including Fortune 100 companies. Desire2Learn has
personnel in the United States, Canada, Europe, Australia, Brazil and
Singapore.
Desire2Learn Incorporated
Phone:
1.519.772.0325 (Worldwide)
Fax:
1.519.772.0324
0.800.452.069 (New Zealand)
Email:
[email protected]
1.800.656.210 (Australia)
Web:
www.Desire2Learn.com
0.800.891.4507 (Brazil)
Toll Free:
1.888.772.0325 (North America)
0.808.234.4235 (United Kingdom & Europe)
Facebook: facebook.com/Desire2Learn
Twitter:
@Desire2Learn
Desire2Learn and the molecule logo are trademarks of Desire2Learn Incorporated, registered in the U.S. and
other countries. The Desire2Learn family of companies includes Desire2Learn Incorporated, D2L Ltd.,
Desire2Learn Australia Pty Ltd., Desire2Learn UK Ltd., Desire2Learn Singapore Pte. Ltd., and Desire2Learn
Brasil Soluções de Tecnologia para Educação Ltda.
NA | EXCEL | 0213
© 2013 Desire2Learn Incorporated. All rights reserved.
Desire2EXCEL Best Practices
Desire2Learn helps improve our world by pioneering innovative methods and
environments to engage and inspire learners throughout their lives. Making
education more accessible helps learners reach their full potential by
reflecting the unique needs of organizations, instructors, and students.