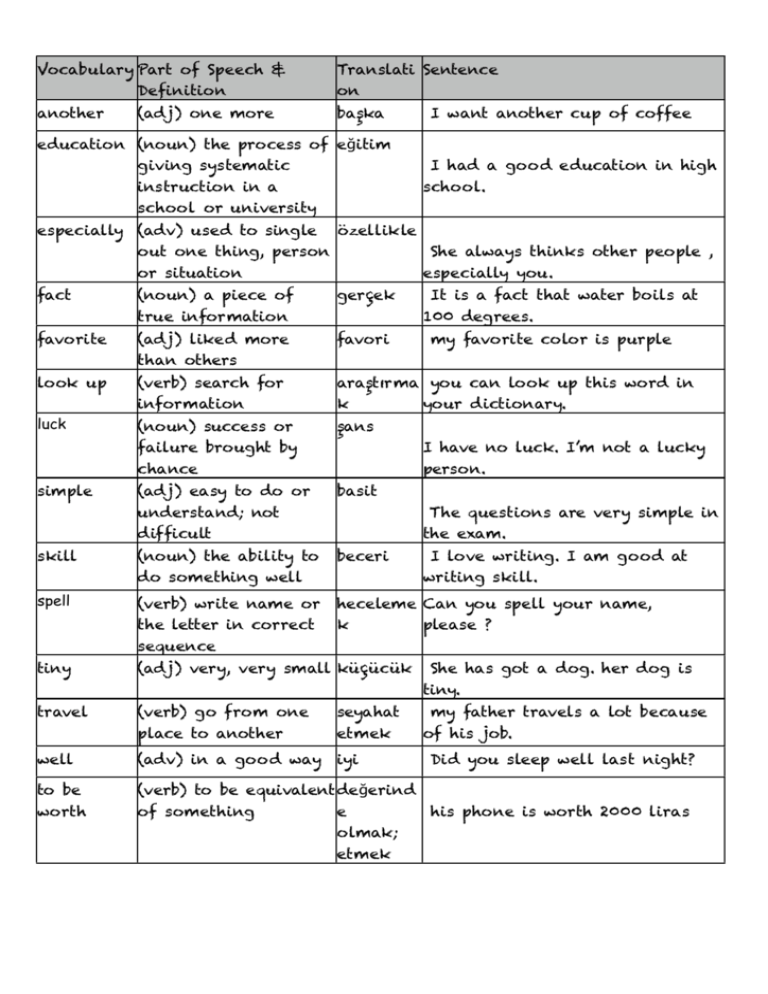 Vocabulary Part of Speech &
Definition
Translati Sentence
on
another
başka
(adj) one more
education (noun) the process of eğitim
giving systematic
instruction in a
school or university
I want another cup of coffee
I had a good education in high
school.
especially (adv) used to single özellikle
out one thing, person
She always thinks other people ,
or situation
especially you.
fact
(noun) a piece of
true information
gerçek
favorite
(adj) liked more
than others
favori
look up
(verb) search for
information
araştırma you can look up this word in
k
your dictionary.
luck
(noun) success or
failure brought by
chance
şans
(adj) easy to do or
understand; not
difficult
basit
skill
(noun) the ability to
do something well
beceri
spell
(verb) write name or
the letter in correct
sequence
heceleme Can you spell your name,
k
please ?
tiny
(adj) very, very small küçücük
She has got a dog. her dog is
tiny.
travel
(verb) go from one
place to another
my father travels a lot because
of his job.
well
(adv) in a good way iyi
to be
worth
(verb) to be equivalent değerind
of something
e
his phone is worth 2000 liras
olmak;
etmek
simple
It is a fact that water boils at
100 degrees.
my favorite color is purple
I have no luck. I'm not a lucky
person.
The questions are very simple in
the exam.
seyahat
etmek
I love writing. I am good at
writing skill.
Did you sleep well last night?