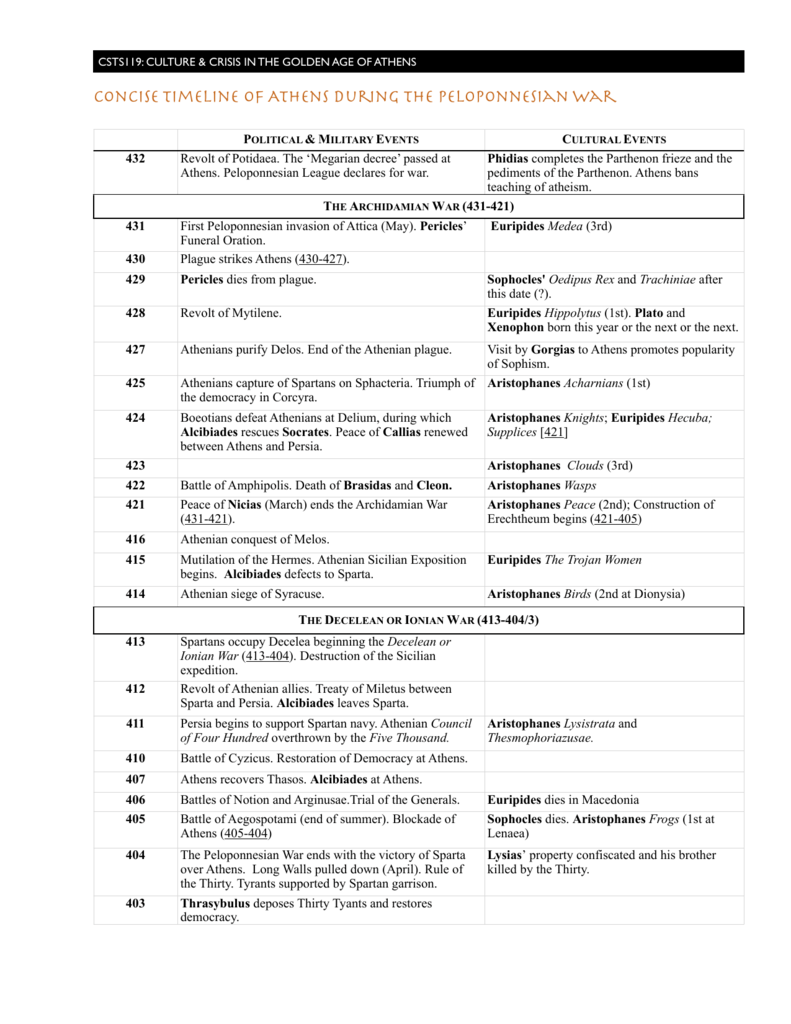 CSTS119: CULTURE & CRISIS IN THE GOLDEN AGE OF ATHENS
Concise Timeline of Athens during the Peloponnesian War
432
431
POLITICAL & MILITARY EVENTS
Revolt of Potidaea. The 'Megarian decree' passed at
Athens. Peloponnesian League declares for war.
CULTURAL EVENTS
Phidias completes the Parthenon frieze and the
pediments of the Parthenon. Athens bans
teaching of atheism.
THE ARCHIDAMIAN WAR (431-421)
Euripides Medea (3rd)
430
First Peloponnesian invasion of Attica (May). Pericles'
Funeral Oration.
Plague strikes Athens (430-427).
429
Pericles dies from plague.
428
Revolt of Mytilene.
Sophocles' Oedipus Rex and Trachiniae after
this date (?).
Euripides Hippolytus (1st). Plato and
Xenophon born this year or the next or the next.
427
Athenians purify Delos. End of the Athenian plague.
425
424
423
422
421
Visit by Gorgias to Athens promotes popularity
of Sophism.
Athenians capture of Spartans on Sphacteria. Triumph of Aristophanes Acharnians (1st)
the democracy in Corcyra.
Boeotians defeat Athenians at Delium, during which
Alcibiades rescues Socrates. Peace of Callias renewed
between Athens and Persia.
Battle of Amphipolis. Death of Brasidas and Cleon.
Peace of Nicias (March) ends the Archidamian War
(431-421).
416
Athenian conquest of Melos.
415
Mutilation of the Hermes. Athenian Sicilian Exposition
begins. Alcibiades defects to Sparta.
Athenian siege of Syracuse.
414
Aristophanes Knights; Euripides Hecuba;
Supplices [421]
Aristophanes Clouds (3rd)
Aristophanes Wasps
Aristophanes Peace (2nd); Construction of
Erechtheum begins (421-405)
Euripides The Trojan Women
Aristophanes Birds (2nd at Dionysia)
THE DECELEAN OR IONIAN WAR (413-404/3)
413
412
Spartans occupy Decelea beginning the Decelean or
Ionian War (413-404). Destruction of the Sicilian
expedition.
Revolt of Athenian allies. Treaty of Miletus between
Sparta and Persia. Alcibiades leaves Sparta.
411
Persia begins to support Spartan navy. Athenian Council
of Four Hundred overthrown by the Five Thousand.
410
Battle of Cyzicus. Restoration of Democracy at Athens.
407
Athens recovers Thasos. Alcibiades at Athens.
406
405
Battles of Notion and Arginusae.Trial of the Generals.
Battle of Aegospotami (end of summer). Blockade of
Athens (405-404)
Euripides dies in Macedonia
Sophocles dies. Aristophanes Frogs (1st at
Lenaea)
404
The Peloponnesian War ends with the victory of Sparta
over Athens. Long Walls pulled down (April). Rule of
the Thirty. Tyrants supported by Spartan garrison.
Thrasybulus deposes Thirty Tyants and restores
democracy.
Lysias' property confiscated and his brother
killed by the Thirty.
403
Aristophanes Lysistrata and
Thesmophoriazusae.