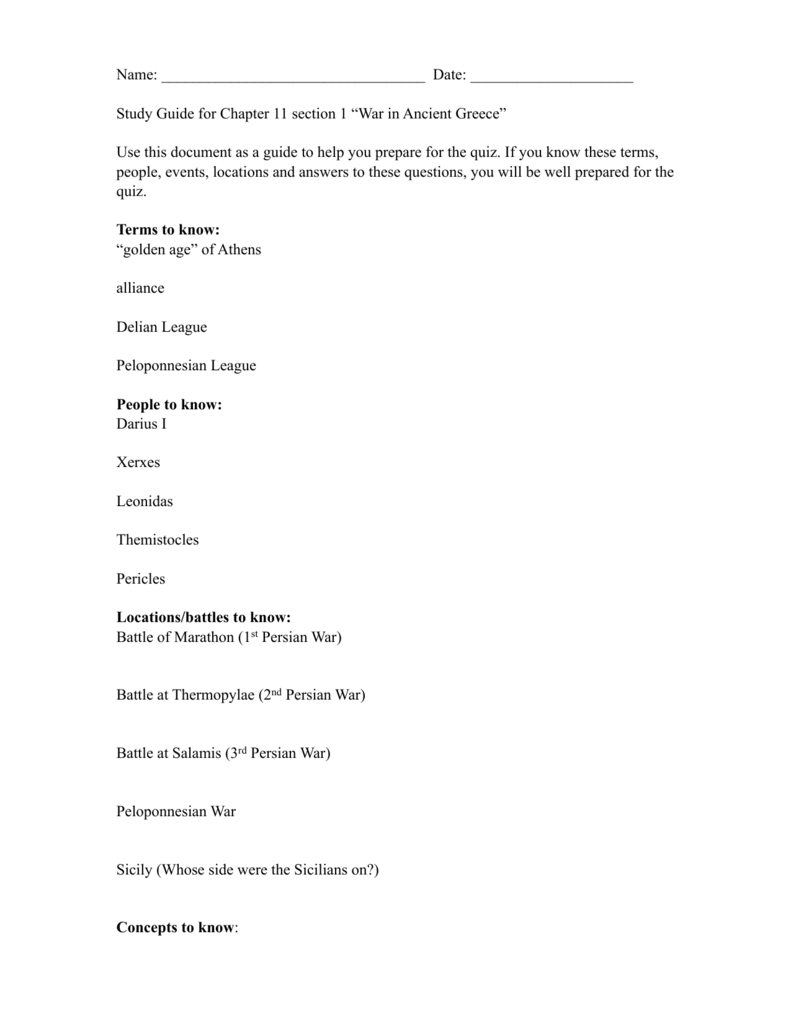 Name: __________________________________ Date: _____________________
!
Study Guide for Chapter 11 section 1 "War in Ancient Greece"
!
Use this document as a guide to help you prepare for the quiz. If you know these terms,
people, events, locations and answers to these questions, you will be well prepared for the
quiz.
!
Terms to know:
"golden age" of Athens
!
alliance
!
Delian League
!
Peloponnesian League
!
People to know:
Darius I
!
Xerxes
!
Leonidas
!
Themistocles
!
Pericles
!
Locations/battles to know:
Battle of Marathon (1st Persian War)
!
!
Battle at Thermopylae (2 Persian War)
!
!
Battle at Salamis (3 Persian War)
!
!
Peloponnesian War
!
!
Sicily (Whose side were the Sicilians on?)
!
!
Concepts to know:
!
nd
rd
What started the conflicts between Persia and Greece?
!
!
What were the military strengths of Athens vs Sparta?
!
!
!
Why were some city-states that were members of the Delian League unhappy with
Athens?
!
!
How did the Athenians manage to initially hold off the Spartan invasion into their city?
(hint: wall & port city)
!
!
What led the Spartans to end their first yearlong siege upon Athens?
!
!
Ironically, the Persians came into the conflict between Athens and Sparta. Whose side do
they take and how to they assist their former enemy?
!
!
Who won the Peloponnesian War? What was the overall outcome of this 27-year feud for
all of Greece?
!
!
!
!
!
!