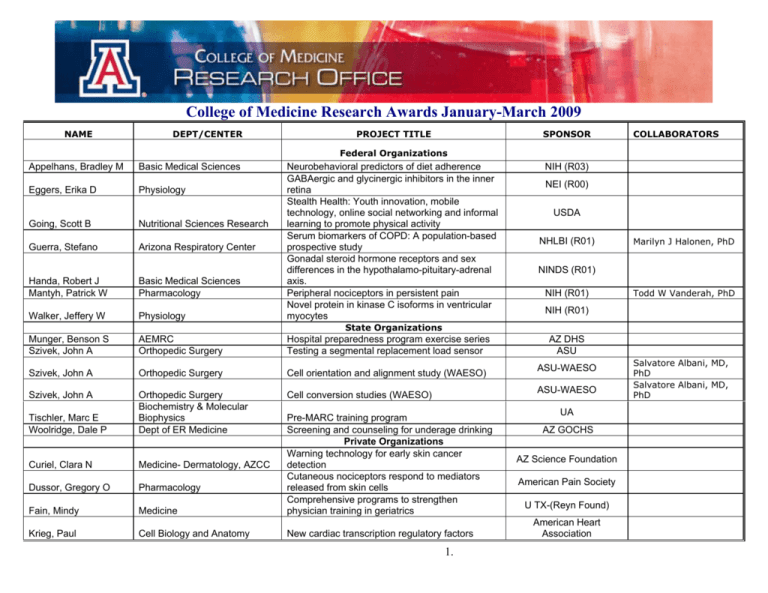 College of Medicine Research Awards January-March 2009
NAME
DEPT/CENTER
PROJECT TITLE
SPONSOR
COLLABORATORS
Federal Organizations
Appelhans, Bradley M
Basic Medical Sciences
Eggers, Erika D
Physiology
Going, Scott B
Nutritional Sciences Research
Guerra, Stefano
Arizona Respiratory Center
Handa, Robert J
Mantyh, Patrick W
Basic Medical Sciences
Pharmacology
Walker, Jeffery W
Physiology
Neurobehavioral predictors of diet adherence
GABAergic and glycinergic inhibitors in the inner
retina
Stealth Health: Youth innovation, mobile
technology, online social networking and informal
learning to promote physical activity
Serum biomarkers of COPD: A population-based
prospective study
Gonadal steroid hormone receptors and sex
differences in the hypothalamo-pituitary-adrenal
axis.
Peripheral nociceptors in persistent pain
Novel protein in kinase C isoforms in ventricular
myocytes
Munger, Benson S
Szivek, John A
AEMRC
Orthopedic Surgery
Hospital preparedness program exercise series
Testing a segmental replacement load sensor
Szivek, John A
Orthopedic Surgery
Cell orientation and alignment study (WAESO)
Szivek, John A
Cell conversion studies (WAESO)
Tischler, Marc E
Woolridge, Dale P
Orthopedic Surgery
Biochemistry & Molecular
Biophysics
Dept of ER Medicine
Curiel, Clara N
Medicine- Dermatology, AZCC
Dussor, Gregory O
Pharmacology
Fain, Mindy
Medicine
Pre-MARC training program
Screening and counseling for underage drinking
Private Organizations
Warning technology for early skin cancer
detection
Cutaneous nociceptors respond to mediators
released from skin cells
Comprehensive programs to strengthen
physician training in geriatrics
Krieg, Paul
Cell Biology and Anatomy
New cardiac transcription regulatory factors
NIH (R03)
NEI (R00)
USDA
NHLBI (R01)
Marilyn J Halonen, PhD
NINDS (R01)
NIH (R01)
Todd W Vanderah, PhD
NIH (R01)
State Organizations
AZ DHS
ASU
ASU-WAESO
ASU-WAESO
1.
UA
AZ GOCHS
AZ Science Foundation
American Pain Society
U TX-(Reyn Found)
American Heart
Association
Salvatore Albani, MD,
PhD
Salvatore Albani, MD,
PhD
College of Medicine Research Awards January-March 2009
NAME
DEPT/CENTER
Kutob, Randa M
Daines, Cory L
Family & Community Medicine
Arizona Respiratory Center
Scherer, Katalin
Neurology
Stamer, William D
Opthalmology & Vision Science
Szivek, John A
Orthopedic Surgery
PROJECT TITLE
SPONSOR
Families United
Therapeutics Development Center
Identification of diagnostic and prognostic
biomarkers from ALS skin and adipose samples
Research to prevent blindness
Cartilage tissue engineered to resurface
osteochondal allografts
American Diabetes
Association
COLLABORATORS
Mikel Aicken, PhD;
Cheryl Ritenbaugh,
PhD; Violet Siwik, MD
CFFTI
ALS-TDI
Stephen H Smyth, MD
Prevent Blindness
America
MTF
Industry
Armstrong, David G
Surgery
Dragovich, Tomislav
Cancer Center Division
Birchman, Vaz A
AZ Arthritis Center
Phase II clinical trial to evaluate DC127 in
treating subjects with diabetic ulcers
Phase I/II trial of PR104 and sorafenib in patients
with advanced hepatocellular carcinoma
UA Rheumatology Fellowship Program
US BIOTEST
Manish Bharara, PhD;
Joseph L Mills, MD
PROACTA
CENTOCOR
* ALS-TDI (Amyotrophic Lateral Sclerosis Therapy Development Institute); ASU (Arizona State University); AZ DHS (Arizona Department Health Services);
ASU-WAESO (Arizona State University- Western Alliance to Expand Student Organization); CFFTI (Cystic Fibrosis Foundation Therapeutics, Inc.); AZ
GOCHS (Arizona Governor's Office of Community and Highway Safety); MTF (Musculoskeletal Transplant Foundation); NEI (National Eye Institute); NHLBI
(National Heart, Lung and Blood Institute); NIH (National Institute of Health); NINDS (National Institute of Neurological Disorders and Stroke; U TX- Reyn
Found (University of Texas, Reynolds Foundation); USDA (United States Department of Agriculture); .
2.