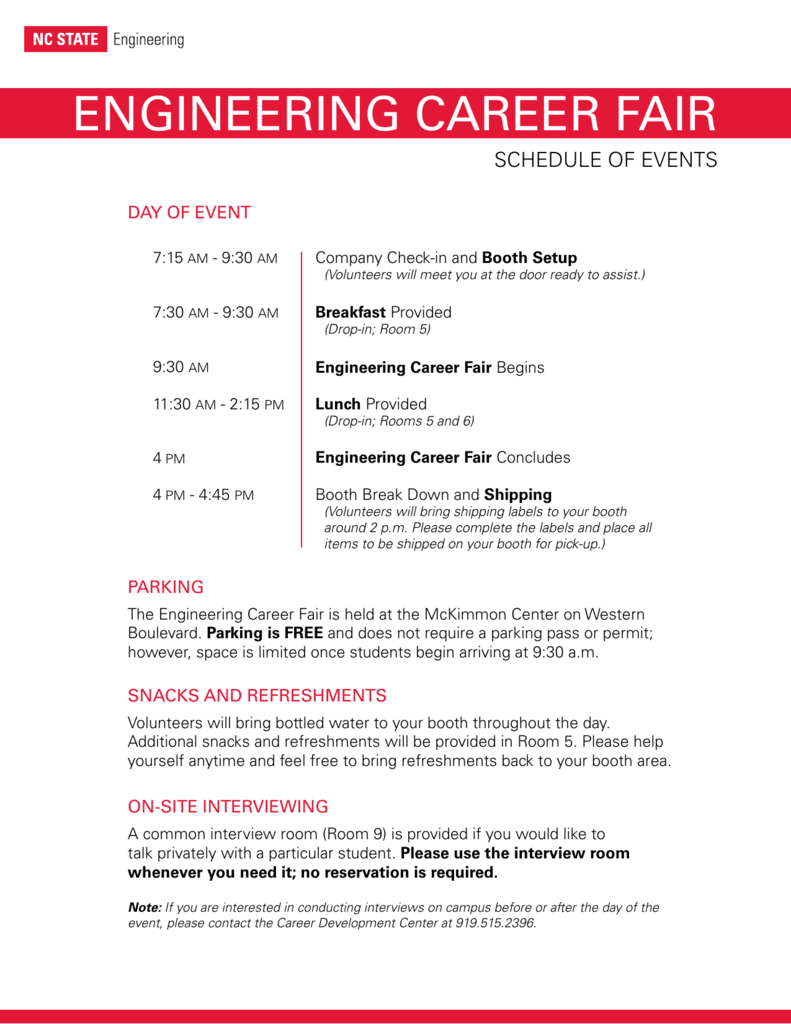 ENGINEERING CAREER FAIR
SCHEDULE OF EVENTS
DAY OF EVENT
7:15 AM - 9:30 AM
Company Check-in and Booth Setup
7:30 AM - 9:30 AM
Breakfast Provided
9:30 AM
Engineering Career Fair Begins
11:30 AM - 2:15 PM
Lunch Provided
4 PM
Engineering Career Fair Concludes
4 PM - 4:45 PM
Booth Break Down and Shipping
(Volunteers will meet you at the door ready to assist.)
(Drop-in; Room 5)
(Drop-in; Rooms 5 and 6)
(Volunteers will bring shipping labels to your booth
around 2 p.m. Please complete the labels and place all
items to be shipped on your booth for pick-up.)
PARKING
The Engineering Career Fair is held at the McKimmon Center on Western
Boulevard. Parking is FREE and does not require a parking pass or permit;
however, space is limited once students begin arriving at 9:30 a.m.
SNACKS AND REFRESHMENTS
Volunteers will bring bottled water to your booth throughout the day.
Additional snacks and refreshments will be provided in Room 5. Please help
yourself anytime and feel free to bring refreshments back to your booth area.
ON-SITE INTERVIEWING
A common interview room (Room 9) is provided if you would like to
talk privately with a particular student. Please use the interview room
whenever you need it; no reservation is required.
Note: If you are interested in conducting interviews on campus before or after the day of the
event, please contact the Career Development Center at 919.515.2396.