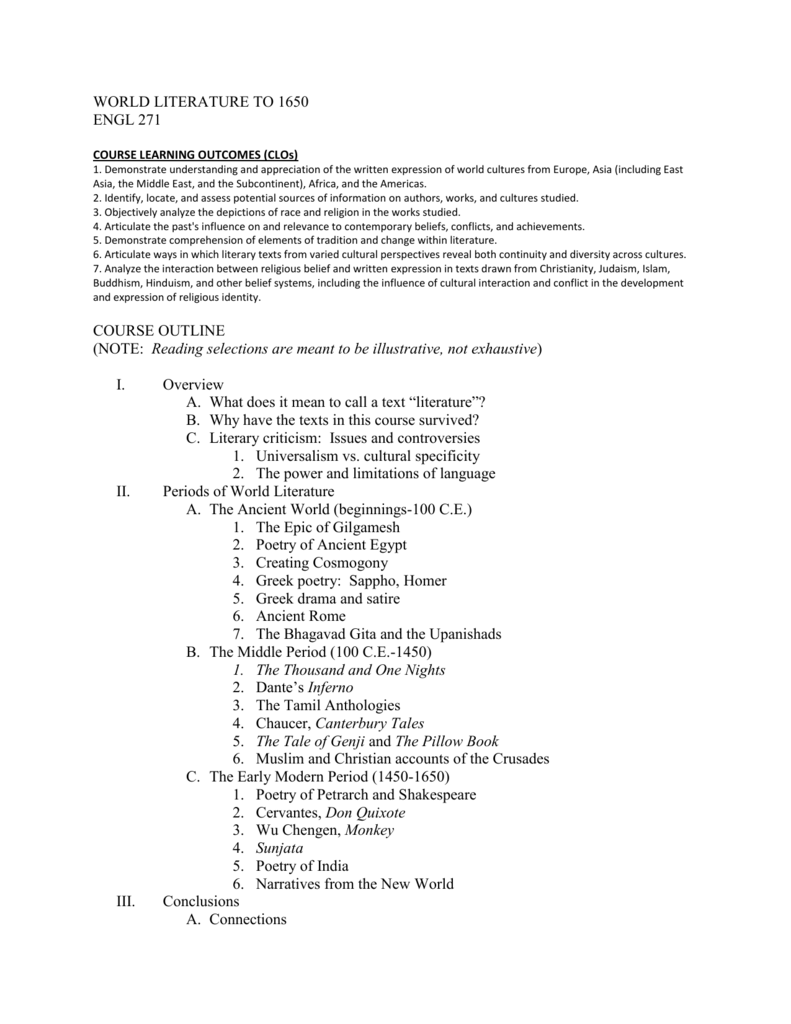 WORLD LITERATURE TO 1650
ENGL 271
COURSE LEARNING OUTCOMES (CLOs)
1. Demonstrate understanding and appreciation of the written expression of world cultures from Europe, Asia (including East
Asia, the Middle East, and the Subcontinent), Africa, and the Americas.
2. Identify, locate, and assess potential sources of information on authors, works, and cultures studied.
3. Objectively analyze the depictions of race and religion in the works studied.
4. Articulate the past's influence on and relevance to contemporary beliefs, conflicts, and achievements.
5. Demonstrate comprehension of elements of tradition and change within literature.
6. Articulate ways in which literary texts from varied cultural perspectives reveal both continuity and diversity across cultures.
7. Analyze the interaction between religious belief and written expression in texts drawn from Christianity, Judaism, Islam,
Buddhism, Hinduism, and other belief systems, including the influence of cultural interaction and conflict in the development
and expression of religious identity.
COURSE OUTLINE
(NOTE: Reading selections are meant to be illustrative, not exhaustive)
I.
II.
III.
Overview
A. What does it mean to call a text "literature"?
B. Why have the texts in this course survived?
C. Literary criticism: Issues and controversies
1. Universalism vs. cultural specificity
2. The power and limitations of language
Periods of World Literature
A. The Ancient World (beginnings-100 C.E.)
1. The Epic of Gilgamesh
2. Poetry of Ancient Egypt
3. Creating Cosmogony
4. Greek poetry: Sappho, Homer
5. Greek drama and satire
6. Ancient Rome
7. The Bhagavad Gita and the Upanishads
B. The Middle Period (100 C.E.-1450)
1. The Thousand and One Nights
2. Dante's Inferno
3. The Tamil Anthologies
4. Chaucer, Canterbury Tales
5. The Tale of Genji and The Pillow Book
6. Muslim and Christian accounts of the Crusades
C. The Early Modern Period (1450-1650)
1. Poetry of Petrarch and Shakespeare
2. Cervantes, Don Quixote
3. Wu Chengen, Monkey
4. Sunjata
5. Poetry of India
6. Narratives from the New World
Conclusions
A. Connections
1. What have been common themes across cultures?
2. In what ways does the present reflect the past?
B. Divergences
1. What have been some notable cultural differences?
2. How have conflicting world views shaped cultures?