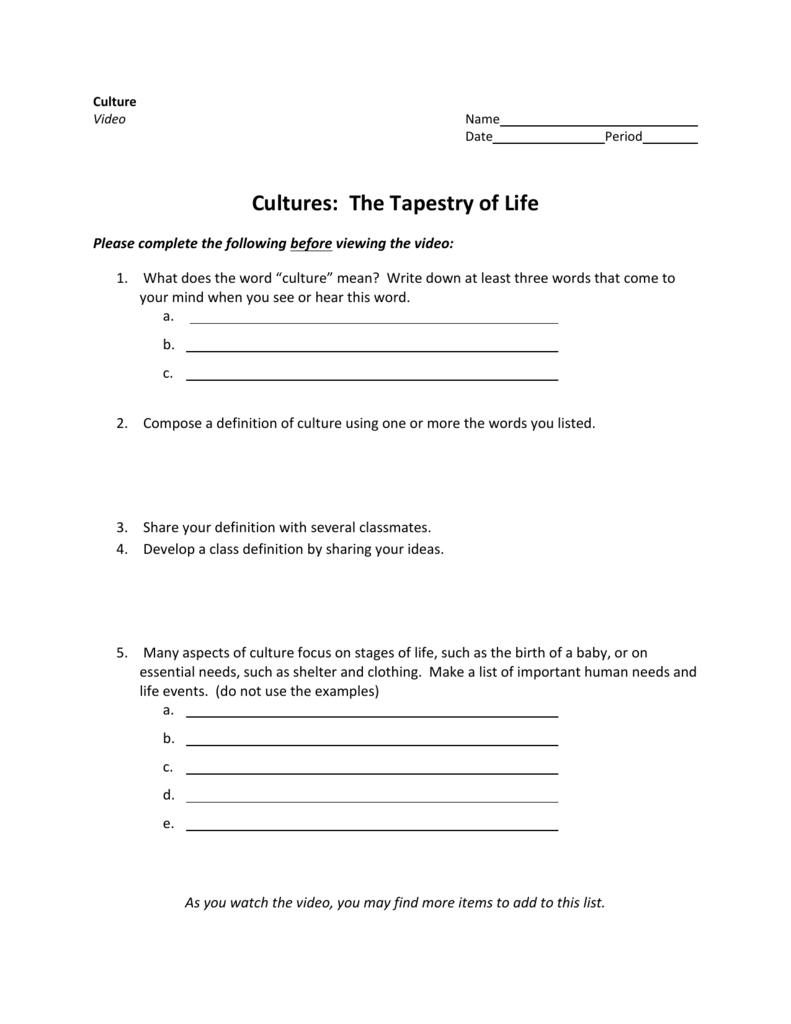 Culture
Video
Name
Date
Period
Cultures: The Tapestry of Life
Please complete the following before viewing the video:
1. What does the word "culture" mean? Write down at least three words that come to
your mind when you see or hear this word.
a.
b.
c.
2. Compose a definition of culture using one or more the words you listed.
3. Share your definition with several classmates.
4. Develop a class definition by sharing your ideas.
5. Many aspects of culture focus on stages of life, such as the birth of a baby, or on
essential needs, such as shelter and clothing. Make a list of important human needs and
life events. (do not use the examples)
a.
b.
c.
d.
e.
As you watch the video, you may find more items to add to this list.
Please complete the following after viewing the video.
6. From what you have seen in this video, how are the cultures of the world's peoples like
a "tapestry of life"?
7. Identify at least five components of culture. For example, religion is a component.
a. Religion
b.
c.
d.
e.
f.
8. Review your list of needs and major events in life (number 5). How does belonging to a
culture help its individual members?
9. How do cultural traditions help a group as a whole?
10. People on Earth belong to many different cultures. Identify at least two advantages of
this global cultural diversity.
a.
b.