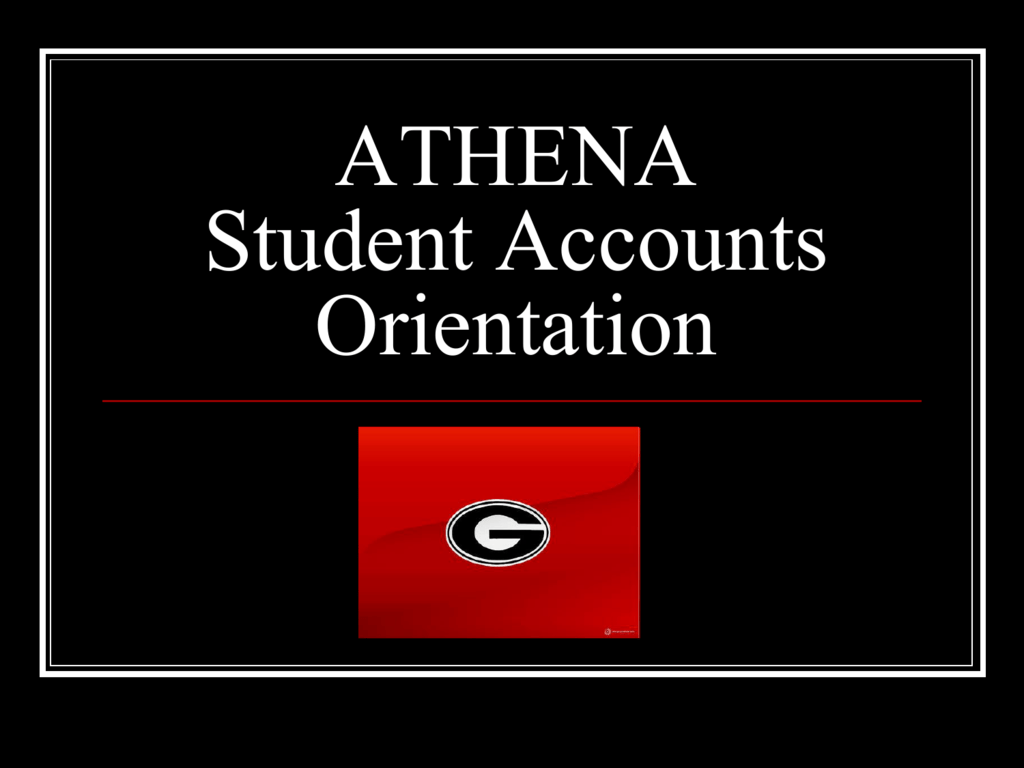 ATHENA
Student Accounts
Orientation
Contact Information




Website: www.bursar.uga.edu
Email Address: [email protected] or
[email protected]
Location: 424 E. Broad St. Athens, GA 30602
Phone: (706) 542-2965
Calendar and Payment Deadlines

Fall 2014 Dates to Remember:





1st Due Date: August 8, 2014
2nd Due Date: August 22, 2014
Cancellation: September 2, 2014
Late Fees
Reinstatement
Tuition and Fee Schedules



Select the Tuition and Fee
Schedules tab on
www.bursar.uga.edu
Student fees are based on
the campus of the student's
primary program of study.
Tuition charged per
semester
Flat Tuition Rate
6 or less hrs.
$2,552/$7,952
More than 6 hrs.
$4,295/$13,400
Athens Campus Student Fees
ATHENA Student Account




Centralized electronic billing system for
University charges
Tuition, Housing, Food Services, Parking, etc.
Authorized user access
Refund Direct Deposit
Notification Methods

NO paper bills

CHECK
BASIS!
ON A REGULAR
ATHENA Student Account login
Access ATHENA Student Account at
athena.uga.edu
Permission to Pay

Federal Financial Aid Funds are automatically used to pay ATHENA
Student Account Charges for charges related to Tuition and Fees, Course
and Lab Fees, Residence Hall Rent, Food Service Plans and Parking
Permits when a balance is available. Permission to Pay allows you to
authorize your Federal Financial Aid (Pell, SEOG, William D. Ford Sub and
Unsub Loans, Perkins) to Pay for 'other' charges such as miscellaneous
fees, returned checks, parking, late fees, health insurance, etc. If you
wish to allow the University to apply your Federal
Financial Aid to pay these 'other' student account
charges, you have the option to choose "pay current aid
year" and/or "pay prior award year up to $200."

Select "Authorize" for your choices and "Submit"
ATHENA Student Account

Effective July 2014, log in to ATHENA


select Student Account tab
click View Student Account
eBills



Serves as a statement of previous month's
activity
Only as current as date listed at top of statement
Amount due will be composed of eBills and
Recent Account Activity
Recent Account Activity



Activity since the last statement generated will
be on the Recent Account Activity tab
Important: check eBills and Recent Account
Activity near due dates for any new charges
Student will receive an email each time there is
activity on their ATHENA Student Account
Authorized Users



Student has ability to setup Authorized Users to
allow access to view and pay bills
Authorized User will receive email with
instructions on setting up access
Authorized Users DO NOT receive account
specific emails
Webcheck




Pay online using bank account info
No fee associated
Payment reflects immediately
Store multiple bank accounts
Direct Deposit



Only one account may be selected for direct
deposit of overpayments and financial aid
Fastest way to receive refund!
This returns any over-payment or excess
financial aid to the student more securely.
Payment Options



Check or Money Order by mail
Check, Cash, or Money Order in our office
Online using credit card



Currently accept Mastercard, American Express, and Discover
2.75% convenience fee, minimum of $3.00
Online using webcheck with no fee
Welcome to UGA!
Student Accounts representatives are available by phone,
e-mail, or in person to assist you with any questions
you may have about your account or your billing.