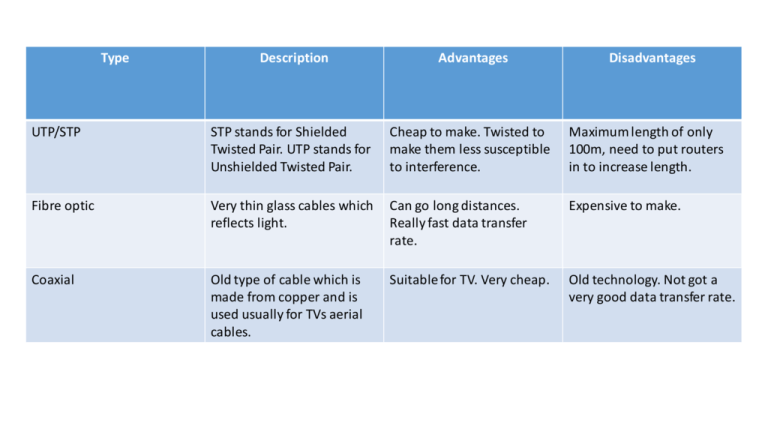 Type
Description
Advantages
Disadvantages
UTP/STP
STP stands for Shielded
Twisted Pair. UTP stands for
Unshielded Twisted Pair.
Cheap to make. Twisted to
make them less susceptible
to interference.
Maximum length of only
100m, need to put routers
in to increase length.
Fibre optic
Very thin glass cables which
reflects light.
Can go long distances.
Really fast data transfer
rate.
Expensive to make.
Coaxial
Old type of cable which is
made from copper and is
used usually for TVs aerial
cables.
Suitable for TV. Very cheap.
Old technology. Not got a
very good data transfer rate.
Type
Description
Advantages
Disadvantages
Wi-Fi
Long range wireless
technology used in
smartphones.
Biggest range in wireless
terms. Quicker than
Bluetooth. Wide range of
devices can be connected
to it.
Weaker security.
Bluetooth
Short range wireless
technology used in
phones and games
consoles, etc.
Wide range of devices use Shortest range in terms of
it ( gaming controllers,
wireless.
headset, smart TVs etc.).