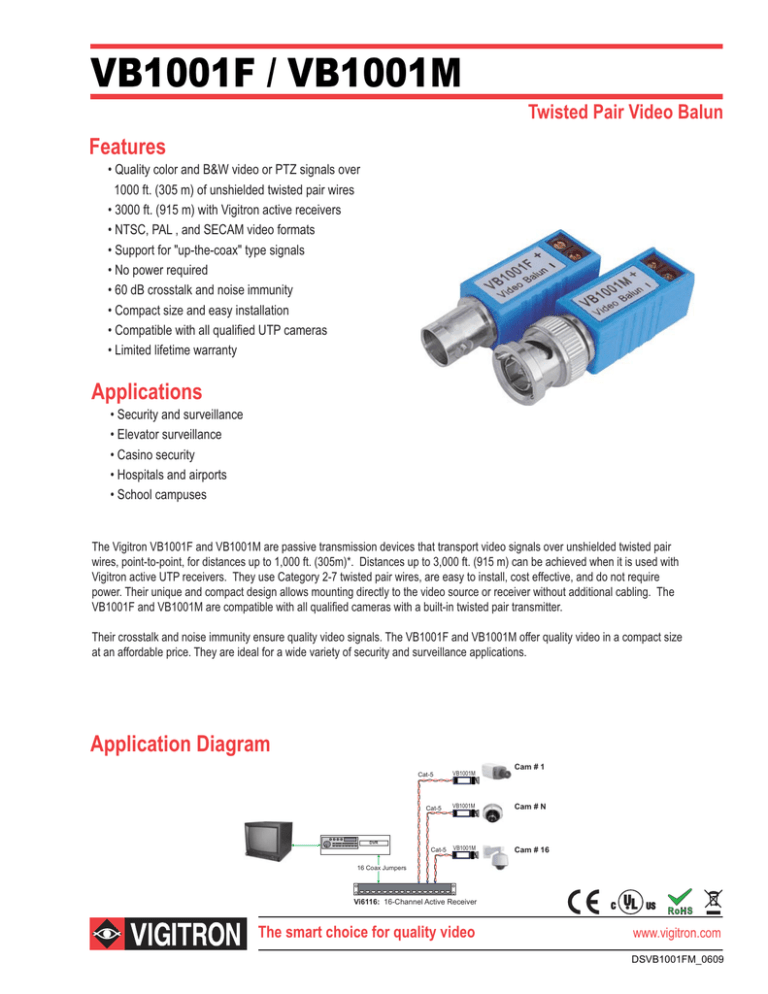 VB1001F / VB1001M
Twisted Pair Video Balun
Features
• Quality color and B&W video or PTZ signals over
1000 ft. (305 m) of unshielded twisted pair wires
• 3000 ft. (915 m) with Vigitron active receivers
• NTSC, PAL , and SECAM video formats
• Support for "up-the-coax" type signals
• No power required
• 60 dB crosstalk and noise immunity
• Compact size and easy installation
• Compatible with all qualified UTP cameras
• Limited lifetime warranty
Applications
• Security and surveillance
• Elevator surveillance
• Casino security
• Hospitals and airports
• School campuses
The Vigitron VB1001F and VB1001M are passive transmission devices that transport video signals over unshielded twisted pair
wires, point-to-point, for distances up to 1,000 ft. (305m)*. Distances up to 3,000 ft. (915 m) can be achieved when it is used with
Vigitron active UTP receivers. They use Category 2-7 twisted pair wires, are easy to install, cost effective, and do not require
power. Their unique and compact design allows mounting directly to the video source or receiver without additional cabling. The
VB1001F and VB1001M are compatible with all qualified cameras with a built-in twisted pair transmitter.
Their crosstalk and noise immunity ensure quality video signals. The VB1001F and VB1001M offer quality video in a compact size
at an affordable price. They are ideal for a wide variety of security and surveillance applications.
Application Diagram
Cat-5
Cat-5
VB1001M
Cam # 1
VB1001M
Cam # N
VB1001M
Cam # 16
DVR
Cat-5
16 Coax Jumpers
Vi6116: 16-Channel Active Receiver
RoHS
The smart choice for quality video
www.vigitron.com
DSVB1001FM_0609
Technical Specification**
Ordering Information
Electrical
Video Format
Frequency
Coax
Twisted Pair
NTSC, PAL, SECAM
DC to 10 MHz
75 Ohm
100 Ohms +/- 20%, 24 AWG minimum
up to 1,000 ft. (305 m)* unshielded Category 2-7
0.3 dB
60 dB
No power required
Video: Male BNC
UTP: Terminal block
Insertion Loss
CMRR
Power
Connectors
PART No.
VB1001F
Description
Video Balun w/ Female BNC
VB1001M
Video Balun w/ Male BNC
System Configuration
750 ft.
228 m
Environmental
Humidity
Temperature
0 to 95%, non-condensing
Operating: -10°C to +50°C
Storage: -30°C to +70°C
Passive Transceivers
Channels Model
Mechanical
Dimensions
Weight
Material
Maximum Cable
Distance
1.85x0.54 inches (47x13.6 mm)
0.2 oz (7 g)
ABS plastic, UL rating of 94V-0
*It is recommended not to exceed 750 ft. (228 m) when using with digital equipment.
**Specifications are subject to change without notice.
1.85"
1
4
8
16
32
VB1001F/M
VB1007M
Vi1001F/M/P
Vi1003M
Vi1006M
Vi1004
Vi1008
Vi1016
Vi1032
3,000 ft.
915 m
Active Receivers
Model
Channels
1
4
8
16
32
Vi6100VR/Vi6200VR
Vi6104/Vi6204
Vi6108/Vi6208/Vi6308
Vi6116/Vi6216/Vi6316
Vi6132/Vi6232/Vi6332
2,000 feet (610 m) for Vi6200 series
0.54"
1.20"
0.54"
VB1001M
Wire and Cable Recommendations
The Vigitron products are designed to be used with unshielded twisted pair (UTP) wiring. The UTP wire must be 24AWG - 12AWG or Category 2-7 cable.
Multi pair cable with an overall shield is acceptable, however individually shielded pairs should be avoided. Multiple UTP video feeds can be operated in
the same communication cable along with telephone, computer, control signals and low power voltages. While UTP video may be routed through
punch-down block terminals, any resistive, capacitive or inductive devices (such as T-taps or MOV's) must not be used. Please contact Vigitron for more
specific information regarding wire types and proper installation techniques.
TEL (+1) 858 - 484 - 5209 • FAX (+1) 858 - 484 - 1205
13906 Sparren Ave. San Diego, CA 92129, USA • info@vigitron.com • www.vigitron.com
© Copyright 2009 Vigitron, Inc.