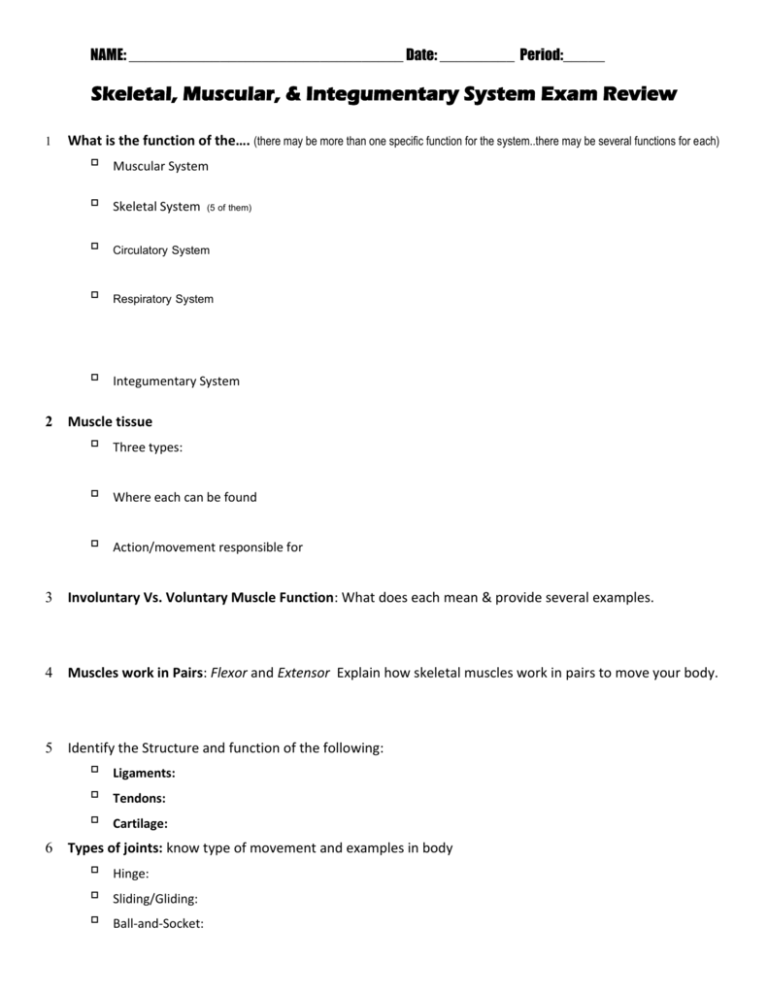 NAME: _________________________________ Date: _________ Period:_____
Skeletal, Muscular, & Integumentary System Exam Review
1
2
What is the function of the…. (there may be more than one specific function for the system..there may be several functions for each)

Muscular System

Skeletal System (5 of them)

Circulatory System

Respiratory System

Integumentary System
Muscle tissue

Three types:

Where each can be found

Action/movement responsible for
3
Involuntary Vs. Voluntary Muscle Function: What does each mean & provide several examples.
4
Muscles work in Pairs: Flexor and Extensor Explain how skeletal muscles work in pairs to move your body.
5
Identify the Structure and function of the following:



6
Ligaments:
Tendons:
Cartilage:
Types of joints: know type of movement and examples in body



Hinge:
Sliding/Gliding:
Ball-and-Socket:
7. Layers of skin: know what each layer contains, its location and its purpose
o Epidermis
o Dermis
o Subcutaneous Layer
8. You need to know ALL parts of the circulatory and respiratory systems
9. You will need to UNDERSTAND how the different systems work together to make the body function
properly.