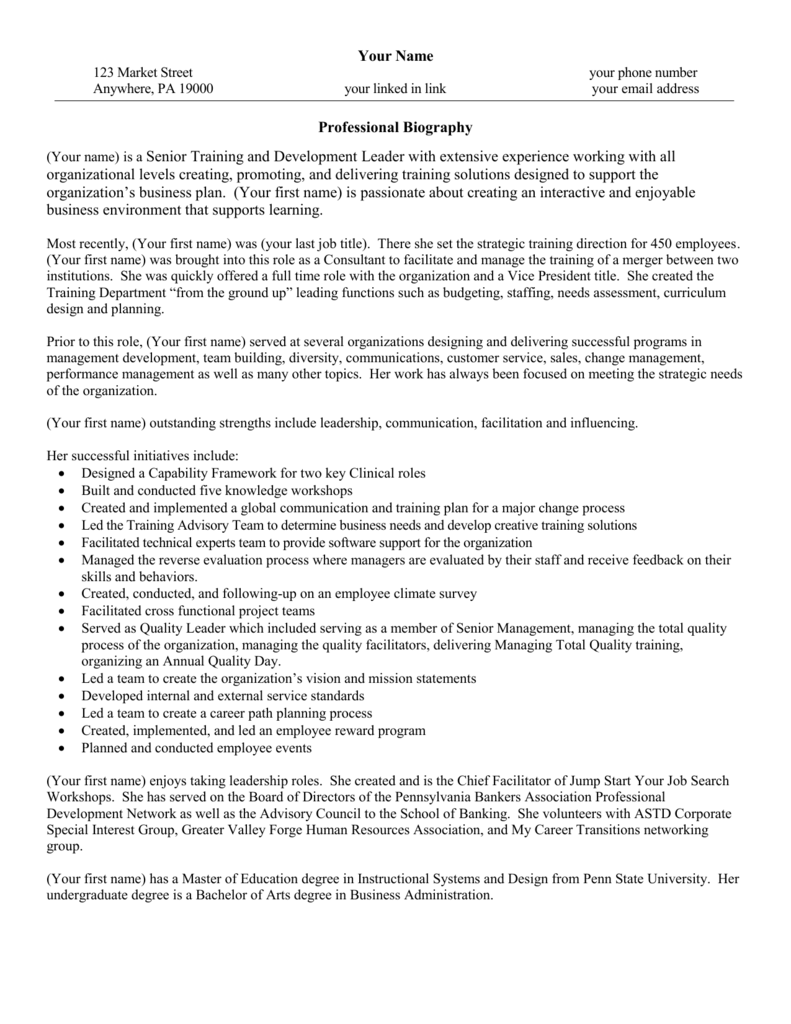 Your Name
123 Market Street
Anywhere, PA 19000
your linked in link
your phone number
your email address
Professional Biography
(Your name) is a Senior Training and Development Leader with extensive experience working with all
organizational levels creating, promoting, and delivering training solutions designed to support the
organization's business plan. (Your first name) is passionate about creating an interactive and enjoyable
business environment that supports learning.
Most recently, (Your first name) was (your last job title). There she set the strategic training direction for 450 employees.
(Your first name) was brought into this role as a Consultant to facilitate and manage the training of a merger between two
institutions. She was quickly offered a full time role with the organization and a Vice President title. She created the
Training Department "from the ground up" leading functions such as budgeting, staffing, needs assessment, curriculum
design and planning.
Prior to this role, (Your first name) served at several organizations designing and delivering successful programs in
management development, team building, diversity, communications, customer service, sales, change management,
performance management as well as many other topics. Her work has always been focused on meeting the strategic needs
of the organization.
(Your first name) outstanding strengths include leadership, communication, facilitation and influencing.
Her successful initiatives include:
 Designed a Capability Framework for two key Clinical roles
 Built and conducted five knowledge workshops
 Created and implemented a global communication and training plan for a major change process
 Led the Training Advisory Team to determine business needs and develop creative training solutions
 Facilitated technical experts team to provide software support for the organization
 Managed the reverse evaluation process where managers are evaluated by their staff and receive feedback on their
skills and behaviors.
 Created, conducted, and following-up on an employee climate survey
 Facilitated cross functional project teams
 Served as Quality Leader which included serving as a member of Senior Management, managing the total quality
process of the organization, managing the quality facilitators, delivering Managing Total Quality training,
organizing an Annual Quality Day.
 Led a team to create the organization's vision and mission statements
 Developed internal and external service standards
 Led a team to create a career path planning process
 Created, implemented, and led an employee reward program
 Planned and conducted employee events
(Your first name) enjoys taking leadership roles. She created and is the Chief Facilitator of Jump Start Your Job Search
Workshops. She has served on the Board of Directors of the Pennsylvania Bankers Association Professional
Development Network as well as the Advisory Council to the School of Banking. She volunteers with ASTD Corporate
Special Interest Group, Greater Valley Forge Human Resources Association, and My Career Transitions networking
group.
(Your first name) has a Master of Education degree in Instructional Systems and Design from Penn State University. Her
undergraduate degree is a Bachelor of Arts degree in Business Administration.