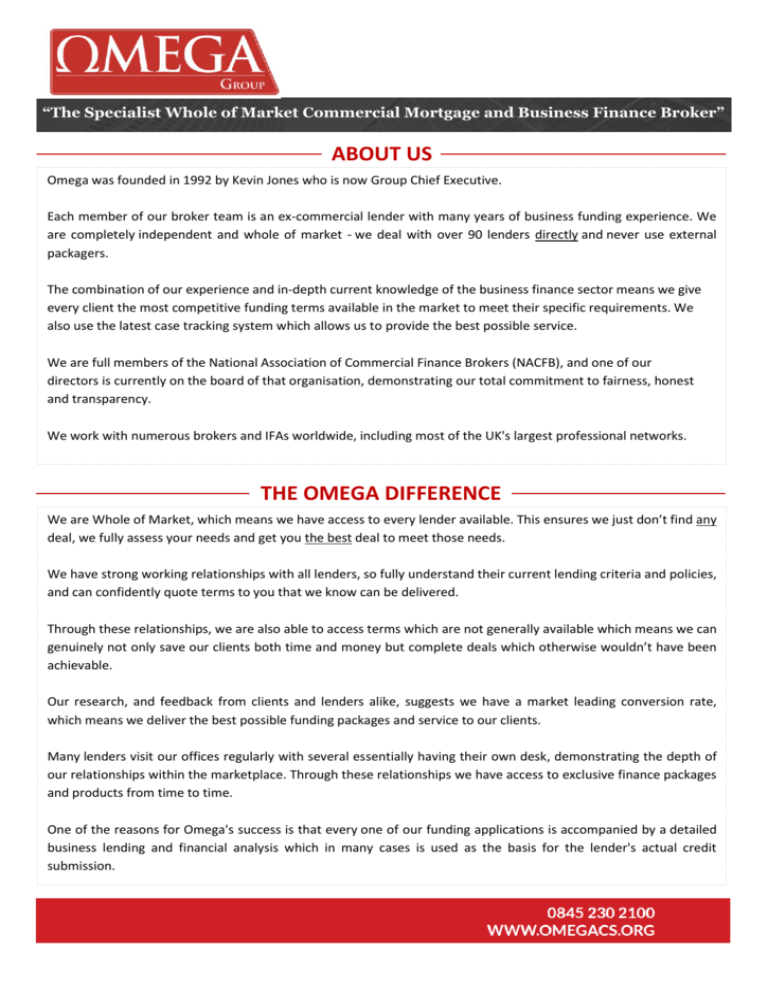 "The Specialist Whole of Market Commercial Mortgage and Business Finance Broker"
ABOUT US
Omega was founded in 1992 by Kevin Jones who is now Group Chief Executive.
Each member of our broker team is an ex-commercial lender with many years of business funding experience. We
are completely independent and whole of market - we deal with over 90 lenders directly and never use external
packagers.
The combination of our experience and in-depth current knowledge of the business finance sector means we give
every client the most competitive funding terms available in the market to meet their specific requirements. We
also use the latest case tracking system which allows us to provide the best possible service.
We are full members of the National Association of Commercial Finance Brokers (NACFB), and one of our
directors is currently on the board of that organisation, demonstrating our total commitment to fairness, honest
and transparency.
We work with numerous brokers and IFAs worldwide, including most of the UK's largest professional networks.
THE OMEGA DIFFERENCE
We are Whole of Market, which means we have access to every lender available. This ensures we just don't find any
deal, we fully assess your needs and get you the best deal to meet those needs.
We have strong working relationships with all lenders, so fully understand their current lending criteria and policies,
and can confidently quote terms to you that we know can be delivered.
Through these relationships, we are also able to access terms which are not generally available which means we can
genuinely not only save our clients both time and money but complete deals which otherwise wouldn't have been
achievable.
Our research, and feedback from clients and lenders alike, suggests we have a market leading conversion rate,
which means we deliver the best possible funding packages and service to our clients.
Many lenders visit our offices regularly with several essentially having their own desk, demonstrating the depth of
our relationships within the marketplace. Through these relationships we have access to exclusive finance packages
and products from time to time.
One of the reasons for Omega's success is that every one of our funding applications is accompanied by a detailed
business lending and financial analysis which in many cases is used as the basis for the lender's actual credit
submission.