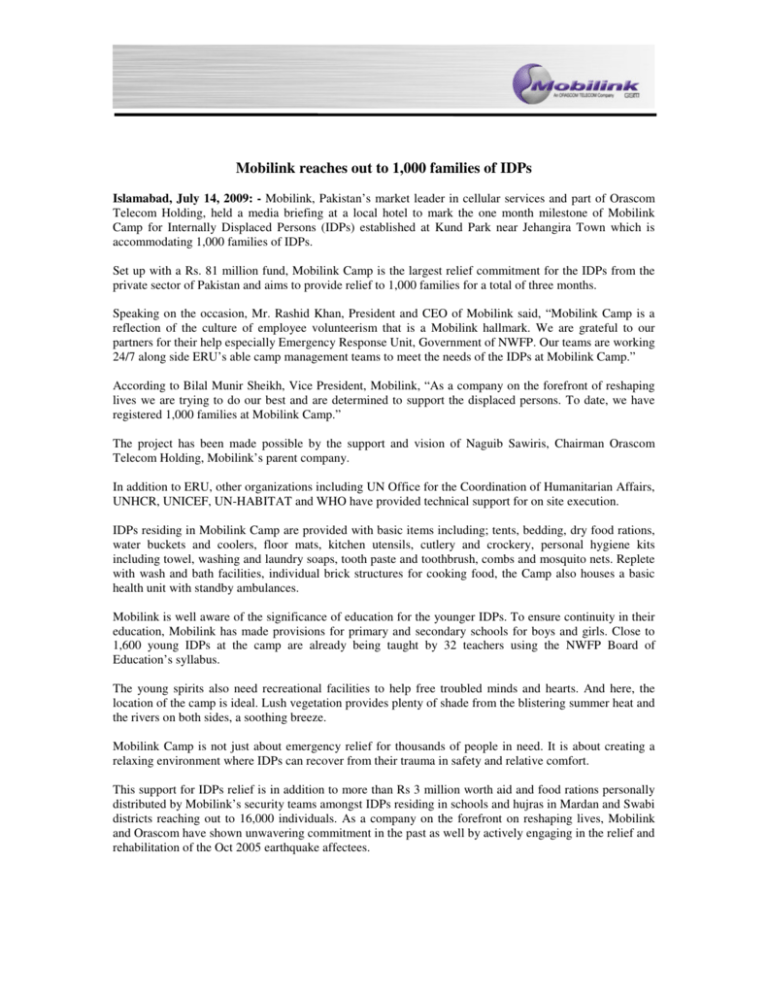 Mobilink reaches out to 1,000 families of IDPs
Islamabad, July 14, 2009: - Mobilink, Pakistan's market leader in cellular services and part of Orascom
Telecom Holding, held a media briefing at a local hotel to mark the one month milestone of Mobilink
Camp for Internally Displaced Persons (IDPs) established at Kund Park near Jehangira Town which is
accommodating 1,000 families of IDPs.
Set up with a Rs. 81 million fund, Mobilink Camp is the largest relief commitment for the IDPs from the
private sector of Pakistan and aims to provide relief to 1,000 families for a total of three months.
Speaking on the occasion, Mr. Rashid Khan, President and CEO of Mobilink said, "Mobilink Camp is a
reflection of the culture of employee volunteerism that is a Mobilink hallmark. We are grateful to our
partners for their help especially Emergency Response Unit, Government of NWFP. Our teams are working
24/7 along side ERU's able camp management teams to meet the needs of the IDPs at Mobilink Camp."
According to Bilal Munir Sheikh, Vice President, Mobilink, "As a company on the forefront of reshaping
lives we are trying to do our best and are determined to support the displaced persons. To date, we have
registered 1,000 families at Mobilink Camp."
The project has been made possible by the support and vision of Naguib Sawiris, Chairman Orascom
Telecom Holding, Mobilink's parent company.
In addition to ERU, other organizations including UN Office for the Coordination of Humanitarian Affairs,
UNHCR, UNICEF, UN-HABITAT and WHO have provided technical support for on site execution.
IDPs residing in Mobilink Camp are provided with basic items including; tents, bedding, dry food rations,
water buckets and coolers, floor mats, kitchen utensils, cutlery and crockery, personal hygiene kits
including towel, washing and laundry soaps, tooth paste and toothbrush, combs and mosquito nets. Replete
with wash and bath facilities, individual brick structures for cooking food, the Camp also houses a basic
health unit with standby ambulances.
Mobilink is well aware of the significance of education for the younger IDPs. To ensure continuity in their
education, Mobilink has made provisions for primary and secondary schools for boys and girls. Close to
1,600 young IDPs at the camp are already being taught by 32 teachers using the NWFP Board of
Education's syllabus.
The young spirits also need recreational facilities to help free troubled minds and hearts. And here, the
location of the camp is ideal. Lush vegetation provides plenty of shade from the blistering summer heat and
the rivers on both sides, a soothing breeze.
Mobilink Camp is not just about emergency relief for thousands of people in need. It is about creating a
relaxing environment where IDPs can recover from their trauma in safety and relative comfort.
This support for IDPs relief is in addition to more than Rs 3 million worth aid and food rations personally
distributed by Mobilink's security teams amongst IDPs residing in schools and hujras in Mardan and Swabi
districts reaching out to 16,000 individuals. As a company on the forefront on reshaping lives, Mobilink
and Orascom have shown unwavering commitment in the past as well by actively engaging in the relief and
rehabilitation of the Oct 2005 earthquake affectees.