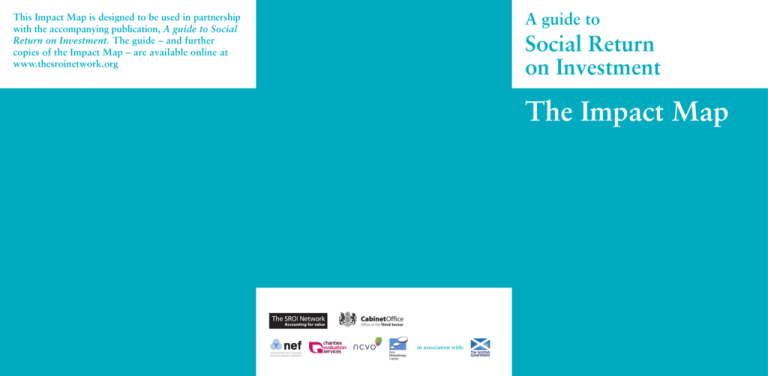 A guide to
This Impact Map is designed to be used in partnership
with the accompanying publication, A guide to Social
Return on Investment. The guide – and further
copies of the Impact Map – are available online at
www.thesroinetwork.org
Social Return
on Investment
The Impact Map
in association with:
Social Return on Investment – The Impact Map
Organisation
Name
Date
Objectives
Scope
Activity
Objective of Activity
Time Period
Contract/Funding/
Part of organisation
Purpose of Analysis
Forecast or
Evaluation
Stage 1
Stage 2
Stakeholders
Intended/unintended
changes
Inputs
Who do we have an
effect on?
What do you think will
change for them?
What do
they invest?
Who has an effect
on us?
Stage 3
Value £
Stage 4
Dead- Displace- Attribu- Drop
weight ment
tion
Off
%
%
%
%
Outputs
The Outcomes (what changes)
Summary of activity
in numbers
Description
Indicator
How would you describe the
change?
How would you measure it? Where did you
How
get the
much
information from? change
was
there?
Source
Quantity
Duration
Financial proxy
Value £
How long
does it
last?
What proxy
would you use
to value the
change?
What is
the value
of the
change?
Source
What
would
Where did you have
happened
get the
without
information
the
from?
activity?
What
activity
did you
displace?
Who else
contibuted
to the
change?
Does the
outcome
drop off
in future
years?
Impact
Action Plan
Quantity
What needs to be done?
times
financial proxy,
less
deadweight,
displacement,
and
attribution.