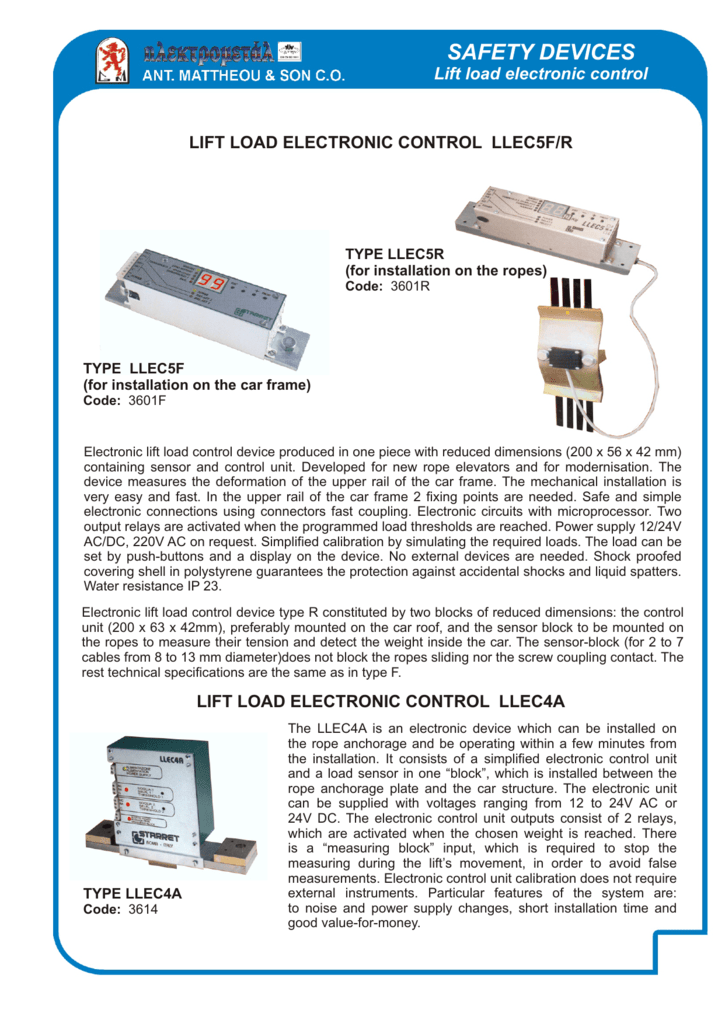 SAFETY DEVICES
Lift load electronic control
LIFT LOAD ELECTRONIC CONTROL LLEC5F/R
TYPE LLEC5R
(for installation on the ropes)
Code: 3601R
TYPE LLEC5F
(for installation on the car frame)
Code: 3601F
Electronic lift load control device produced in one piece with reduced dimensions (200 x 56 x 42 mm)
containing sensor and control unit. Developed for new rope elevators and for modernisation. The
device measures the deformation of the upper rail of the car frame. The mechanical installation is
very easy and fast. In the upper rail of the car frame 2 fixing points are needed. Safe and simple
electronic connections using connectors fast coupling. Electronic circuits with microprocessor. Two
output relays are activated when the programmed load thresholds are reached. Power supply 12/24V
AC/DC, 220V AC on request. Simplified calibration by simulating the required loads. The load can be
set by push-buttons and a display on the device. No external devices are needed. Shock proofed
covering shell in polystyrene guarantees the protection against accidental shocks and liquid spatters.
Water resistance IP 23.
.
Electronic lift load control device type R constituted by two blocks of reduced dimensions: the control
unit (200 x 63 x 42mm), preferably mounted on the car roof, and the sensor block to be mounted on
the ropes to measure their tension and detect the weight inside the car. The sensor-block (for 2 to 7
cables from 8 to 13 mm diameter)does not block the ropes sliding nor the screw coupling contact. The
rest technical specifications are the same as in type F.
.
LIFT LOAD ELECTRONIC CONTROL LLEC4A
TYPE LLEC4A
Code: 3614
The LLEC4A is an electronic device which can be installed on
the rope anchorage and be operating within a few minutes from
the installation. It consists of a simplified electronic control unit
and a load sensor in one "block", which is installed between the
rope anchorage plate and the car structure. The electronic unit
can be supplied with voltages ranging from 12 to 24V AC or
24V DC. The electronic control unit outputs consist of 2 relays,
which are activated when the chosen weight is reached. There
is a "measuring block" input, which is required to stop the
measuring during the lift's movement, in order to avoid false
measurements. Electronic control unit calibration does not require
external instruments. Particular features of the system are:
to noise and power supply changes, short installation time and
good value-for-money.
.