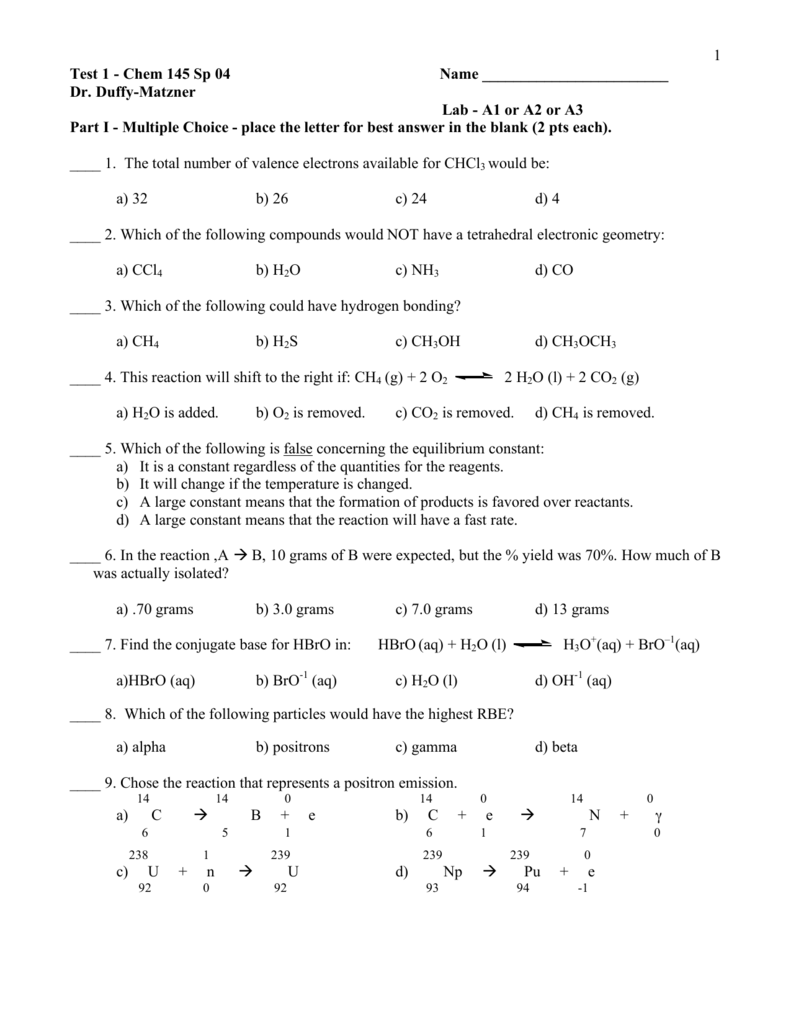 1
Test 1 - Chem 145 Sp 04
Dr. Duffy-Matzner
Name ________________________
Lab - A1 or A2 or A3
Part I - Multiple Choice - place the letter for best answer in the blank (2 pts each).
____ 1. The total number of valence electrons available for CHCl3 would be:
a) 32
b) 26
c) 24
d) 4
____ 2. Which of the following compounds would NOT have a tetrahedral electronic geometry:
a) CCl4
b) H2O
c) NH3
d) CO
____ 3. Which of the following could have hydrogen bonding?
a) CH4
b) H2S
c) CH3OH
d) CH3OCH3
____ 4. This reaction will shift to the right if: CH4 (g) + 2 O2
a) H2O is added.
b) O2 is removed.
2 H2O (l) + 2 CO2 (g)
c) CO2 is removed.
d) CH4 is removed.
____ 5. Which of the following is false concerning the equilibrium constant:
a) It is a constant regardless of the quantities for the reagents.
b) It will change if the temperature is changed.
c) A large constant means that the formation of products is favored over reactants.
d) A large constant means that the reaction will have a fast rate.
____ 6. In the reaction ,A  B, 10 grams of B were expected, but the % yield was 70%. How much of B
was actually isolated?
a) .70 grams
b) 3.0 grams
____ 7. Find the conjugate base for HBrO in:
b) BrO-1 (aq)
a)HBrO (aq)
c) 7.0 grams
d) 13 grams
H3O+(aq) + BrO–1(aq)
HBrO (aq) + H2O (l)
d) OH-1 (aq)
c) H2O (l)
____ 8. Which of the following particles would have the highest RBE?
a) alpha
b) positrons
c) gamma
d) beta
____ 9. Chose the reaction that represents a positron emission.
14
a)
14

C
6
5
238
c)
U
92
0
B
n
0
14
e
b)
1
1
+
+
U
92
0
+
6
239

C
e
93
7
239
Np

0
N
1
239
d)
14

Pu
94
γ
0
0
+
+
e
-1
2
____ 10. An unknown could be pentane or 1-pentene or 1-cyclopentene. A few drops of a KMnO4
solution is added and the unknown solution turns purple. The unknown is _____.
a) pentane
b) 1-pentene
c) cyclopentene
d) can't tell
____ 11. The bond angles that we would expect to see in an alkene functional group are close to:
a) 90
b) 109.5
c) 120
d)180
____ 12. Which of the following is false for the molecular formula C5H10?
a) It may contain a double bond.
b) It must be a linear alkane.
c) It may contain a ring.
d) It would be named with a pent prefix.
____ 13. Which of the following is true for a hydrogenation reaction:
a) Hydrogen is added across a sigma bond.
b) Only alkanes will react in this reaction.
c) The presence of metal catalyst is required for the reaction to occur.
d) It is an acid/base reaction.
____ 14. Addition polymerization of CH2 = CHCl would give which of the following?
a)
H H
C C
H Cl
b)
n
H H
C Cl
H C
c)
n
H H
C C Cl
H H
n
Part 2 – Nomenclature and Structures
(16 pts) 1. Give the IUPAC (International Union of Pure and Applied Chemistry) name or give the
structure of the following:
a)
b) cis-1-tert-butyl-3-methylcyclopentane
c)
d) 4-propyl-3,3-dimethyl-1-cyclohexene
Cl
3
(6 pts) 2. Draw the Lewis structure for PH3. What is the electronic and molecular geometry around the
P? What type of intermolecular forces would be present?
(6 pts) 3. Please answer the following questions for the trans isomer of CH3CH = CHCH(CH3)2:
a) Draw the skeletal (shorthand) structure for this compound.
b) Draw a geometric isomer of the original compound.
c) Draw a constitutional (structural) isomer.
Part 3 – Reactions – Fill in the blank area. Write no reaction if appropriate. (16 total points).
a)
Br2
light
assume only monobromination products are formed
b)
H2O
c)
acid catalyst
KMnO4
d)
e)
not cold
H2SO4
4
Part 4 – Please show all of your work or give full explanations for your answers.
(7 pts) 1. Please finish the following reaction (balance) and indicate the type of reaction. Then write the
net ionic equation.
Na2SO4 (aq) + Ba(ClO3)2 (aq) 
(5 pts) 2. If the half-life of N-16 is 7.2 seconds, what mass of an 84 mg sample will remain after 1.1
mintues?
(8 pts) 3. Answer the following questions about the active ingrediant in THC.
B
OH
A
O
C
a) Determine the hybridizations of atoms: A __________ B __________
b) Determine the bond angles centered around: A __________ B __________
c) Determine the type of carbon (1° or 2° or 3° or 4°) for A __________ C __________
d) Circle the different types of functional groups that are present in this molecule.
alkene
aromatic
alkyne
alcohol
ether
ester
amine
amide
(8 pts) 4. The addition of HBr to 1-pentene gives one major and one minor product, 2-bromopentane and
1-bromopentane, respectively. The addition of HBr to 2-pentene gives two products, 2-bromopentane
and 3-bromopentane, in equal amounts. Write the reactions. Then explain the difference between the
reactions of 1-pentene and 2-pentene with HBr.