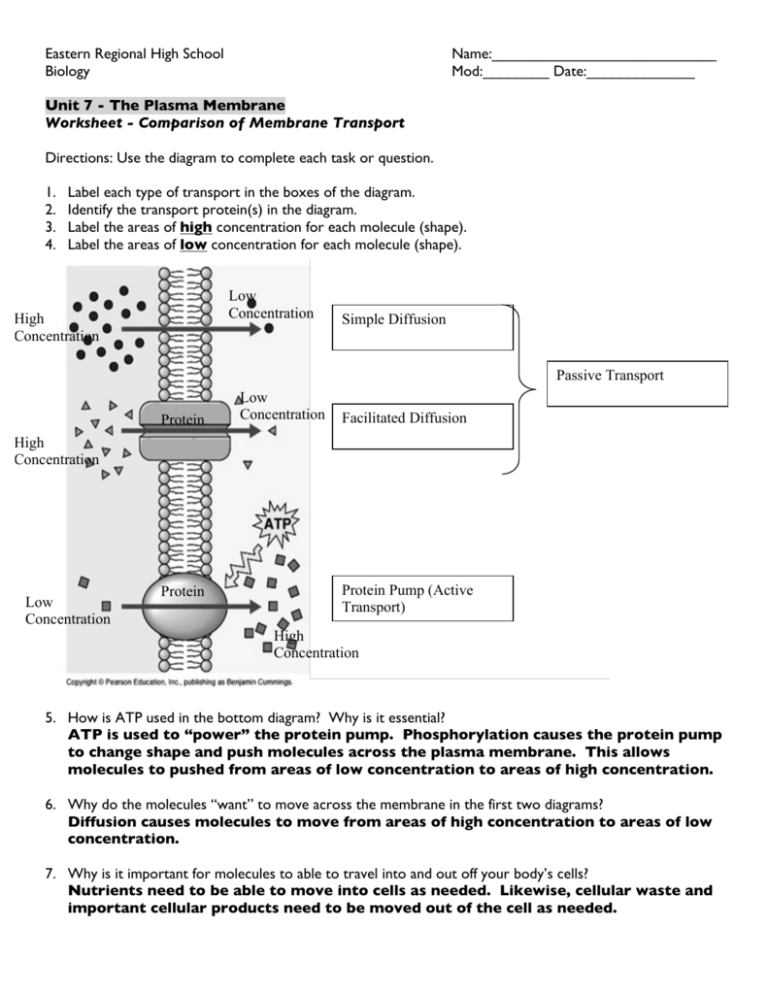 Eastern Regional High School
Biology
Name:___________________________
Mod:________ Date:_____________
Unit 7 - The Plasma Membrane
Worksheet - Comparison of Membrane Transport
Directions: Use the diagram to complete each task or question.
1.
2.
3.
4.
Label each type of transport in the boxes of the diagram.
Identify the transport protein(s) in the diagram.
Label the areas of high concentration for each molecule (shape).
Label the areas of low concentration for each molecule (shape).
Low
Concentration
High
Concentration
Simple Diffusion
Passive Transport
Protein
Low
Concentration
Facilitated Diffusion
High
Concentration
Low
Concentration
Protein
Protein Pump (Active
Transport)
High
Concentration
5. How is ATP used in the bottom diagram? Why is it essential?
ATP is used to "power" the protein pump. Phosphorylation causes the protein pump
to change shape and push molecules across the plasma membrane. This allows
molecules to pushed from areas of low concentration to areas of high concentration.
6. Why do the molecules "want" to move across the membrane in the first two diagrams?
Diffusion causes molecules to move from areas of high concentration to areas of low
concentration.
7. Why is it important for molecules to able to travel into and out off your body's cells?
Nutrients need to be able to move into cells as needed. Likewise, cellular waste and
important cellular products need to be moved out of the cell as needed.