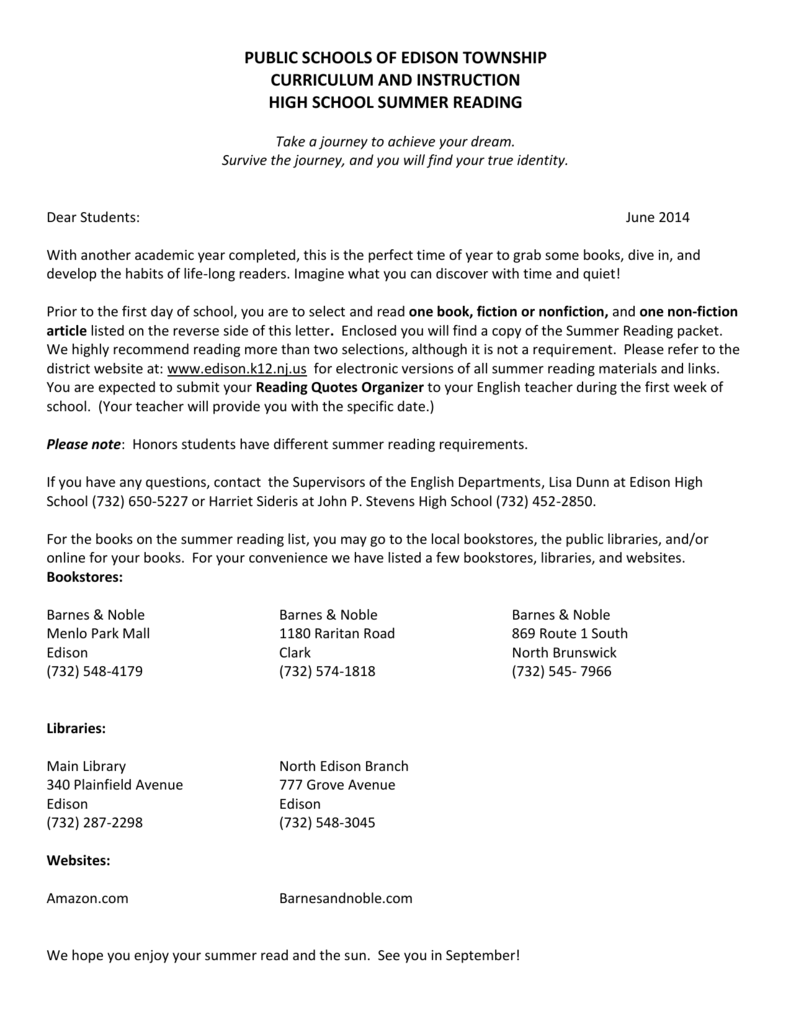 PUBLIC SCHOOLS OF EDISON TOWNSHIP
CURRICULUM AND INSTRUCTION
HIGH SCHOOL SUMMER READING
Take a journey to achieve your dream.
Survive the journey, and you will find your true identity.
Dear Students:
June 2014
With another academic year completed, this is the perfect time of year to grab some books, dive in, and
develop the habits of life-long readers. Imagine what you can discover with time and quiet!
Prior to the first day of school, you are to select and read one book, fiction or nonfiction, and one non-fiction
article listed on the reverse side of this letter. Enclosed you will find a copy of the Summer Reading packet.
We highly recommend reading more than two selections, although it is not a requirement. Please refer to the
district website at: www.edison.k12.nj.us for electronic versions of all summer reading materials and links.
You are expected to submit your Reading Quotes Organizer to your English teacher during the first week of
school. (Your teacher will provide you with the specific date.)
Please note: Honors students have different summer reading requirements.
If you have any questions, contact the Supervisors of the English Departments, Lisa Dunn at Edison High
School (732) 650-5227 or Harriet Sideris at John P. Stevens High School (732) 452-2850.
For the books on the summer reading list, you may go to the local bookstores, the public libraries, and/or
online for your books. For your convenience we have listed a few bookstores, libraries, and websites.
Bookstores:
Barnes & Noble
Menlo Park Mall
Edison
(732) 548-4179
Barnes & Noble
1180 Raritan Road
Clark
(732) 574-1818
Barnes & Noble
869 Route 1 South
North Brunswick
(732) 545- 7966
Libraries:
Main Library
340 Plainfield Avenue
Edison
(732) 287-2298
North Edison Branch
777 Grove Avenue
Edison
(732) 548-3045
Websites:
Amazon.com
Barnesandnoble.com
We hope you enjoy your summer read and the sun. See you in September!
HIGH SCHOOL SUMMER READING 2014
Reading Quote Organizer
While you are reading, critically analyze the fiction and nonfiction texts to identify quotes that support the following
themes:
Grade 9 – Journey
Grade 10 – Dream
Grade 11 – Survival
Grade 12 – Identity
Select 8 important quotes in total between the full-length text and article that relate to the grade-level theme. For the
fictional work, choose quotes that show how the character acts, thinks, and feels, and specific plot events associated
with the theme. The quotes do not have to be the actual character's dialogue and could be part of the narration. For the
nonfiction work, select quotes that demonstrate the speaker's purpose as it relates to the theme. Please note: Quotes
should be spread evenly throughout the book and/or article. For example, loosely two quotes from the beginning, two
from the middle, and two from the end of the full-length text, and two quotes from the article. The reading quote
organizer will be collected and used to construct an essay.
Important Quotes
Page #
Why is it Important?
Important Quotes
Page #
Why is it Important?
PUBLIC SCHOOLS OF EDISON TOWNSHIP
9th GRADE SUMMER READING 2014
Directions: Students must read ONE book (either fiction OR non-fiction) and ONE non-fiction article from the list below. When you return to school in
September, you must also submit a Reading Quotes Organizer for the texts that you read (worksheet is attached to this packet). Please choose quotations
that support the theme below. Assignments and links to the non-fiction articles are provided on the school and District Websites.
GRADE 9 THEME: Journey
There are many types of Journeys one can take in life. They can be internal and lead to a process of self-discovery, or
external involving an actual physical journey that might be filled with challenges or obstacles. Include references from
the fiction or non-fiction texts that relate to the theme of Journeys.
For students entering Grade 9
Fiction
Song of Achilles – Madeline Miller
When word comes that Helen of Sparta has been kidnapped, the men of Greece, bound by blood and oath, must lay siege to Troy in her name. Seduced by
the promise of a glorious destiny, childhood friends Achilles and Patroclus join the cause. Little do they know that the Fates will test them both as never
before and demand a terrible sacrifice.
The Lucy Variations – Sara Zarr
Piano prodigy Lucy quit playing when she could no longer handle her family's pressure. Can she ever learn to find her love and passion for the music again
on her own terms?
The Absolutely True Diary of a Part-Time Indian – Sherman Alexie
Determined to take his future into his own hands, Junior, a budding cartoonist of Native American descent attempts to break away from the life he
thought he was destined to live.
13 Reasons Why – Jay Asher
When Clay Jenson plays the cassette tapes he received in a mysterious package, he's surprised to hear the voice of dead classmate Hannah Baker. He's one
of 13 people who receive Hannah's story, which details the circumstances that led to her suicide. Clay spends the rest of the day and long into the night
listening to Hannah's voice and going to the locations she wants him to visit.
Tyrell – Coe Booth
Tyrell is a young African-American teen who can't get a break. He feels he needs to score some money to make things better. Will he end up following in
his father's footsteps?
Non-Fiction
Life Strategies for Teens – Dr. Phil McGraw
"Are you as tired as I am of books constantly telling you about doing your best to understand your parents, doing your homework, making curfew, getting
a haircut, dropping that hemline, and blah, blah, blah?" From the son of Dr. Phil McGraw, this bestselling guide to teenage success won't tell you what to
do, or who to be, but rather how to live life best.
Please Stop Laughing at Me – Jodee Blanco
From fifth grade through high school, Blanco was teased, shunned, and, at times, physically assaulted by her classmates because she was different. You
will be shocked, moved, and ultimately inspired by this harrowing tale of survival.
Courage Has No Color: The True Story of Triple Nickels – Tanya Lee Stone
They became America's first black paratroopers. Why was their story was never told? Sibert Medalist Tanya Lee Stone reveals the history of the Triple
Nickles during World War II.
The Other Moore: One Name, Two Fates – Wes Moore
Two kids named Wes Moore were born blocks apart within a year of each other. Both grew up fatherless in similar Baltimore neighborhoods and had
difficult childhoods; both hung out on street corners with their crews; both ran into trouble with the police. How, then, did one grow up to be a Rhodes
Scholar, decorated veteran, White House Fellow, and business leader, while the other ended up a convicted murderer serving a life sentence?
Non-Fiction Articles
*Links and copies of articles are also provided on the school and District Websites.
"Do Our Kids Get Off Too Easy?" – Alfie Kohnam
http://www.nytimes.com/2014/05/04/opinion/sunday/do-our-kids-get-off-too-easy.html
"The Perfect Essay" –John Kaag
http://opinionator.blogs.nytimes.com/2014/05/05/the-perfect-essay/
"The Whistle-Blower's Quandry"- Adam Waytz, James Dungan and Liane Young
http://www.nytimes.com/2013/08/04/opinion/sunday/the-whistle-blowers-quandary.html?_r=0
A reading program is a joint responsibility between school and family. Parents might very reasonably disagree about what material constitutes suitable reading for children. The titles suggested
are not Board of Education approved texts. They are works that are recommended by such organizations as the American Library Association, the New York Times, and the National Council for
Teachers of English. They appear on many reading lists across the nation. Nevertheless, certain titles may contain subject matter that some parents may not want their children to read (whether
Grimm's Fairy Tales for young children or books with mature themes and graphic language for older students). Only parents can determine appropriate choices for their children. Check with
teachers, local librarians, and book web-sites for reading levels and information about the various titles.