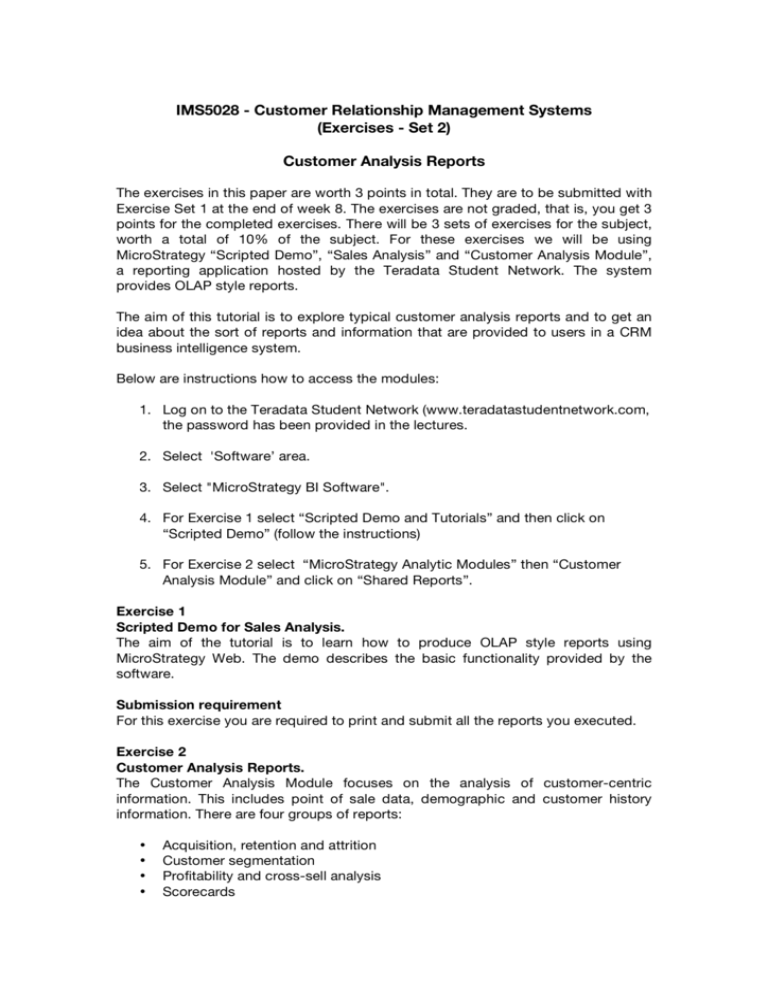 IMS5028 - Customer Relationship Management Systems
(Exercises - Set 2)
Customer Analysis Reports
The exercises in this paper are worth 3 points in total. They are to be submitted with
Exercise Set 1 at the end of week 8. The exercises are not graded, that is, you get 3
points for the completed exercises. There will be 3 sets of exercises for the subject,
worth a total of 10% of the subject. For these exercises we will be using
MicroStrategy "Scripted Demo", "Sales Analysis" and "Customer Analysis Module",
a reporting application hosted by the Teradata Student Network. The system
provides OLAP style reports.
The aim of this tutorial is to explore typical customer analysis reports and to get an
idea about the sort of reports and information that are provided to users in a CRM
business intelligence system.
Below are instructions how to access the modules:
1. Log on to the Teradata Student Network (www.teradatastudentnetwork.com,
the password has been provided in the lectures.
2. Select 'Software' area.
3. Select "MicroStrategy BI Software".
4. For Exercise 1 select "Scripted Demo and Tutorials" and then click on
"Scripted Demo" (follow the instructions)
5. For Exercise 2 select "MicroStrategy Analytic Modules" then "Customer
Analysis Module" and click on "Shared Reports".
Exercise 1
Scripted Demo for Sales Analysis.
The aim of the tutorial is to learn how to produce OLAP style reports using
MicroStrategy Web. The demo describes the basic functionality provided by the
software.
Submission requirement
For this exercise you are required to print and submit all the reports you executed.
Exercise 2
Customer Analysis Reports.
The Customer Analysis Module focuses on the analysis of customer-centric
information. This includes point of sale data, demographic and customer history
information. There are four groups of reports:
•
•
•
•
Acquisition, retention and attrition
Customer segmentation
Profitability and cross-sell analysis
Scorecards
You are encouraged to explore most of the reports.
In order to complete the exercise you would need to access "Customer Analysis
Tutorial" from the "Scripted Demo and Tutorials" page. The tutorial provides a
series of lessons that illustrate the use of the "Customer Analysis Module".
Submission requirements
Although you are expected to explore most of the reports, you are to submit NINE
reports (of your choosing, preferably as PDF printouts), THREE from each of the
THREE following groups:
1.
2.
3.
Acquisition, Retention and Attrition,
Customer segmentation,
Profitability and Cross-Sell Analysis.
Please clearly label each report.
Please note: At times the session may time out. If this occurs, login again using the
username "student" with the password "student".