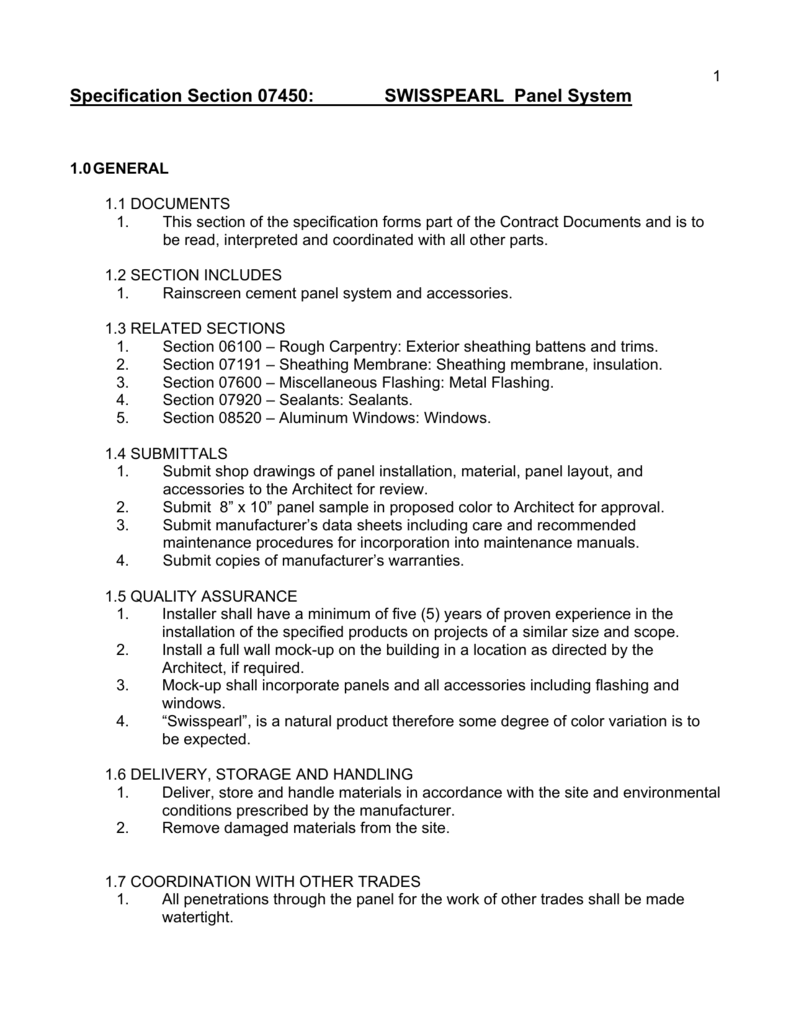 1
Specification Section 07450:
SWISSPEARL Panel System
1.0 GENERAL
1.1 DOCUMENTS
1.
This section of the specification forms part of the Contract Documents and is to
be read, interpreted and coordinated with all other parts.
1.2 SECTION INCLUDES
1.
Rainscreen cement panel system and accessories.
1.3 RELATED SECTIONS
1.
Section 06100 – Rough Carpentry: Exterior sheathing battens and trims.
2.
Section 07191 – Sheathing Membrane: Sheathing membrane, insulation.
3.
Section 07600 – Miscellaneous Flashing: Metal Flashing.
4.
Section 07920 – Sealants: Sealants.
5.
Section 08520 – Aluminum Windows: Windows.
1.4 SUBMITTALS
1.
Submit shop drawings of panel installation, material, panel layout, and
accessories to the Architect for review.
2.
Submit 8" x 10" panel sample in proposed color to Architect for approval.
3.
Submit manufacturer's data sheets including care and recommended
maintenance procedures for incorporation into maintenance manuals.
4.
Submit copies of manufacturer's warranties.
1.5 QUALITY ASSURANCE
1.
Installer shall have a minimum of five (5) years of proven experience in the
installation of the specified products on projects of a similar size and scope.
2.
Install a full wall mock-up on the building in a location as directed by the
Architect, if required.
3.
Mock-up shall incorporate panels and all accessories including flashing and
windows.
4.
"Swisspearl", is a natural product therefore some degree of color variation is to
be expected.
1.6 DELIVERY, STORAGE AND HANDLING
1.
Deliver, store and handle materials in accordance with the site and environmental
conditions prescribed by the manufacturer.
2.
Remove damaged materials from the site.
1.7 COORDINATION WITH OTHER TRADES
1.
All penetrations through the panel for the work of other trades shall be made
watertight.
2
Specification Section 07450:
SWISSPEARL Panel System
1.8 WARRANTY
1.
Provide manufacture's transferable ten (10 ) year warranty covering defects in
materials. Warranty only available when material installed by certified installation
contractor and Shop drawings approved by manufacturer.
2.0 PRODUCTS
2.1 PANELS MATERIAL
1.
2.
3.
4.
5.
6.
7.
8.
9.
10.
11.
12.
13.
14.
15.
16.
17.
18.
19.
20.
Swisspearl Cement Composite as distributed by Muralis Architectural 604-9806414. Cement, silicon-calcium strengthened with a combination of polyvinyl
fibers without asbestos, fiberglass or formaldehyde
Size: 1220mm x 2500mm / 3040mm
Thickness: 7- 8mm
Weight: 15kg/m. sq. (3.1 lbs/sq.ft.)
Surface: Smooth
Must be installed by a Certified Dealer/Installer:
Fastening: Galvanized/stainless, size and type as recommended by the panel
Manufacturer for applicable substrate.
Factory applied surface treatment to provide complete water repellent properties
on all six sides. Used coatings do not contain any solvents.
Tested to UBC Class 1, NFPA Class A, & Can/ULC S134
Colour and type, as selected by consultant, within manufacturers standard range.
Less than 2 Delta E unit color change ASTM G155-00 after 2000 hours
exposure.
Reinforcement with only cellulose fibers not acceptable.
At least 40 year documented panel life expectancy.
Efflorescence not acceptable.
Homogeneous smooth semi-matte surface finish (CARAT/NATURA/REFLEX)
Tested UV-resistance = Delta E-value < 3 after 2000 hours (Xenon Arc Light acc.
Weathering Test according to ASTM G 155-00 [ATI Report]). Product must have
the 2000-hour Xenon-Arc test in accordance with ASTM G 155-00 – with a colour
resistance E-value of 2-3 on the CIELAB scale
Temperature resistance guaranteed up to + 80 °C and down to – 40 °C (176 °F
to – 40 °F)
Tensile bending strength corresponds to highest class 5 according to EN 12467.
Water absorption capacity between 8 M.-% and 12 M.-% °
High quality reinforcement fibres, the panel must be comprised of < 6 % of
cellulose fibres
3
Specification Section 07450:
SWISSPEARL Panel System
3.0 EXECUTION
3.1 INSPECTION
1.
Inspect the work and notify the Architect of any conditions that would affect the
installation or performance of the work.
3.2 PREPARATION
1.
2.
3.
Verify site dimensions prior to commencement of work.
Take care not to rip or tear sheathing membrane during installation of panel
system. Keep sheathing membrane in repair.
Verify that flashings are in place, walls are prepared and covered with either
building paper or membrane.
3.3 INSTALLATION
1.
2.
3.
4.
5.
6.
7.
8.
Install panels, and system in accordance with manufacturer's printed instructions
and reviewed shop drawings.
Secure panels with fasteners and equipment as recommended by the
manufacturer.
Install panels with joints in line with stud work behind, leave a minimum 5/16"
joint between panels.
Keep a minimum distance to corners and edges as recommended by the
manufacturer.
Install panels true to line and level with clean cut edges and joints.
In extruded aluminum rainscreen attachment system a minimum 5/16" joint must
be maintained for expansion and contraction.
Any penetrations of the panel system must be properly sealed with a sealant in
accordance with Section 07920 and manufacturers installation guide
Finished installation shall be properly secured, free of rattles, distortions,
efflorescence, damaged, or chipped components.
3.4 CLEAN-UP
1.
2.
Upon completion of work remove all equipment, tools, surplus materials and
garbage.
Panel installation shall be left in a clean condition free from construction.