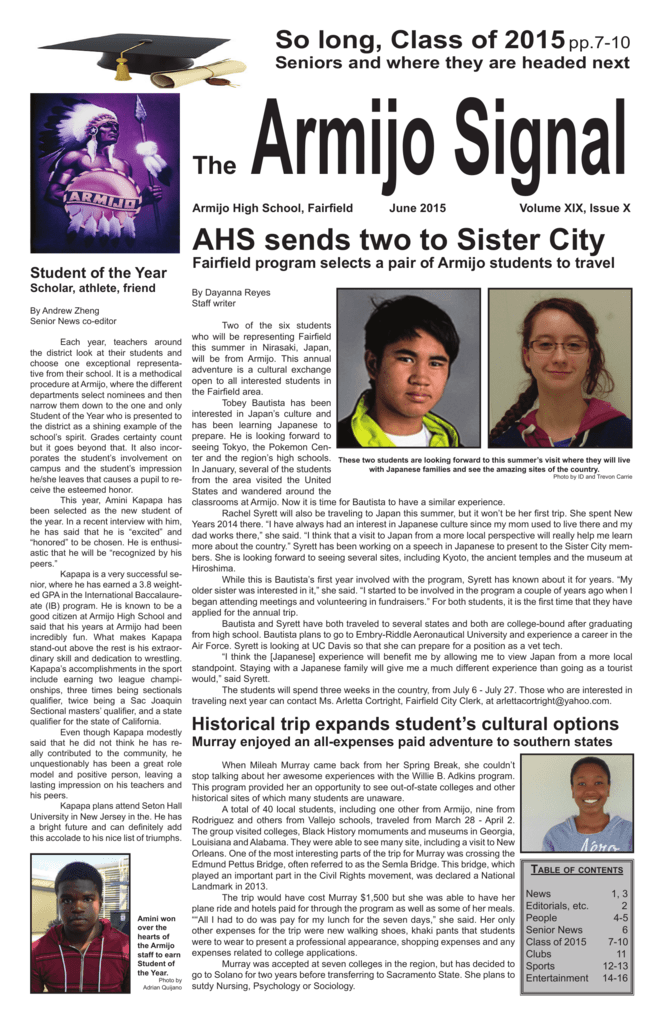 So long, Class of 2015 pp.7-10
Seniors and where they are headed next
The
Armijo Signal
Armijo High School, Fairfield
June 2015
Volume XIX, Issue X
AHS sends two to Sister City
Student of the Year
Scholar, athlete, friend
By Andrew Zheng
Senior News co-editor
Each year, teachers around
the district look at their students and
choose one exceptional representative from their school. It is a methodical
procedure at Armijo, where the different
departments select nominees and then
narrow them down to the one and only
Student of the Year who is presented to
the district as a shining example of the
school's spirit. Grades certainty count
but it goes beyond that. It also incorporates the student's involvement on
campus and the student's impression
he/she leaves that causes a pupil to receive the esteemed honor.
This year, Amini Kapapa has
been selected as the new student of
the year. In a recent interview with him,
he has said that he is "excited" and
"honored" to be chosen. He is enthusiastic that he will be "recognized by his
peers."
Kapapa is a very successful senior, where he has earned a 3.8 weighted GPA in the International Baccalaureate (IB) program. He is known to be a
good citizen at Armijo High School and
said that his years at Armijo had been
incredibly fun. What makes Kapapa
stand-out above the rest is his extraordinary skill and dedication to wrestling.
Kapapa's accomplishments in the sport
include earning two league championships, three times being sectionals
qualifier, twice being a Sac Joaquin
Sectional masters' qualifier, and a state
qualifier for the state of California.
Even though Kapapa modestly
said that he did not think he has really contributed to the community, he
unquestionably has been a great role
model and positive person, leaving a
lasting impression on his teachers and
his peers.
Kapapa plans attend Seton Hall
University in New Jersey in the. He has
a bright future and can definitely add
this accolade to his nice list of triumphs.
Amini won
over the
hearts of
the Armijo
staff to earn
Student of
the Year.
Photo by
Adrian Quijano
Fairfield program selects a pair of Armijo students to travel
By Dayanna Reyes
Staff writer
Two of the six students
who will be representing Fairfield
this summer in Nirasaki, Japan,
will be from Armijo. This annual
adventure is a cultural exchange
open to all interested students in
the Fairfield area.
Tobey Bautista has been
interested in Japan's culture and
has been learning Japanese to
prepare. He is looking forward to
seeing Tokyo, the Pokemon Center and the region's high schools. These two students are looking forward to this summer's visit where they will live
with Japanese families and see the amazing sites of the country.
In January, several of the students
Photo by ID and Trevon Carrie
from the area visited the United
States and wandered around the
classrooms at Armijo. Now it is time for Bautista to have a similar experience.
Rachel Syrett will also be traveling to Japan this summer, but it won't be her first trip. She spent New
Years 2014 there. "I have always had an interest in Japanese culture since my mom used to live there and my
dad works there," she said. "I think that a visit to Japan from a more local perspective will really help me learn
more about the country." Syrett has been working on a speech in Japanese to present to the Sister City members. She is looking forward to seeing several sites, including Kyoto, the ancient temples and the museum at
Hiroshima.
While this is Bautista's first year involved with the program, Syrett has known about it for years. "My
older sister was interested in it," she said. "I started to be involved in the program a couple of years ago when I
began attending meetings and volunteering in fundraisers." For both students, it is the first time that they have
applied for the annual trip.
Bautista and Syrett have both traveled to several states and both are college-bound after graduating
from high school. Bautista plans to go to Embry-Riddle Aeronautical University and experience a career in the
Air Force. Syrett is looking at UC Davis so that she can prepare for a position as a vet tech.
"I think the [Japanese] experience will benefit me by allowing me to view Japan from a more local
standpoint. Staying with a Japanese family will give me a much different experience than going as a tourist
would," said Syrett.
The students will spend three weeks in the country, from July 6 - July 27. Those who are interested in
traveling next year can contact Ms. Arletta Cortright, Fairfield City Clerk, at [email protected]
Historical trip expands student's cultural options
Murray enjoyed an all-expenses paid adventure to southern states
When Mileah Murray came back from her Spring Break, she couldn't
stop talking about her awesome experiences with the Willie B. Adkins program.
This program provided her an opportunity to see out-of-state colleges and other
historical sites of which many students are unaware.
A total of 40 local students, including one other from Armijo, nine from
Rodriguez and others from Vallejo schools, traveled from March 28 - April 2.
The group visited colleges, Black History momuments and museums in Georgia,
Louisiana and Alabama. They were able to see many site, including a visit to New
Orleans. One of the most interesting parts of the trip for Murray was crossing the
Edmund Pettus Bridge, often referred to as the Semla Bridge. This bridge, which
played an important part in the Civil Rights movement, was declared a National
Landmark in 2013.
The trip would have cost Murray $1,500 but she was able to have her
plane ride and hotels paid for through the program as well as some of her meals.
""All I had to do was pay for my lunch for the seven days," she said. Her only
other expenses for the trip were new walking shoes, khaki pants that students
were to wear to present a professional appearance, shopping expenses and any
expenses related to college applications.
Murray was accepted at seven colleges in the region, but has decided to
go to Solano for two years before transferring to Sacramento State. She plans to
sutdy Nursing, Psychology or Sociology.
tAblE of ContEnts
News
Editorials, etc.
People
Senior News
Class of 2015
Clubs
Sports
Entertainment
1, 3
2
4-5
6
7-10
11
12-13
14-16
2Editorials, etc.
News 3
The investment of a lifetime
Financial scholars are "One in a Million"
High school is a time of content. While middle school encompasses physical and emotional development and college/adult
life focuses on the steps to a career, high school provides muchneeded respite for many. However, it would be foolish to say one
does not grow during high school. The information gleaned from
high school is crucial for all careers; however, high school learning
doesn't come with the academic intensity of college or the social
complications of middle school. As a result, it's better to address
high school as a transition period, when students can refine skills
they've honed earlier in life.
Consequently, the emotional significance of high school
graduation is undeniable. After all, many graduating seniors have
been classmates since elementary school. Students often end up
pursuing their own distinct goals post-graduation, separating a
group of youth that essentially have grown up together. Combined
with the memories of club activities, diligent study, and fun with
friends, high school graduation becomes a catharsis of all the bittersweet
experiences since
primary
school.
Running
through
the lawn
during recess, playing four
square
with
friends,
learning a
new sport,
taking the
SAT for the first time, earning a driver's license, and every other
trial or success are all memories that should be cherished from 13
years of school.
However, fond reminiscing should not conceal the endless opportunities available after graduation. Regardless of one's
plans after high school, graduating seniors have the pleasure (and
burden) of finally integrating into adult society. Those who are not
going to college take on new roles as adults: finding a job, taking
over a family business, or helping out at home are all examples of
these newfound responsibilities.
For those going to college, classroom learning continues
for a few more years. Nevertheless, college is significantly different from high school (mainly because of the independence) and
students should attempt to learn as much as possible in those
four years. Either path comes with the same goal: to make happy,
productive adults out of confused high school seniors.
By Tim Liu
Editor-in-Chief
Editors:
Tim Liu, Editor-in-Chief
Elyce Dixon and Jewel Esparza, News
Trina Reynolds, People
Mayank Malhotra and Andrew Zheng,
Senior News
Derek Wadsworth, Classes & Clubs
Brittany Monk, Sports
Sophia Santos and Gabriel Zanipatin,
Entertainment
Adviser:
Ms. Lynne D. Herring
Reporters:
Johnny Fagundes
Amanpreet Kaur
Andre Lowe
Nathaniel Moore
Peter Popescu
Dayanna Reyes
Annika R. Uyenco
Columnists:
Sam Bundenthal
On Friday, May 8,
Armijo generously collected
$1,003.43
to help with aid
for the victims
of the earthquakes in Nepal.
Way to go, Armijo!
Congratulations!
Student leaders for 2015-2016
ASB Officers
President Alec Barrett
Vice President Hunter Nelson
Secretary Jay Singh
Treasurer Skyler Ataide
5th Officer-Kaylen Anderson
Class of 2016
President Ashley Van Belle
Vice President-Carina Fuller
Secretary Lacey Tomson
Treasurer Chelsea Vuong
Comic:
Nina Steinkraus
Contributors:
Mathias Ian Bautista
Quincy Cintron ('11)
Mr. Lee Inserto
Chrys Lomahan
Ms. Maria Macias
Rodolfo Magan
Leslie Morales
Ms. Nicole Moulton
Melanie Pence
Ms. Faralee Wright
On Tuesday, May 5, during fourth period, 125 Armijo seniors in Economics were honored at an awards ceremony for their achieving certification level in the EverFi Financial Literacy program here at Armijo. Students register for the on-line interactive program and then
complete all nine modules with at least 70% accuracy in order to certify. This year marks the
one-millionth student nationwide certifying in the program, making Armijo certifiers each "onein-a-million."
Because the program is on the Cloud, students can complete it at school, home,
public library, or on their phones, with each module taking approximately 30 to 45 minutes
to complete. The modules cover
information about checking and
savings accounts, debit and credit
cards, college financing, insurance,
buying or renting a home, Federal
Reserve System, investing, and
other topics.
First Northern Bank has graciously sponsored this program for
the Fairfield-Suisun District for the
last three years to encourage students to become financially literate
and be smart about their personal
finances and money matters. EverFi is the leading education technology company to teach, assess,
Students proudly display the certificates that they earned
from going through the EverFi program.
and certify students in critical skills.
Armijo has participated in this
program with excellent certification
percentages. In fact, the name of Armijo High School is well known at EverFi headquarters
because of our consistency of participation and our high percentages.
Dignitaries presenting Certificates of Achievement from EverFi were Armijo Assistant
Principal Sheila Smith, Hayley Craig and First Northern Bank President/CEO Louise Walker,
Fairfield Mayor Harry T. Price, Letter of Commendation from the representative from Assemblyman Jim Frasier's office, and the Certificate of Achievement from the representative from
State Senator Lois Wolk's office. Our Economics and Statistics teacher, Mrs. Wright read the
names of the recipients as they received their awards.
Class of 2017
President Andrea Martinez
Vice President Paige Baker
Secretary Rachel Andersen
Treasurer Juan Garcia
Class of 2018
President Sharleen Esico
Secretary Kiana Sabugo
Vice President Christina Delmendo Treasurer Isabella Mayer
Keep connected with
The Armijo Signal!
Stay up to date on newspaper news, join in
fund-raising activities or participate in ad sales and promotion. Check us out on Facebook at:
facebook.com/pages/The-Armijo-Signal/140982599266253
Questions? Call (707) 438-3308 or e-mail [email protected]
Photographers:
Trevon Carrie
Adrian Quijano
By Ms. Faralee Wright
Economics teacher
Letters to the editor?
We realize that readers may not always agree with our articles
or have something that they want to share with the school, which includes the students and the faculty. If you would like to contribute to our
Editorial Page, including letters to the editor, please deliver them to C-3.
A name must be included.
The Armijo Signal is a student publication created to provide
information and entertainment to the students at Armijo High School.
We strive to be factually accurate and encourage our readers to bring
information to our attention that could improve our newspaper.
Articles and advertising are selected at the discretion of the
Journalism Club members and adviser but do not always reflect the
views of the club or the culture of the school.
The Governing Board is committed to equal opportunity for all
individuals in education. District programs and activities shall be free
from discrimination based on gender, sex, race, color, religion, ancestry, national origin, ethnic group identification, marital or parental status,
physical or mental disability, sexual orientation or the perception of one
or more of such characteristics. The Board shall promote programs,
which ensure that discriminatory practices are eliminated in all district
activities.
Students gathered for a week of music, dancing
and fun at International Week in May.
Summer volunteering
By Elyce Dixon
News co-editor
Summer means a whole bunch of well-deserved downtime. Of course hanging out
with friends is always an option, but why not do an activity that not only improves the community, but makes you look good on applications as well?
Volunteering is a simple and easy way to make new friends, keep busy, and be open
to new opportunities. There are a few organizations in Solano County that are great and
pretty easy to be able to volunteer at.
To begin with, the animal shelter in Suisun is a shelter where they take care of local
animals who have been injured or lost. Here you can help with any of the daily jobs and get
a chance to be up close and personal with the animals. It's definitely a job to take if you're
interested in animals.
The Solano County Library is also a great place to volunteer because it's a calm environment and the tasks involved aren't difficult. It's a way to connect and meet new people,
not only other volunteers but the library staff as well. To sign up, go to the library and ask the
Young Adult librarian for information on summer volunteering.
Finally, Habitat for Humanity is another great place to volunteer. It allows you to get
physical and really help make an impact on the community. Habitat for Humanity primarily focuses on building houses, shelters, etc. for places or people that can't afford to build
themselves. To sign up all you have to do is go their site and provide your name, email, and
address and you'll get e-mail alerts for events near the area you live.
Volunteering is good for several reasons. With volunteering you gain work experience
and gain responsibility, practice with punctuality and other skills that are important to have
when applying for a job. Volunteering is, in a sense a job without pay, so it's a great place to
start when looking for experience. Places where you volunteer would also be able to write you
letters of recommendation for jobs, colleges, scholarships and other things.
Volunteering allows you to build relationships with people who could guide you and
contribute to you reaching new opportunities. Volunteering is good for yourself because you
discover strengths and weaknesses that may help you improve your work ethic and personality. It also gives you humbling experience and changes your life in ways you might not have
been able to experience if it weren't for volunteering.
Finals Schedule
Tuesday, June 2
Period 1 8:00-9:35
Period 3 9:42-11:12
Lunch 11:12-11:42
Period 5 11:49-1:19
Wednesday, June 3
Period 2 8:00-9:35
Period 4 9:42-11:12
Lunch 11:12-11:42
Period 6 11:49-1:19
Thursday, June 4
No students - Teacher workday
Friday, June 5
Graduation
What should the Class of 2016
do this summer?
By Andrew Zheng
Senior News co-editor
Summer break is literally in a few days and college applications are imminent. Some people may be toiling over what to put on their application or how they are
going to have a good personal statement. This summer,
members of the Class of 2016 can't just sit around all day.
They actually have to participate in stuff they are passionate about or would just like to experience. The summer
months are a great way to show what you're up to given
free time.
In additon to volunteering, which looks great on
college applications and work resumes, jobs are also good
for displaying skills while earning money. The senior year
can be very expensive and the time used in the summer
can help offset some of the costs. Students might want to
work in a restaurant or as a lifeguard.
Internships are nice too. They can present a person's interests in certain fields and present working proficiency.
Summer camps at colleges are good indicators if a
future co-ed is able to cooperate with fellow students and
handle the rigor of some college-level academics. Members of the AHS Class of 2016 might consider going to a
summer camp at a college to collect amazing memories
and gain the knowledge of fascinating subjects.
Lastly, traveling – whether locally or abroad - is
very beneficial but it could also be a real financial trouble.
Visiting other countries allows individuals to absorb other
cultures. Although it may not be academic at times, there
is still the opportunity to grasp the wisdom of the world.
Special needs students from the county celebrated the end of the
school year with their annual dance.
Photo by Ms. Nicole Moulton
4 People
Teacher feature
Another step in his teaching career
For Lieutenant Colonel Edward Bruce, teaching at Armijo for the last five years
isn't too difficult from teaching for 22 years in the Air Force. While he teaches Aerospace
Science (aka Air Force Junior ROTC) at the high school level, he was an instructor pilot in
the KE- and EC-135 in the Air Force. He also had "extensive experience with several US
treaties, including the Strategic Arms
Reduction Treaty (START), Intermediate-Range Nuclear Forces Treaty
(INF), for which I was the commander
for the Western US detachment in
charge of implementing both treaties;
and the Open Skies Treaty, in which I
was a Team Chief and responsible for
the implementation of the treaty," he
said.
Lieutenant Colonel Bruce
has been retired from active service
in the military since July 31, 2000. His
next career was as an instructor for
Japan Air Lines, teaching Japanese
pilots about flying. "And when the
Senior Aerospace Science Instructor
position at AHS became available, I
knew it was the perfect job for me!" he
said.
"I became a teacher because
I want to be part of the team that helps
Lt. Col. Bruce has been a teacher for years,
educate and lead our youth into adultbut there is much more to him than that.
Photo by Trevon Carrie hood. I feel that with my background
and expertise, both as an instructor
pilot and commander, give me the depth of experience needed to help our kids turn into
responsible adults."
When he is not teaching, he spends his down time swimming, reading, music,
and spending time with his wife Suzanne and our 3 year-old dog Allie. His favorite sports
teams are the Giants, "especially when they are winning!" he said - and the 49ers.
Lieutenant Colonel Bruce grew up in Tulsa, OK and went to Nathan Hale High
School where he met his wife, who is his high school sweethearts. After that, he went
to the US Air Force Academy in Colorado Springs, CO, graduating with a Bachelor of
Science degree. He went on to win a Masters of Arts degree from Webster University. "I
think the teacher that influenced me the most was my high school chemistry teacher, who
showed us all much more than just classroom lessons - he could really relate to us and
taught us about the real world and how to live in it," he said.
"I am pleased to be here at Armijo, and am very proud of the fantastic job my students (whom we call "cadets") have done. It is truly refreshing to watch these students
enter high school as kids with no sense of direction or clear path in life, and then graduate
as mature, responsible, and motivated young adults."
In A-Z order,
Delgado, Moore
and Ruiz enjoy life
from A to Z.
ID photo and photos
by Trevon Carrie
People 5
What is the first thing you have planned to do
this summer vacation?
At work
Live, laugh
and learn
Eduardo
"Eddie"
Gutierrez may have one of
the best jobs in the county. He is working as an
intern at the Police Activities League (PAL) Center,
better known as the Matt
Garcia Center on Union Eddie keeps busy helping others
learn and laugh.
Avenue, formerly the site
ID photo
of Sullivan Middle School.
Gutierrez has a lot
of responsibilities in his position and he gets to help with
teens after school on a regular basis, teens from all over
the Fairfield-Suisun Unified Sxhool District. The hours are
good, since the Center is not open past 9 pm on most
weekdays and 10 pm on Fridays. On occasion, there are
activities held on weekends, but most events are held during the week after school.
According to the City of Fairfield's website, "The
PAL Center is home to a host of enriching programs designed to support our members. We offer homework and
academic enrichment with career planning, fitness, sports
and recreation programs, leaderships and character education, and health/ wellness and life skills components."
This is the environment that Gutierrez gets to work in and
every day exposes him to new opportunities.
Activities at the Center include open gym and basketball leagues, boxing, kickboxing and martial arts, the
latest video games, computers, homework assistance, a
complete music and video studio and Friday night events
like karaoke, poker and movies.
Sophomore Jorge Martinez Morales:
"Look for a job."
Sophomore Macie Brumme:
"Do gymnastics."
Junior Melissa Cigarroa:
"I'm going on vacation to Disneyland
with my family."
Senior Raydahl Stephens:
"I plan to go to Solano College for
summer classes."
Senior Whaticia Patterson:
"Celebrate my birthday in Miami."
By Amanpreet Kaur
Last month's Mystery Person was junior Jermayne
Smith who remained a mystery throughout the first threequarters of May.
Those who knew each month's Mystery Person
had the opportunity to go to G-10 and receive a free movie
ticket at Edwards Theater. Only one prize per month was
awarded and journalism club members and Armijo teachers and staff did not qualify.
Armijo's Mystery Person was presented between
September and May.
This year, the Mystery People were: September –
Eduardo Juarez Naranjo, October – Kathleen Tran, who
was identified by Isabella Mayer, November –Dakota Busby, who was identified by Melina Devera, December – Gloria Pearson, January – Justice Hitomi, February – Rianeh
Gonzalez, March – Jesse Gilles, April – Alyssa Markarian,
and May – Jermayne Smith.
Next year, students are encouraged to not let the
opportunity of a free movie ticket slip by!
From A to Z
September
October
November
December
January
February
March
Freshman Aisa Galdamez:
"Go on vacation to Las Vegas."
Junior Brandon Manybanseng:
"Play football."
Still a mystery
All in a name
Every name has a story, but for three girls at Armijo, the story goes from A to Z in
one easy step. Azayleah Delgado is a senior who is headed for Sacramento State University in the fall. She worked hard to get through Armjio High School so that she could
have her afternoons free in her senior year.
Another senior, Azalia Ruiz, was able to share the story of her name. "My mom's
name, Azucena, is a flower, and her two sisters are Dalia and Blanca Flors." With that in
mind, her mother decided that it would be good to name her daughter with a floral name
as well, and so she became Azalia. Ruiz's grandmother had a garden that had all four
types of flowers growing in it.
When people are introduced to her, Ruiz says that they don't always pronounce
her name well, but they say it is a nice name. "I love the name," she said. "I wouldn't
change it!" When she graduates, Ruiz plans to attend Napa Community College before
transferring to San Francisco State.
The other student with an A-Z name is Azlynn Starr Ilys Moore. "Originally my
name is spelled A-I-S-L-I-N. It is Greek for dream or vision," she said. Her mother told her
that she had a dream of her before she was born "so she named me Azlynn."
Moore enjoys singing, dancing and acting. She would eventually like to take these
talents with her to New York and attend Columbia University, New York Academy of Dramadic Arts (NYADA), or Juliard.
Freshman James Modena:
"Hopefully go on vacation."
April
May
Far from home
A change for the better
For Cynthia Alvarez, moving from a Mexican farmlike environment to an American suburb has been an adventure.
Alvarez moved with her extended family because
she wanted a
better life, but
that
meant
leaving behind
her immediate
family and she
said that she
misses them
most of all.
Alvarez came to
California in
February but
plans to stay.
While she is
still a fan of
Mexican music, she has
no plans to
return to her
home country to live. In
fact,
when
Cynthia is learning a lot more than English
she
graduin her new hometown.
ates from high
Photo by Trevon Carrie
school
she
hopes to go to Solano Community College so that she can
further her education.
In her short time at Armijo, Alvarez has already determined that her favorite things about the school are the
food, the classroom and her friends. These are the things
that make up her early memories of her first semester at
Armijo.
Sibling spotlight
Two to go
While Jessica and Samantha Ignacio were born on the same day, Samantha is
about 30 seconds older.
"We've gone to the same
school together for our
entire lives so most people know we're twins,"
said Jessica.
There are advantages to having your twin
on campus with you. "The
best thing about having
my sister on campus is
having someone who will
update me on school tuff
because half the time I
don't even know what'
going on," said Jessica.
"College is going
to be different," said Samantha. "I'm going to Hawaii and she's staying in
California."
Despite their different interests and goals,
Samantha
inSamantha and Jessica are often confused.
Photo by Trevon Carrie
tends to become an interior designer, playing off
her creative hobbies of drawing, traveling and more. Jessica is not so sure about her
future goals. ""I always change my mind when it comes to career choices... right now I'm
going for a job in wildlife. Guitar would be my hobby and side job," she said.
Jessica is in Guitar Club and enjoys it, but Samantha has backed off from being a
member of school clubs. "I lost interest in the clubs I was in - Art Club, Key Club and others," she said. "It wasn't like they weren't interesting, though. I just don't feel passionately
about any of them. She does continue to have passion for drawing, reading, writing and
playing video games, "but I really love the outdoors and want to travel a lot," she said.
"I've been out of the country twice and traveled across the United States."
The girls have an older brother, Nik, who just graduated from UC Davis. He was
also an Armijo graduate and in June, Samantha and Jessica will make it a trio of Armijo
alumni in the Ignacio family.
6
Senior News
Seniors & Schools
College focus
Free at last!
Travel down south
Tuesday - Wednesday, 6/2-3: Finals
Friday, 6/5: Graduation
The University of California, Irvine, is a public college located in Irvine, California.
It has one of the 10 general campuses in the UC system. The University has over 30,000
students.
UC Irvine is considered a Public Ivy campus. "Public Ivy" campuses are those undergraduate colleges and universities that are claimed to provide an Ivy League collegiate
experience at a public school price.
This particular school offers 80 undergraduate degrees as well as 98 graduate and professional degrees. UC Irvine was one of three campuses established in the
1960s, so it could accommodate a larger number of enrollments. It is ranked among the
Top 10 US universities in the number of undergraduate applications each year.
The most popular majors taken at UC Irvine are Biology, General Social Psychology, Business/Managerial Economics, Political Science and Government.
The layout of the campus resembles a rough circle with its center being the Aldrich Park.
If you are a
person
who
loves to get
involved
with
school, UC Irvine offers over
650
student
clubs and organizations on
campus. If you
are interested
in one of the
programs that
UC Irvine offers, and want
to attend a university in southern California,
then UC Irvine
is a college for
you.
Saturday, June 6
(Registration deadline closed;
Waitlist available until June 1;
scores available June 25)
For more information,
go to www.collegeboard.com
This test is offered at Armijo
Fees:
Reasoning Test = $52.50
Subject Tests:
Basic Registration = $26 + $16 per test
Change fee = $28
Waitlist fee = $48
Fall
ACT Dates
Saturday, September 12
(Registration deadline = August 7;
scores available
September 22 - November 7)
For more information, go to http://
www.actstudent.org/
Fees:
Without writing = $38;
With writing = $54.50
Score Reports to 5th and 6th Colleges =
$12 each
Change fee = $28
Telephone Registration = $24.50
Late registration = additional $24
Standby fee = $47
Spencer Butler
Jessica Ignacio
Wednesday & Thursday, 6/3 & 6/4: Graduation Practice
By Mayank Malhotra
Senior News co-editor
Spring
SAT Dates
humboldt stAtE
univErsity
Jose Casas Cigarroa
Luis Casas Cigarroa
Graduates, get ready!
After thirteen years of education, Armijo's graduates are preparing to walk across the stage on Friday,
June 5, enjoying the applause of family and friends, if they
are all caught up in fines and grades.
Students can receive a limited number of tickets
for the graduation ceremony. A school ID is required to
pick up those tickets.
Graduation practice will take place after finals on
Wednesday, June 3 and again at 9 am on Thursday, June
4. Students will be expected to be on campus on Friday
afternoon in time to line up for graduation.
The ceremony will start at 6 pm. All graduates will
be wearing their appropriate cap and gown combinations
and the dress code will be enforced. In addition, girls are
not allowed to wear high heels, although wedges are okay.
If seniors owe any fees, including missing textbook
or unpaid ID charges, they will not be able to pick up their
diploma or get an official transcript.
Grad Nite will take place on Friday evening, starting
right after graduation. For students who have not bought
their tickets yet, they will be available for $85 at the door.
Only graduates with their Armijo ID cards and a
ticket will be able to enjoy the festivities. The gym will be
decorated during the last week of school in preparation
for the event. There will be several games and activities
for the students to participate including a hypnotist and a
raffle. At the end of the evening a graduate will have the
opportunity to win $1,000.
Farewell to friends
In the fall, Juliette Mandujano will get a chance to bring her talents to
Long Beach City College where she intends to study oral hygiene. While it is
something that she is looking forward to, she will definitely miss the relationships that she has developed in the three years that she has been attending
Armijo.
"What I am going to miss most is my friends," said Mandujano. They
would include her role models Greg Garcia, Carlos Gustavo Ocho and
Lisandro Gonzalez. Her favorite memory from her time at Armijo? Like many
students, it would be prom night.
If Mandujano could change anything about Armijo before she left, it
would be the time that school starts. "It is too early for me!" she said.
While socializing with her friends i a priority, Mandujano also has
some good advice for students trying to set their own goals. "Don't let people get in the way of your success," she said.
MATH MASTERS
Juliette has cleaning in her future,
cleaning teeth, that is.
Photo by Trevon Carrie
When Math Attacks...
BASIC MATH THROUGH CALCULUS
NO ENROLLMENT FEES
PROFESSIONAL TEACHERS
LOW RATES!
...It isn't pretty.
NO CONTRACTS!
Get Help Today!
NO TESTING FEES!
Present this add and get
Your first four weeks
Good for first time students only
lEwis & ClArk CollEgE
- or
Samuel Bundenthal
AmEriCAn rivEr CollEgE
Shannon Burton
Geraldine Mariam Tiongson
DeShawn Williams
ArizonA stAtE univErsity
Alyssa Heffernan
bArbEr CollEgE
Nicholas Tyler Parker
brighAm young
univErsity – idAho
Ryan Cook
Jared Hickory
Braden Remington
Tutoring by professional teachers!
10% off
Trinette Driskell
DaJanae Williams
CAl poly –
sAn luis obispo
MATH AND READING
Special Offer
lAngston univErsity –
ok
Alexis Warner
Jared Webster
Matthew Webster
Senior spotlight
Basic Math
Pre-Algebra
Geometry
Reading
Problem Solving
itt tECh
Friday - Saturday, 6/5 - 6/6: Grad Nite 9 pm - 5 am
Logical Learning Math Masters
Serving Solano county
Since 1987
Call:
428-4778
1000 W. Texas St., Fairfield
CAl stAtE univErsity –
EAst bAy
Berenice Garza
Kiyana Woods
CAl stAtE univErsity –
long bEACh
Maurice Johnson
CAl stAtE univErsity –
los AngElEs
Jasmine Cortez
CAl stAtE univErsity –
montErEy bAy
Javier Carlos-Flores
CArrington CollEgE
Melissa Medina
ChAminAdE univErsity
of honolulu
Samantha Ignacio
CogswEll polytEChniC
CollEgE
Lexie Michelle Angulo
Vanessa Arroyo
ContrA CostA
Community CollEgE
Elizabeth Razo
CosumnEs rivEr CollEgE
David Flores Gustavo
Gonzalez-Ochoa
diAblo vAllEy CollEgE
Mohammed Afana
Bryon Hill
Hargurjit Jassar
Jason Kino
Devin McDaniels
Alessandro Nunez
Kolbi Quist-Richard
Victoria Renteria
Amrinder Sandhu
Embry-riddlE
AEronAutiCAl univErsity
Tobey Bautista
fAshion institutE (fidm)
– sAn frAnCiso
Julia Sanchez
howArd univErsity –
wAshington dC
Yasmine Northern
lonE stAr CollEgE
7
Keianna Richardson
Victoria Rodgers
Aniyah Ruffin
Azalia Ruiz
Saul Ruiz
Jessica Terrado
Tyler Thoming
Cassandra Thompson
Raquel Torres
Ana Valenzuela
Roja Christian Vanta
Janinne Vazquez Olvera
northErn ArizonA
univErsity
Hallie Barnes-Butler
oCCidEntAl CollEgE
Isaiah Valentine
Randy Gipson
long bEACh
City CollEgE
Isaiah Stewart
nApA vAllEy CollEgE
Alexis Angel
Jargalan Baasandorj
Nakia Bryant
Victor Caldwell
Brittany Chudzinski
Nohemi De la Cruz
Sean Dolan
Eliana Galdamez
Jocelyn Garcia
Lissett Gil
Delaney Gray
DeAhja James
D'Mario Johnson
Chrysostom Lomahan
Jennifer Mastin
Ana Patricia Olivares
Paola Ortiz-Mayo
sACrAmEnto City
CollEgE
Jason Brasile
Edith Delgado
Armando Godoy
Tyler McGregor
sACrAmEnto stAtE
univErsity
Ta'seti Anderson-Stell
Brianauh Chester
Azayleah Delgado
Alejandro Franco
Louie Ignacio
Anthony Juarez
Tyler Liow
Jade Lipkins
Nelson Medina-Castro
Anthony Montero
Nelson Quezada
Dayanna Reyes
Jose Ruiz
Jonathan Thomas
8 Salutatorian
In a class by himself
By Derek Wadsworth
Classes & Clubs editor
Cameron Remington is the Class of 2015 Salutatorian with a 4.5
grade point average (GPA). The title means that he has the second highest GPA in the class.
That means that he's
headed to UC Berkeley next year, where
he plans to major in
Energy Engineering,
focusing on alternative sources of energy
and their applications.
This summer, Remington plans to work
for the Solano Transportation
Authority, but also do some
longboarding and play
a lot of disc golf.
After four years
at Armijo, Remington has a lot of good
memories. At one
basketball game, he
remembered
when
Cameron knows that school is about much more than
the A-Team, of which
just getting an education.
Photo by Trevon Carrie he was a member,
mimicked
every
movement and gesture the opposing coach made. The spectators noticed and laughed along, but the opposing coach never noticed.
But not all his memories are good ones. Remington remembers
the first time he fell asleep in class. He said, "I woke up and thought everyone was watching me." He said falling asleep in class is never a good
feeling, "but I've gotten used to it after a while."
When asked about his favorite subject, Remington said, "Math."
Overall, he said that he had some excellent teachers, including Ms. Ann
Gillen (English), Ms. Jessica Conover (Science), Ms. Beth Nordeen (Science), Mr. John Molumby (Math), and Ms. Lisa Davis (English).
To improve Armijo, Remington thinks that they should offer classes dedicated "solely to teaching writing skills." He said that there is an
expectation that students should know how to write, but it's never taught.
Outside of school, he likes to play sports, watch sports, and read
about sports. He follows the Giants and Warriors closely.
Remington said that the best thing about Armijo is its "huge student body. I love the diversity." When asked if he has any regrets about
his last four years, he said, "I wish I had gotten involved with the club that
puts on the Daily Bulletin. It seems like that would have been a lot of fun."
Cindy Ulloa
Alexander Yalong
San Francisco City
College
Nylea Jones
San Francisco State
University
Cindy Lopez-Prado
San Jose State
University
Nicholas Castro
Nacalah Gilliam
Shannon Tabing
Seattle Pacific
University
Xiomara Rodriguez
Seton Hall University –
NJ
Amini Kapapa
Sierra College –
Nevada City
Sarah Walker
Solano Community
College
Matthew Burgess
Mario Cabada Ortiz
Alvania Campbell
Allison Canlas
Jennifer Cano
Gabriela Canto
Karina Cardenas
Matthew Clark
Carlmon Dacanay
Kristopher Elkin
Natali Esparza
Sonya Estrada
Nialah Ferguson
Trenton Finley
Andrew Foster
Ryan Garcia
Quincy Gatewood
Joseph Gomez
Lillian Gray
Cameron Hibbert
Eboni Hill
Taya Hill
Myileah Jones
Stacey Kadzewick
Lloyd King
Justina Le
Ha'Jenae Leaks
Christopher Lisenby
Emily Martinez
Camila Martinez-Perez
Diana Melendez
Larytza Mendoza Ventura
Jocelyn Monroy
Daniel Morales
Vanessa Muzio
Thomas Nguyen
Jennifer Padilla Espinoza
Ilay Padilla Vela
Jovani Panduro
Melanie Pence
Reyna Perlera-Mancia
Najm Phillips Adams
Mauricio Rodriguez
Omar Rodriguez
Amany Saeed
James Thomas Sanchez
Alan Sanchez Vargas
Marissa Shankles
Raul Silva Duran
Kody Steiner
Fatma Tayeb
Adrian Tenorio-Robbins
Amber Tesch
Joseph Allen Thompson
Isiah Tostado
Karla Villa Veloz
Jennifer Vo
Passion Ware
Marvionna Wilkins
Gabrielle Willey
Brittany Williams
Terrell Windom
Basilio Alviar
Vanessa Angel
Jonelle Marie Anunciacion
Victor Avianeda-Marroquin
Kenneth Baker
Chriserly Banayad
Amanda Barajas
Kaylee Barajas
Jaipaul Basanti
Mikaela Boult
Sonoma State University
Shannon Boyd
Deborah Barrera
Seniors & Schools 9
Alexandria Bowers
Lillian Castellon
Brianna Lothe
Ofelia Reynoso
Samantha Samayoa
Southern University –
New Orleans
Imani Jones
Stanford University
Lauren Seabrooks
Tuskegee University –
AL
Derrick Frelot
UC Berkeley
Cameron Remington
Elena Stacy
UC Davis
John Ariza
Jewel Esparza
Matthew Gumataotao
Itzel Hernandez
Amanpreet Kaur
Jason Less
Cove Malloy
Brittany Monk
Jade Petaishiski
Gabriela Rivera
Eduardo Ruiz
Xylina Rusit
Nathan Tran
UC Irvine
Mark Vincent Go
UC Merced
Jennifer Flores
Jessica Solano
Quy Tran
UC Riverside
Natalie Napoles Rivera
Isabel Robles-Moreno
Adriana Rodriguez
UC San Diego
Kyle Catapusan
Thomas Dawson
UC San Francisco
Jayson Narciso
Iyanna Thomas
UC Santa Barbara
Vanessa Velasquez
UC Santa Cruz
Donovan Buccat
Zakery Chrest
Devante Henny
Alma Manriquez
Rance Jaruz Sali
Marion Kyle Santos
Samuel Becerra Dominguez
Christian Benitez
Victor Booker
Jade Breaux
Selah Brown
Brianna Brozick
Universal Technical
Corey Brozick
Institute (UTI)
Alisia Burgos Nava
Jonathan Joshua Gonzalez
Alexander Burgos Sanchez
Jahkari Burney
University of Minnesota
Antonio Cacuyog
– Twin Cities
Byron Calderon
Andres Rivera-Cruz
Danayia Caldwell
Brittany Campbell
University of Nevada –
Yulissa Campos
Juan Cardenas
Reno
Imani Carter
Kylee Webster
Sidney Carter
Alexander Castro
University of
Rafael Castro
Washington
Michael Catalli
Mikayla Elder
Kirstin Cauthorn
Luis Cerna
US Air Force
Martin Champion-Benjamin
David Brown
Billy Cherry
Hollianne Clark
Kristin Co
US Air Force Academy
Miguel Cobos
Anthony Davison
Isiah Cohen
Natalia Covin-Henderson
US Army
Darrian Cox
Chad Vaughter
Adriana Cruz
Andrea Cruz
US Military
April Cruz
Christopher Boyd
Luis Cruz
Dimitri Morace-Pantaleon
Daniel Cruz Duran
Alex Davis
US Naval Academy
Ashley Delgado
Trent Baker
Oscar Delgado
Jazmine Denis
Sabrina Downhill
US Navy
Darren Due
Mikayla Moore
Crissadhel Dupa
Carlos Reyna
Kassandra Elias
Giovanni Escobedo
Westmont College
Jewel Esparza
Madelinne Godinez
Bianca Estrada
Johnnie Evasco
Destination Unknown
Shanice Fezeu
Abdulla Afana
Trevor Finley
Samuel Aguilar
Camille Rose Flores
Cecilia Alcaraz
Janel Fortson
Maria Alvarado Ventura
Oscar Fraire
Trevor Anderson
Cartwright Francis
Joy Appling
Daniela Gallegos Monroy
Ronald Applon
Francisco Garcia
Makiez Arghandewal
Jonathan Garcia
Rashad Atkinson
Gregorio Garcia Suarez
Carlos Avalos
Lavarious Gardiner
Clarissa Aviles
Patrik Gibeily
Baha Ayyoub
Maleah Gonsalves
Desiree Baillargeon-TabaFelipe Gonzalez
res
Lisandro Gonzalez
Naomi Barrera
Monica Gonzalez
Vanessa Beas
Valedictorians
Top of the class
By Mayank Malhotra
Senior News co-editor
The Class of 2015 will not graduate one, but three valedictorians.
A valedictorian is the student in the graduating class that has the highest
grade point average (GPA) and this year's class has a three-way tie.
The Valedictorians of the Class of 2015 are Mark Go, Jason Less,
and Timothy Liu. All valedictorians are exceptional students. These three
students are graduating with a GPA of about a 4.54 and all are partakers
in the rigorous International Baccalaureate (IB) program.
Less will be taking many
memories while he prepares for
the next chapter of his life. His
favorite memories include working hard his entire school year,
and being named Valedictorian.
He also cherishes playing sports
for the school. He played four
years of soccer and two years
of baseball.
He said that he will miss
the many friendships and relationships that he has created in
these last four years.
Less described IB as a
very positive and rewarding experience. He enjoyed the rigorous coursework and feels that
IB has prepared him well for college. For anyone thinking of joining the
IB program, Less advises to definitely join it, for it is a rewarding experience that will prepare students very well for college. In the fall, he will be
attending UC Davis, and will be pursuing a Bachelor's Degree in Computer Science and Engineering.
He hopes to one day work for a
large, high tech company such
as Google of Microsoft.
Go, another valedictorian, will be attending UC Irvine.
He plans to become a biomedical engineer. While attending
Armijo, Go's favorite memories
include participating as a cheerleader in the annual Powder
Puff games. He said that he
will miss the exceptional school
spirit demonstrated here.
During his four years,
Go was involved with water
polo, swim, cross country, track,
wrestling and band.
IB was an overall great experience for Go and he encourages
anyone that decides to put themselves through this program to keep your
head up even when things get tough.
Liu, the third Valedictorian of the Class of 2015, described his favorite memory in
high school as the feeling after
IB tests, when you go to class
and you know you don't have to
study anymore.
Liu describes the IB program as fantastic. He will be attending UCSD in the fall, and
will study biomedical engineering. He hopes to one day become either a physician, medical researcher or bioengineer.
Of the many things that
Liu will miss, it is sheer diversity
of the programs and the people
that top his list. Liu's tip for students pursuing IB is to not proThese three students finished strong with
crastinate because it saves a lot
the highest GPA in the class.
ID photo and photos by Trevon Carrie
of stress.
The Class of 2015 is
lucky to be represented by these gentlemen, and we hope for the best in
the years to come for these exceptional students.
10 Senior & Schools
Rosalynda Goodliffe-Hall
Trevor Lewis
Delaney Gray
Octavia Libey
Aloni Green
Serenity Liew
Twan-Che Grider
Paris Lindsey
Jazmin Guerrero
Brittany Little
Noni Guevara
Daniel Liu
Taeyah Guillory
Timothy Liu
Eduardo Gutierrez
Karly Logan
Luis Gutierrez-Ramirez
Jesus Lomeli
Alexander Guzman
Angelique Lopez
Kendra Guzman
Rodrigo Lopez Macias
Madison Hadowanetz
Steven Lopez-Prado
Deante Hamilton
Andre' Lowe
Nieves Hernandez
Roland Lubin
Ricky Hernandez
Cristobal Luna
Meleana Hernandez Mason
Juliette Mandujano
Bernardo Hernandez Murillo
Nick Manglona
Isabel Hernandez-Contreras
Noemi Manzo
Daisy Herrera
Samuel Martin Evangelista
Yulisa Herrera Chavez
Braden Martinez
Mark Angelo Hesultura
Lorenzo Martinez
Joel Diaz Hidalgo
Alberto Martinez-Morales
Brenna Hill
Jasmine Mason
Shayla Hill
Ryan Mattiuzzi
James Hines
Breanna McGee
Brianne Holmes
Joy Meeks
Joshua Holmes
Yamiled Mejia Molina
Minique Iviance Howse
Edgar Mejia-Morales
Jordan Hudson
Alvaro Mendoza
Rachel Ifamilik
Cynthia Mendoza
Marchellos Ingram
Selena Mendoza
Giselle Islas
Jared Moore
De Quan Jackson
Diego Mora
Ismaila Jah
Carlos Moreno-Padilla
Irulan Jasper
Hakim Muhammed
Gabriela Jimenez
Abdiel Munguia
Willie Johnson
Braulio Murguia
Anthony Jones
Mileah Murray
Damion Jones
Ohajai Murray
Jozef Jones
Anthony Myrick
Keelyn Jones
Nayelli Navarro Zepeda
Chanelle Jones-Baglin
Jasper David Navasca
Ryan Kardos
Chuong Nguyen
Avionna Kelley
Thai Nguyen
Sali Khatib
Thomas Nguyen
Michaela Kimbrough
Shaniza Nisha
Kaitlyn Komperda
Marlene Nunez
Leonardo Larios
Najarie Nutt-Smith
Melisa Leon Rodriguez
Chelsea Oey
Melia Lewis
Brandon Olea
Stephanie Ortega
Jenifer Ortega-Vazquez
Maurice Padua
Mario Palacios
Bon Mark Paragas
Nicholas Ray Parker
Whaticia Patterson
Jose Pech
Juan Perez Ramirez
Yahaira Perez Ramirez
Alayna Portugal
Alejandro Ramirez
Erick Ramos
Colleen Richie
Gustavo Rios
Alejandra Rivera
Brenda Rivera
Shy'Kiel Robinson
Lusadriana Rocha
Christian Rodriguez
Cindy Rodriguez
Ingrid Rodriguez
Sonia Rodriguez
Victor Rodriguez
Alexis Roman-Aldava
Javier Ruiz-Vera
Cameron Russo
Brittany Saechao
Rohan Saini
Shivani Saini
Valeria Salmeron
Joshua San Juan
Jorge Sanchez
Leopoldo Sanchez
Valeria Sanchez
Vanessa Sanchez
Alejandro Sanchez Ortiz
Jose Santana Escalante
Berry Saraga
Antonio Scott
Joseph Scrivens
Classes & Clubs 11
Mubariz Shah
Austin Shetterly
Erik Silva
Trevor Silva
Jaime Silva-Cruz
Gagandeep Singh
Luis Solano
Michaela Stanford
Raydal Stephens
Tiffany Stephens
Zachary Stevens
Deanna Stevens Billum
Troy Stewart
Franziska Strain
Sade Sweetwyne
Ryan Takhar
Amin Teymouri
Joseph Keoki Thompson
Elizabeth Torres
Alexander Trujillo
Kimberly Valenzuela
Mireya Valle Gomez
Alvaro Michel Vallejo
Elizabeth Vang
Brandon Walker
Thomas Walters
Audreonna Warner
Heather Waters
Stephanie Weber
Eddie Welbon
Alana Wells
Asia Wiggins
Ozniesha Williams
Savanna Woods
Sarah Woodyard
Jason Wright
Jason Wroten
Jasmine Yaser
Itzel Yoguez Rodriguez
Genevieve Zaghloul
Sonya Zawaideh
Visiting performers awe
Superband students
The world-renowned quintet The Boston Brass spent a few days performing in California before moving on in their nationwide tour. On Wednesday, May 6, students from the Armijo Superband were able to visit Rodriguez
High School to witness their local performance. "It was amazing," said Cristin
Cunanan.The Boston Brass has performed all over the world and it was a
special opportunity for the students to enjoy a concert in a local venue.
This event was a welcome diversion from their back-to-back wins at
band competitions on Saturday, May 2 and Saturday, May 9. At both competitions, the band won all the parade sweepstakes awards, receiving top honors
in every category. "They took down their toughest competition putting Armijo
back as the #1 parade band in Northern California!" said Ms. Louise Jacob,
band teacher.
At the May 9 event, the band took 1st and 3rd in concert and Angela
Balolong walked away winning Mace Drum Major with the highest score of
the day!
"Our guard, as usual, won sweepstakes with their amazing ability to
dance and throw equipment in the air and all with a smile on their face…I
couldn't be more proud of these young men and women! They truly have
been just amazing all year!" said Ms. Jacob. "I truly wish you could see how
well they represent Armijo High School!"
The band finished the season on May 16, taking down the competition. The awards:Sweepstakes for Parade Grand,, Music, Showmanship,
Marching and Auxiliary, as well as 1st Place in Concert and 1st Place Drum
Major Mace Angela Balolong..
Three of the top winners from Armijo stand beside their artistic creations.
Photo by Ms. Jane Loveall
And the winners are…
The Solano County Office of Education recently sponsored a Student Art Faire.
The top winners from Armijo in the Sculpture category were Samantha Stanley and Juan Martinez. Ellerie Mattias won first place in
Painting 1 as well as third place in Painting 2. Ashley van Belle took home
the first place ribbon for Drawing 2.
Lacey Tomson (Painting 1) and Clarissa Sanchez (Painting 2) as
well as Zakary Chrest (Mixed Media) helped establish the Armijo name
with their red ribbon awards. Dayanna Reyes was the third place winner
in the Drawing 1 category.
Youth Commission Update
Approaching summer
By Derek Wadsworth
Classes & Clubs editor
Academy seniors go to the State Capitol Wednesday, April 29.
Assemblyman Frazier took the class to the Assembly chambers (floor)
where California laws are debated, defeated or passed.
Saying Goodbye
By Melanie Pence
ROTC Reporter
May was a busier month for the Corps. With the school year coming to an end, our cadets held our annual ROTC Day, a fun day for the
Corps with food, games, and competition between all of our flights. Our
annual Awards Night was on Wednesday, May 6. There, we bestowed
highly deserved awards to cadets for their activities and accomplishments
throughout the year. Among the awards is the Patriot Medal, given to two
cadets for putting the needs of the Corps and Flag above their own. One
of the highlights of Awards Night was the announcement of the new senior cadet staff for next year: Group Commander: C/Col Cedric Fajardo,
Deputy Group Commander: C/ Lt. Col Erika Deguinion, Chief of Staff: C/
Maj Nick Santos, Plans and Projects: C/Capt Sophia Hanke, Operations
Squadron: C/Capt Franchette Allarey and Mission Support Squadron: C/
Capt Kyle Nishimura
Another highlight of the event was the announcement of this year's
Cadet of the Year, which went to Kody Steiner, our Corps commander.
Congratulations, Kody!
The next day, our Color Guard had the honor of presenting the
Colors at the 2015 Highest Honors Awards ceremony for graduating seniors of the Fairfield-Suisun Unified School District.
June is an extremely short month of the school year. As we say
goodbye to our graduating seniors and prepare for summer we still have
community service opportunities that are coming up. Sophomores and
juniors in the Corps have the chance to help out at the senior graduation
ceremony on Friday, June 5. Lastly, during the summer break the Corps
will field a team to participate in the Relay for Life, which helps raise
money to find a cure for cancer.
We hope everyone has a safe and fun summer break, and we
look forward to seeing you again in August!
Youth Commission (YC) held its monthly meeting on Monday, May 4, in City
Council Chambers. Fairfield City Manager David White presented the State
of the City address. He reported that, in the past year, a total of 484 volunteers provided over 43,500 hours of service, which saved the City more than
$1 million. Also, 19% more students participated in the Life After School Program. For youth, the City added Zumba Kids, Water Polo, and Flag Football.
Fairfield also partnered with the Youth Soccer League and the North Bay
Elite Futbol Club to provide soccer fields. Overall, the City abated 110,362
square feet of graffiti.
The Officer Selection Committee presented the application for Chair, Vice
Chair, Treasurer, and Secretary Position. Applications were due Friday, May
15, and interviews were held the week of May 18. Responsibilities of the
Chair include presiding over all meetings, serving as a liaison to the City
Council on youth issues, and working closely with the different Committees.
Vice Chair has similar duties to the Chair, but does not preside over meetings, unless the Chair is absent. Treasurer oversees budget and expenditures, and attends Officer meetings. The Secretary prepares the agendas
and minutes, and keeps records, including attendance.
On Thursday, May 14, from 4 to 7 PM, YC participated in the STAND Community Investment event at the downtown Farmers Market. Also, YC hosted
a booth at the City of Fairfield Customer Appreciation event at the Allan Witt
Pool on Saturday, May 16.
Passion for Christ,
Compassion for People
By Trina Reynolds
Club 180 reporter
This is the motto that has steered Club 180 through the 2014-15
school year. It has been an unbelievable year of growth and change for
Club 180. Guest speakers from Fairfield and Vacaville came to share inspiring messages. Club 180 sent Christmas presents to kids all over the world
through Operation Christmas Child. They also collected lightly-used jeans
for teenagers and raised money for people going through hard times. Their
compassion has made a difference both on Armijo campus and in the world.
Why does God let bad things happen? It's an important question, and is undeniably difficult to answer. Club 180 considered this question in their latest
series, which focused on involving all members in thoughtful and eye-opening discussions. After all, all people, believers or not, have questions about
faith. This series was an amazing opportunity to open the door to puzzling
questions and find answers to them.
Along with this discussion series, Club 180 held officer elections. A
mix of new and old leaders was selected to lead Club 180 next year, including
Savanna Santiago as president and Maddy Brown as vice president.
Interested in joining Club 180 in the 2015-16 school year? Follow
Club 180 on Instagram @ahs_club180 for updates. Also, keep your eye out
for posters around the school and announcements on the morning bulletin.
Looking forward to a great next year!
12
Sports
Sports 13
Athlete focus
Coach feature
Off-campus athlete
Athlete focus
Some people might not
believe in the power of positive
thinking, but Ryan Garcia isn't
one of them. "Baseball has always been my favorite sport
and I've always wanted to play
for Armijo," he said, but when
he tried out earlier this year, he
had not played played organized
baseball for several years, according to Coach Mo Terrell.
"He was a long shot to make the
team. Ryan made the team and
is an excellent teammate.
Garcia has dedicated himself to the sport but he knows
that there have to be priorities.
"I would like to play baseball in
college, but I might want to put
school first," he said. He plans
on studying Law Enforcement
at Solano Community College
before joining the Air Force and,
eventually attending the police
academy in the hopes of becomRyan's attitude is an inspiration
ing a police officer.
to his teammates on a regular basis.
Photo by Trevon Carrie Those goals are going to
require that Garcia stay in shape,
something he suggests other potential athletes remember. "If you want to be the best at
(sports), work yourself physically to get in the best shape you can and practice hard," he
said. Garcia practices what he preaches and, in his free time he likes to go to the gym
with hi friend "to be healthier and more athletic for baseball."
"Ryan has not played (in Armijo baseball games) as much as he would like, however, that has not stopped his enthusiasm for the game," said Coach Terrell.
Coach William "Mo" Terrell is in his second season
as the varsity baseball head coach at Armijo, but he has
also served as an assistant coach for the Rodriguez junior
varsity team. Not only that, but he has also managed adult
baseball teams, Little League baseball and youth travel
baseball teams. In addition to coaching Armijo's team, he
is also managing a summer (FEBA) Junior Legion baseball team. "I
notice there
was a need
for coaching
when
my
oldest
son began
playing little league
baseball in
1999,"
he
said,
and
that is how
it started for
him.
Coach Terrell didn't always have a lot of time for on his
hands, but after 31 years working for the US Environmental Protection Agency, he was able to retire in 2014. Now
he spends his free time coaching, restoring classic muscle cars and playing baseball in an adult baseball league,
when time permits. He also enjoys family movie nights on
weekends, and babysitting his granddaughter.
Students who are interested in coaching should remember to have a passion for the sport, explained Coach
Terrell. "You have to have… a lot of patience, you should
have good communication skills, and you must be a people person," he said.
Unlike karate, which focuses on self-defense using
mostly the hands, the newer martial art of taekwondo relies
more on high kicks. It has grown in popularity over the years
but it has an interesting history.
While
Audrey Parker doesn't
practice taekwondo
for the last two years,
it isn't because she
doesn't like it. She
just doesn't have
enough time.
Parker started practicing this
martial art when she
was four and earned
her black belt by
the time she was
12. "I also won multiple
tournaments
for sparring and was
the national champion at 11. She Audrey's experience in Taekwondo has
helped her with other sports.
was involved in this
Photo by Trevon Carrie
sport until she was
13.
Athletics are important to Parker who ran cross
country and played tennis for a year. She has also played
basketball and run track for Armijo since her freshman year.
She would encourage other potential athletes to stay disciplined and practice what they learn. She would encourage all
students to be more enthusiastic about their experiences at
Armijo.
When she is not practicing for sports or planning for
competition, Parker enjoys thrifting, creating something new
out of something old.
Softball wasn't Cecilia
Rubo's first choice for a sport.
She started off playing soccer,
but in the off-season her father
signed her up for softball and
she liked it "way better, so I stuck
with it since I was eight years
old," she said. While she has
enjoyed it for a number of years,
she has decided that she will not
play in college. She prefers to focus on her education.
That education will probably lead to a career in the art
field. She enjoys painting and
drawing in graphite and sees
that as a passion she can pursue
for a lifetime.
Her olders sister Marisa
has influenced her in a lot of
ways. She is 20 and on her way
to becoming a registered nurse
(RN). "I look up to her," Rubio
Cecilia has spirit and she brings it
said.
to every game.
Photo by Trevon Carrie
"If I could change one
thing about Armijo," said Rubio,"
it would be that student athletes didn't hav a sixth period so that they aren't missing class
when they have to leave early for a game."
Garcia overcomes challenges
It all began with family
Preparation for today
Athlete focus
Batter up
The "We Didn't Drive" 55 club
By Annika R. Uyenco
Staff writer
On Thursday, May 14, Armijo High joined Solano
County in thes annual Bike to School/ Bike to Work Day
where students and teachers biked to school and workers
at local businesses had access to the Armijo campus as
an official recharging station as they rode. Fifty-five participants took part in the event, although the goal for next
year is 100.
Teachers who participated in the event included
Ms. Jane Loveall and Mr. Ben Dickens. It was arranged by
Mr. Christian Stoll. Once participants arrived at the school
parking lot, they were greeted with a joyous cheer. After
locking up their bikes, they were rewarded with: a fresh
doughnut, a Cliff Bar, an orange, a bike light, a pamphlet of
the bike trails around Fairfield, and a bag for going green
and exercising.
One participant, Rodrigo Angulo, explained what a
great experience it was and the practicality that came from
it. "What I really like about it is that it's a type of exercise
and is more fun than simply driving to school or walking,
"he said. "Plus I help my parents on not using so much gas
which helps with money. Riding a bike also helps the environment with not polluting the world. I think riding a bike is
a great way to start the day."
The annual event was promoted for years by nowretired Armijo Spanish teacher and bike lover, Mr Randall
Carlson. Often, he would encourage his students to use
their bikes to get to school for at least one day. The first
year happened to be a success. Once he was no longer
at Armijo, Mr. Stoll, an English teacher, took up the baton.
For six years, he has been leading this fun and special
event.
Athlete focus
It's all about the base
By Peter Popescu
Staff writer
Brett Erwin is a modest baseball player. He's been playing since he was four
years old and took it up because his father loves baseball, too. It's a lifelong passion for
both of them. In fact, if he could do anything to change Armijo's campus, he said that he
would ask them to improve the baseball fields.
If it weren't for baseball, Erwin would participate in Cross-Country, which he
played in middle school. He also likes to
play golf, but he really can see himself
playing baseball professionally. His best
game ever, though, wasn't when he was
in high school or even middle school.
His favorite game memory is from when
he was in Little League and his team
beat the other team by the skin of their
teeth.
When he goes to college in the fall
of 2017, Erwin hopes to play at the college level. He mainly plays shortstop but
he also pitches and catches. He loves
baseball and will be sad the day when
he can't play anymore. If he can't be a
Major League Baseball (MLB) player,
however, he would want to be a sport
physical therapist.
In addition to baseball, Erwin is
also involved in leadership and served
as freshman vice president last year.
Erwin has three siblings: Erin,
Brett has made a positive impression on the baseball who is 18, a twin brother Brendan who is
field and in the classroom.
16, and the younger brother, Nick, who
Photo by Trevon Carrie
will start attending Armijo in the fall.
When Taylor Kelley's mother heard that she wanted to play softball, her mother immediately signed her up.
"Sports can change your life," Kelley said. "It gives you a
lot of time on your hands so you won't do anything wrong.
It makes you more confident and you can get to know
more people." One of the people that she has been able
to play side-by-side with is her twin sister Jordan who also
plays on the team.
Kelley has
not restricted
her
involvement to softball,
although that is
the only sport
she plays at
Armijo and one
she hopes to
play in college.
She is also involved in AVID
and has been
involved in the
homecoming
skits for the
freshman class
in both football
For Taylor, softball was love at first sight and
and basketball.
she's not looking back.
Kelley
Photo by Trevon Carrie If
could change
something about the campus, she admits that it would
have to do with the softball fields. She wishes that they
were "cleaner, new and have a fence," she said. She
knows that it is a challenge to support women in sports
at any level and said that her role models are the first female baseball players "because they saw that it's not just
a male sport."
Even though it sounds like softball is Kelley's life,
she does have a higher goal. "I plan on getting my Masters
in marine biology," she said.
In the beginning
The cheer for next year
Varsity Squad
Haley Adam
Claire Barton
Destiny Blueford
Zariya Bolton
Claire Dupa
Alize Golden
LaShermanai Hill
Rhiana Holt
Delana Hubbard
Lynece Jackson
Alissa Jones
Cyndi Jones
Mya Jones
London Legree
Brandi Martin
Raeniya Montgomery
Leslie Morales
Sandy Ramos
Merrisa Rios
Shayna Rojas
Courtney Rolas
Anyssa Scott
Raelyn Taylor
Tianna Taylor
Michiah Toney
Aileen Villanueua
Vanessa Villegas
Tessa Williams
A'aliyah York
Alexis York
Junior Varsity Squad
Briana Abarea
Jessie Bast
Alexis Brown
Allysa De Guzman
Kristine Fajardo
Andrea Franco
Aisa Galdamez
Sierra Jones
Paytyn Lewis
Layla Lopez
Tianah MacDonald
Joseline Medina
Taylor Newton
Vanessa Rios
Jaiden Russell
Nandi Smith
Sanni Smith
Kaelen Tabasm
Yasmeen Valdez
Carolina Villa
Destiny Warren
Asia Williams
Track & Field
Coach David Monk
Wednesday, May 28 and Friday, May 30 (Time TBD) Masters Trials and Finals at Elk Grove High School
Friday, June 5 (Time TBD)
CIF State Trials at Buchanan High School
Friday, June 6 (Time TBD)
CIF State Finals at Buchanan High School
14
Entertainment
Video Game review
Entertainment 15
Book review
CD review
Another finalist
Reminiscent Imagination
CD review
By Andre Lowe
Staff writer
By Trina Reynolds
People editor
By Andrew Zheng
Senior News co-editor
By Nathaniel Moore
Staff writer
Cloudberry Kingdom is a platforming game that was created by Pawnee Studios on
July 30, 2013. It is a game that I bought a couple years back and I can say with all honesty
that it is not your average, run-of-the-mill, Mario-hopping video game. This game can get
very intense as illustrated explicitly during the preview of the game's final levels that players are shown
just before pressing start.
This
game
embodies many
things:
focus,
intensity,
action, adventure,
quick-thinking,
and
constant
diligence.
The
game begins as
a basic platforming game but
goes to complete
insanity with its additional traps and weapons. It can get so crazy later, in the hundreds
levels, that the game has been considered to be completely impossible to complete. It
seems to have an infinite number of levels to play and each one is more difficult and
nerve-racking then the last.
Players are going to get very frustrated as the screen begins to pile more and
more with hazardous materials that, if touched even slightly, will result in a fiery explosion, killing the players instantly. One thing I learned from experience in this mind-bender
is that no matter how good you get the AI, of the game will only catch up to you in skill. No
matter how good one gets at the game the computer will always be not one but ten steps
ahead, ready to give the players a new challenge whenever they thirst for more.
The game is a local co-op and can have up to four players. It is a game where you
can sit back, relax with your friends, and enjoy an extremely fun and equally challenging
platforming game together.
Although it's possible to go solo, I highly recommend playing it with a group to
capture the full experience. Together you and your friends will enter a world full of swinging buzz saws, dancing flamethrowers, falling spiky balls of death, poisonous insects, and
destructive beams of light. Throughout the levels players will be introduced to new ways
of beating them starting with being able to double jump, roll on a ball, shrink yourselves,
grow yourselves, man space ships, hop on pogo-sticks and eventually grow wings and
fly.
The game is available on the Xbox 360, PlayStation 3, Nintendo Wii U, and Steam.
I had a blast with this game and highly recommend it for all ages.
The California Young Reader Medal Award nominees for
the 2014-2015 year, in the Young Adult category, are Daughter of
Smoke and Bone by Laini Taylor, The Fault in Our Stars by John
Green and Legend by Marie Lu. For those unfamiliar with the last
one, the Armijo Signal is providing this review.
Over the past few years, dystopian novels have dominated the young adult bestseller lists. Popular dystopian books
include The Hunger Games, Divergent, and The Giver, all of
which have recently been made into movies, with great success.
Yet another dystopian book has been growing in popularity. Legend by Marie Lu is an action-packed book that I recommend to
anyone who enjoys dystopian fiction.
The story takes place in the future, postwar United
States, which has been divided into two countries: the Republic
of America and the Colonies of America. Legend features two
main characters: June and Day, who are polar opposites. June is
a prodigy at the age of 15, a student at the elite Drake University
destined for the highest levels of the Republic's military. On the
other end of the spectrum is Day, a wanted criminal living in the
slums. After June's brother, Metias, is killed, Day automatically
becomes a prime suspect. June, seeking avenge for her brother's death, soon discovers that Day is nothing like she expected.
This encounter with Day soon leads June to discovering that the
Republic is hiding a few secrets.
This book was recommended to me by a friend. I was
hesitant at first, tired of the unoriginal dystopian themes that
have taken over young adult literature. Once I started reading,
though, I couldn't put it down. Soon, I finished the entire trilogy.
This book is not your average dystopian novel. It features two
intriguing characters who change and develop during the course
of the book. The plot was always fast-paced and kept me hooked
after every chapter. It was exciting to watch as the characters
discovered what's really going on in their dystopian world. The
situation drew me in even more since the setting is mostly in
California.
The only aspect of this book that could have been improved was the explanation of why everything went bad. It gives
the reader a general rundown of what happened, but it could
have been explained a little more. This gave the novel a lack of
depth, but the constant peril and exciting plotline mostly made
up for it. Additionally, unlike many series I have read, the second
and third books are both just as well done as the first.
Legend is the perfect book for an easy read over the
summer. I recommend it to anyone to has enjoyed The Hunger Games, Divergent, The Giver, or any of the countless other
popular young adult dystopian novels. Even if you find yourself
bored with dystopian novels, as I was, Legend is definitely a
young adult book that you do not want to miss.
The treasure chest barely covered in sand but also the renowned
queen of alternative, Lana del Rey is a rising singer who is still brushed
quietly away like a piece of lint on a sleek suit. Her exceptional album
Born to Die proves her
worth by showcasing her
ability to evoke powerful
emotions. Born to Die isn't
just a wave of nostalgia,
but a flood of it, making
listeners find those happy
times; the ones that really
never existed. Born to Die
creates an illusion of sadness that you don't really
have to have, and yearning for the day when you
can finally breathe and be
free. The album contains
12 master tracks that will
definitely bring you into the
realm of unorthodox taste.
Even though Born to Die was published in 2012, it still holds admiration to thousands of fans today. The first song, holding the same name
as the album title, is probably the most metaphorical song you will ever
hear. Essentially, the message is that our lives fly by, meaning nothing but
surreal recollections. The song is an emotional roller coaster ride that will
leave you stunned with sighs of relief.
The third and fourth songs, Blue Jeans and Video Games, are
slow ballads. They talk about love and the relationship cycle. They might
be a tear-jerker to some.
The sixth song, National Anthem, is a take on rap and quite catchy.
del Rey utters cunning rhymes and articulates the importance of enjoying luxury and a fellow lover. The eleventh song, Summertime Sadness,
is similar to mainstream pop. However, del Rey manages to incorporate
more of herself. She is aching from the loss of a counterpart, the soul she
cherished for years. Now she is revisiting the liaison and relapsing and
plunging into the deep depths of despondency.
The other songs are brilliant too. They are all just…awakening,
guiding you to the truths of life. Lana del Rey is an amazing artist that
created an amazing album. I would undeniably give Born to Die 5 out of 5
stars.
Steve Roach is what I consider a superior ambient musician. It
is without doubt that I can say that his sound is some of the most finely
tuned ambient that is out there. He is capable of crafting exquisite, dark
atmospheres with his instruments and excels, especially at placing the
listener within their own mind.
Ambient music is meant to evoke imaginative and introspective
feelings, and Steve Roach does just that. The Lost Pieces is a collection
of his pieces composed between 1988 and 1992 that were either lost or
forgotten by the artist in his archive of tapes.
Beginning with Eclipse, there is an air of demonic mystery, purported by curious but gentle synths, a quiet hymn that intends to provoke
the subconscious. Slowly, the album grows more active, with the pieces
After the Dream and Mojave - At the Tree accelerating this peculiar journey. It leads the song Since We Are Away which is, in my opinion, the
best track on The Lost Pieces. It is a rather seductive and melodic piece,
and I would sum up its sound as a collaboration between deep hues of
blue and violet. Strange, alien "pianos" and a clairvoyant synth backing
give this piece a unique and introspective sound. The album hits its peak
of activity halfway through, quickly tapering down with soothing, droning
compositions reminiscent of some sort of cosmic journey. Still, it retains
a weird, dark tone about it, which doesn't seem of malignity but rather a
slow goading.
The Lost Pieces is a wonderful album, especially if one has a taste
for ambient-styled soundtracks. It retains a traditional and rich noise, the
noise feels authentic and powerful. There's nothing cheap about this album.
I give The Lost Pieces a 4.5/5 stars for its dark essence and authentic noise.
Summer light
Fashion focus
Ready to go poolside?
Summer means the start of pool season and the trends for 2015 are all about
basics. Browns, grays and blacks in swimsuit styles allow your accents and personality
to shine through without distractions.
Swimsuits have stayed fairly close to last season's suits. The true fashion lies in
the cover-ups. Flowing styles in gauze or cotton make going from poolside to dinner a
smooth transition, so long as dinner is at a laid-back location and, of course, shoes are
added to the mix. Wear dresses with an interesting pattern to keep your look from being
too simple while still managing to stand out from the crowd.
If you're a little less girly you can opt for a pair of shorts and a tee shirt. Keep from
looking boring by wearing brightly colored shorts with a solid top or add a pattern to your
tee to draw attention to your personal style.
Summer can get hot, even by the pool, so it is worthwhile to add sassy sunglasses and a hat. The decision is up to you about whether you want to add mystery to your
look with large lenses or simply protect your skin and hair with basic cover-ups.
Shoes are the next element and your focus can be on comfort or fashion. Slipon flip-flops may be practical, but
strappy sandals will demand attention poolside. Take advantage of the
muted colors to keep the outfit from
being overwhelming.
Choosing the right outfit
and accessories are important, but
one of the most important elements
is health. Whatever options you
choose to bring attention to yourself
at the pool, don't forget to wear your
sunscreen! After all, raging sunburn
or developing skin cancer will ruin
even the best poolside ensemble.
Restaurant review
Going back to a '50s diner
A modified reprint from June 2011
By Quincy Cintron, staff writer
In May, my taste buds wanted to eat something exquisite
so I decided to go to one of my favorite restaurants in Vacaville,
Mel's Diner. Mel's has been around ever since 1947 and started
out as a drive-in restaurant in Sacramento, a little like Sonic is
today.
When I visited Mel's, I was greeted politely and was immediately seated. The atmosphere was nice, with music playing
and tabletop jukeboxes available if I wanted to choose some of
the tunes that would be piped through the restaurant. All over
the restaurant are posters, pictures and other memorabilia from
the 50s and 60s, including a lot of stuff from the movies and pop
culture of the time.
I ordered an iced tea and had already chosen what I
wanted to eat, the Mel's Bopper Burger with a side of cheese
fries. This burger is probably one of the best burgers I have ever
tasted. It has lettuce, cheddar cheese, one big onion ring, all
smothered in barbecue sauce and served on a fresh bun. The
cheese fries are just as good, they are hot and fresh with hot
cheese melted all over them. It didn't take them long to bring my
food out which really satisfied me.
After I was finished eating I was full and very pleased
with the polite and quick service. A meal at Mel's is a fun place to
hang out with friends and it is also a wonderful place for families
and kids. One of the things that is really cool about the restaurant
is that when little kids order food, it comes in a little car-shaped
box! The kids get to keep that car and play with it.
If you haven't been to Mel's before you should be planning a day to go there. You don't know what you are missing.
Nina's notes by Nina Steinkraus
Finding joy in The Lost Pieces
CD review
A smooth sound with Smoochy
By Nathaniel Moore
Staff writer
Ryuichi Sakamoto is a Japanese musician who gained major
success as one of the members of the Yellow Magic Orchestra trio, influential innovators of electronic music hailing from Japan. Ryuichi himself released many of his own studio albums, this one in particular being
Smoochy, released in 1996.
Enjoying experimentation with his music, Ryuichi blends in a mix
of jazz and Latin influences in this album, which is especially apparent
in the tracks "Tango" and "Bibo No Aozora." The album itself consists
of 13 tracks, some being slow and down-tempo pianoladen pieces, and others being a bit more abstract. The
tracks were composed with a Brazilian Internet concept
in mind.
Overall, the album carries a laid-back, lounging
aesthetic; a feeling which I could describe as a leisurely
float across an endless sea, shrouded in a pink and
alabaster sky.
Several of these tracks piqued my interest, the
first being Bibo No Aozora. A smooth drumbeat plays
throughout the piece, aided by Ryuichi's lyrics sung in
a feathery, hypnotic way.
Tango is a more Latin song of the album. It is similarly mesmerizing, but quieter song, utilizing a jazzy
drum backing and various instruments common in Latin
jazz music. Truly, the song is relaxing and it is perhaps
my favorite track on the album.
A second version of the song exists on the album which has singer Raul Carnota singing instead of
Ryuichi. Dennogiwa is where Ryuichi injected most of
his Brazilian Internet concept. The lyrics speak of "surfing on a neuro-network" with tranquil tone. I feel as if
Dennogiwa is a more spacial song than the rest.
A Day in the Park is perhaps the most musical piece
of the album. It has a R&B/Soul rhythm to it, with Vivian
Sessoms as the singer. Regardless, Ryuichi carries a
chill aesthetic throughout the entirety of the album, and
I quite enjoyed the sound of it. I would say that this kind
of sound isn't for everybody, especially if one doesn't
appreciate jazzy or mellow songs too well.
For a rating, I give it a 3.5/5 stars.
16
Entertainment
Movie review
They're back
By Sam Bundenthal
Staff writer
The next super hero epic has arrived. From last year's amazing trailer in which
the titular villain, Ultron, sings a haunting rendition of Pinocchio's 'Strings', we've been
anticipating this adventure. For the most part, the film delivers on all the hype.
Joss Whedon once again presents the story of the Avengers, a team of super
powered individuals who work together to combat threats no single hero can tackle on
their own. Since the conclusion of 2014's Captain America: the Winter Soldier, the team
has been hunting down HYDRA bases in search of Loki's scepter, an immensely powerful artifact. They acquire it early on in the film, setting the stage for the creation of an
artificial intelligence, named Ultron.
From the witty banter to great fight sequences, the movie creates one of the coolest atmospheres for a story we've seen in a while. It's fun, entertaining, and always keeps
you excited for what's coming next. All our favorite characters are back, from RDJ's Iron
Man to the surprisingly awesome Hawkeye, played by Jeremy Renner.
This is a comic book film in almost every sense of the word. Oftentimes, there
are some plot holes or physics impossibilities that break your suspension of disbelief:
gravity works a little differently in the Marvel Cinematic Universe. But the break only lasts
a second. It's easy to just go with it. After all, you are watching a movie in which an evil
joke-cracking megalomaniacal robot fights the Norse God of Thunder and a World War
era Supersoldier. And we're all perfectly fine with that.
My one contention with the film is with its treatment of the female characters.
Without spoiling much, both Black Widow and the newcomer, Scarlet Witch, seem relegated to typically female roles in a franchise which has consistently delivered very badass women. The romantic subplot, whilst executed well, seems a little forced, and unnecessary in the grand scheme of things.
However, none of this stops us from enjoying what is, in sum, a solid entry in Marvel's developing Cinematic Universe, and an amazing superhero film in its own right.
One of the assignments in the Springboard textbook that most sophomore English classes are
using is to write a review on the 2007 documentary
The 11th Hour, hosted by Leonardo DiCaprio. Here
are three examples of film review from students in
Ms. Herring's classes... how will you respond?
DVD review
A lesson for the world
By Leslie Morales
Class of 2017
Have you ever sat for a second and just thought
about global warming? Does the thought ever give you
chills and make you feel uncomfortable? It is okay to say
"Yes" because I feel the same way.
The earth is in its 11th hour and we need to go
back in time to change it for the better. We humans are a
lot smarter than we think and we can use that intelligence
to help one another without harming the earth's ecosystem. This is the message that The 11th Hour, hosted by
Leonardo DiCaprio, communicated.
Chemicals are being released into the air and all
the chemicals and fossil fuels are harming the earth's
ozone, which could further develop global warming, or climate change. We need to change, to help the earth by
protecting it and save one another.
If we don't start soon, we will get to that final hour
and everything will fall apart. Nothing will be the same. The
Earth could turn into a planet identical to Venus, according
to famed scientist Stephen Hawking.
Ask yourself this: do you ignore global warming because it makes you uncomfortable or do you just not care?
We need to step out of our comfort zone because, if we
don't do it soon, it will be too late to do it at all. The final
hour could be closer than you thing.
DVD review
How to get a reaction
By Rodolfo Magan
Sophomore
DVD rewind
A Super Awesome Super Hero Movie
A modified reprint from June 2012
By Sam Bundenthal, staff writer
Marvel's Avengers assemble in what could be the greatest superhero movie of all
time, in which Iron Man (Robert Downey Jr.), Captain America (Chris Evans), The Hulk
(Mark Ruffalo), Thor (Chris Hemsworth), Black Widow (Scarlett Johansson), Hawkeye
(Jeremy Renner), and Nick Fury (Samuel L. Jackson) come together to face an evil no
single hero can combat alone: the Asgardian god of Mischief, Loki (Tom Hiddleston) and
his army from a different dimension.
Whoever wrote this movie needs a trillion dollars. The action scenes are spot on
amazing, with small nerd tributes like Thor vs. Iron Man or Captain America vs. Loki, and
Hulk vs. …well, pretty much anything. Hawkeye and Black Widow are portrayed as the
'guys without powers who still manage to kick everyone's butt' to such an extent that they
quickly climb to the top of your favorite characters list. Hiddleston is purely, simply, awesomely evil as Loki. His grins and mannerisms give off the perfect impression of knowing
more than he lets on. Jackson returns as a mellowed down but still cool version of Nick
Fury, the director of S.H.I.E.L.D. And the titular Avengers are just spot on in terms of characters. Banner and Stark talk tech, America is the guy out of time, and Thor is still talking
like he's from a Shakespeare play. Pretty sweet.
You don't even need to see the previous films about the individual heroes to love
the movie and its characters, but some points might make a little more sense or illicit a
giggle if you have.
Oh, yeah, and it's got Scarlett Johansson for the guys, and Chris Evans if you're
a girl. So there's that.
The Avengers is such a great movie, you've probably already seen it. If you
haven't, go see it today. The newspaper awards it 5 out of 5 stars.
The 11th Hour is a film for audiences to realize
what we have done to our planet that has harmed it. The
film talks about the actions the human race has done to
our planet that will lead to a planet uninhabitable for life.
The use of images such as pollution, deforestation
and waste products give a negative emotional response to
the viewer, but other images such as the mountaina, waterfalls and animals in their natural habitats give us hope
that this tragedy, talked about in the film, can be avoided
and stopped.
For every negative action we take, there is a penalty that we don't think about. The 11th Hour's use of ethos,
legos and pathos is very effective. People should act to the
problem at hand, before it becomes a bigger problem that
we can't fix.
DVD review
Do something
By Mathias Ian Bautista
Sophomore
Why do we ignore the importance? We live by
blinding ourselves when we can open our eyes and see
the truth. Our earth is being torn apart by our selfish answers. The choices we make will always have an outcome.
The documentary The 11th Hour is trying to tell us
to wake up. We have to stop and look and the things we
are doing and start to make the best choices that we can.
The people who are narrating tell us all the stuff
that we are doing and how it is affecting Earth, our home.
We must awaken from our sleep, open our eyes and do
the right thing.