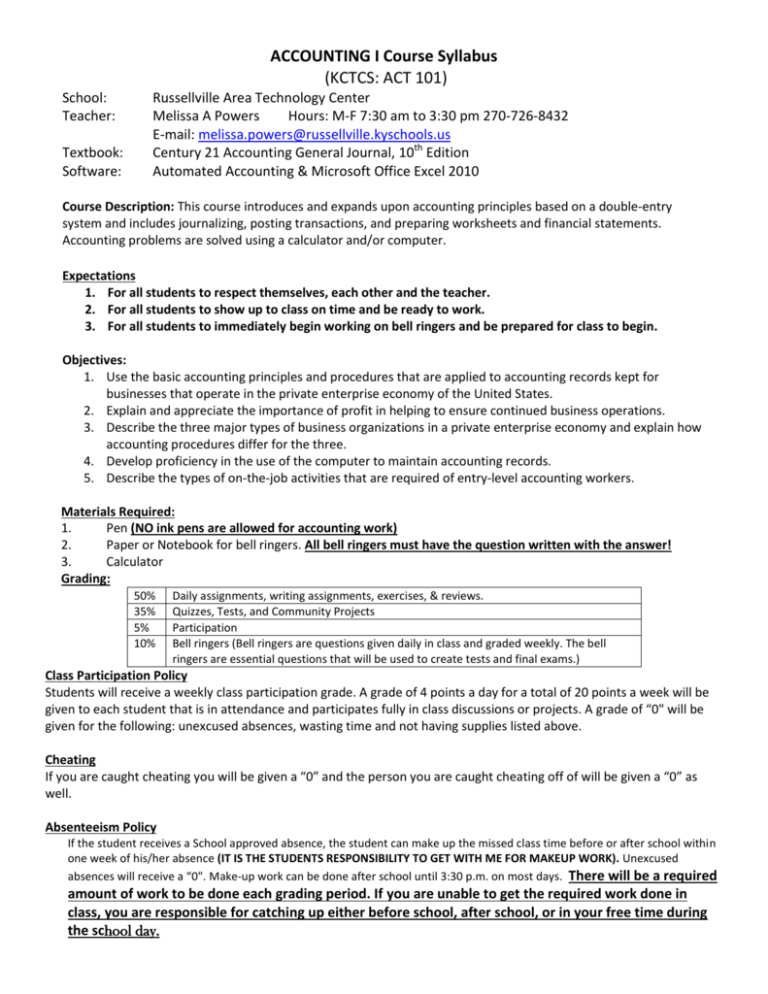 ACCOUNTING I Course Syllabus
(KCTCS: ACT 101)
School:
Teacher:
Textbook:
Software:
Russellville Area Technology Center
Melissa A Powers
Hours: M-F 7:30 am to 3:30 pm 270-726-8432
E-mail: melissa.powers@russellville.kyschools.us
Century 21 Accounting General Journal, 10th Edition
Automated Accounting & Microsoft Office Excel 2010
Course Description: This course introduces and expands upon accounting principles based on a double-entry
system and includes journalizing, posting transactions, and preparing worksheets and financial statements.
Accounting problems are solved using a calculator and/or computer.
Expectations
1. For all students to respect themselves, each other and the teacher.
2. For all students to show up to class on time and be ready to work.
3. For all students to immediately begin working on bell ringers and be prepared for class to begin.
Objectives:
1. Use the basic accounting principles and procedures that are applied to accounting records kept for
businesses that operate in the private enterprise economy of the United States.
2. Explain and appreciate the importance of profit in helping to ensure continued business operations.
3. Describe the three major types of business organizations in a private enterprise economy and explain how
accounting procedures differ for the three.
4. Develop proficiency in the use of the computer to maintain accounting records.
5. Describe the types of on-the-job activities that are required of entry-level accounting workers.
Materials Required:
1.
Pen (NO ink pens are allowed for accounting work)
2.
Paper or Notebook for bell ringers. All bell ringers must have the question written with the answer!
3.
Calculator
Grading:
50%
35%
5%
10%
Daily assignments, writing assignments, exercises, & reviews.
Quizzes, Tests, and Community Projects
Participation
Bell ringers (Bell ringers are questions given daily in class and graded weekly. The bell
ringers are essential questions that will be used to create tests and final exams.)
Class Participation Policy
Students will receive a weekly class participation grade. A grade of 4 points a day for a total of 20 points a week will be
given to each student that is in attendance and participates fully in class discussions or projects. A grade of "0" will be
given for the following: unexcused absences, wasting time and not having supplies listed above.
Cheating
If you are caught cheating you will be given a "0" and the person you are caught cheating off of will be given a "0" as
well.
Absenteeism Policy
If the student receives a School approved absence, the student can make up the missed class time before or after school within
one week of his/her absence (IT IS THE STUDENTS RESPONSIBILITY TO GET WITH ME FOR MAKEUP WORK). Unexcused
absences will receive a "0". Make-up work can be done after school until 3:30 p.m. on most days. There will be a required
amount of work to be done each grading period. If you are unable to get the required work done in
class, you are responsible for catching up either before school, after school, or in your free time during
the school day.