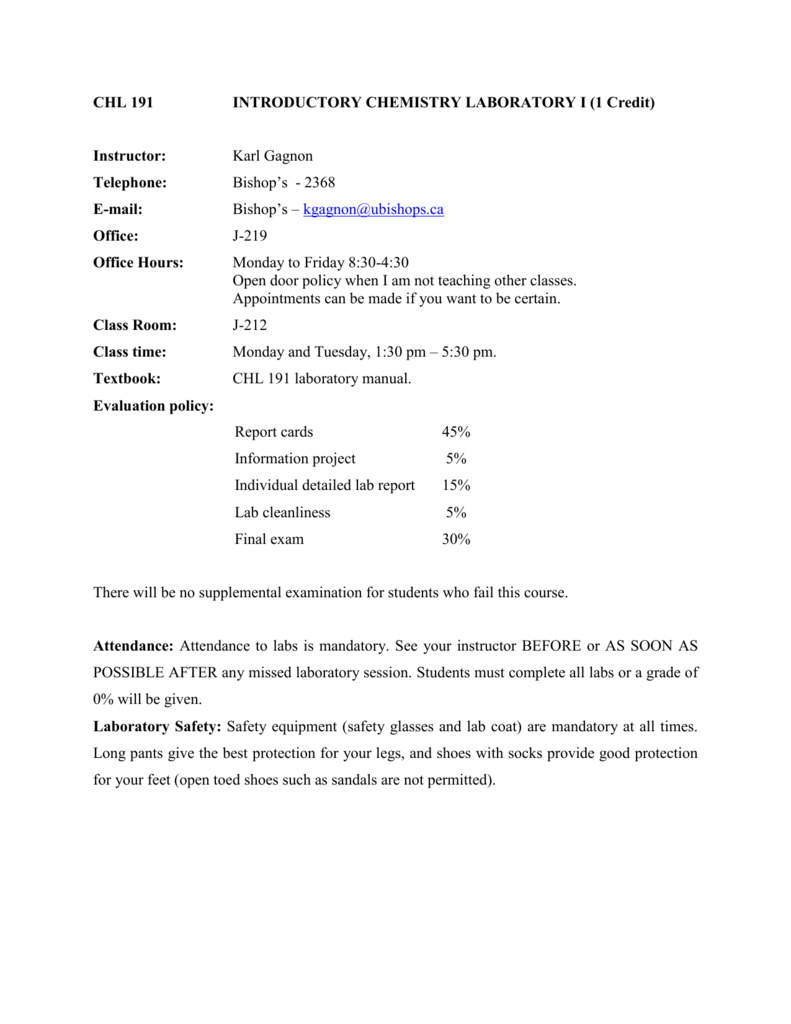 CHL 191
INTRODUCTORY CHEMISTRY LABORATORY I (1 Credit)
Instructor:
Karl Gagnon
Telephone:
Bishop's - 2368
E-mail:
Bishop's – [email protected]
Office:
J-219
Office Hours:
Monday to Friday 8:30-4:30
Open door policy when I am not teaching other classes.
Appointments can be made if you want to be certain.
Class Room:
J-212
Class time:
Monday and Tuesday, 1:30 pm – 5:30 pm.
Textbook:
CHL 191 laboratory manual.
Evaluation policy:
Report cards
45%
Information project
5%
Individual detailed lab report
15%
Lab cleanliness
5%
Final exam
30%
There will be no supplemental examination for students who fail this course.
Attendance: Attendance to labs is mandatory. See your instructor BEFORE or AS SOON AS
POSSIBLE AFTER any missed laboratory session. Students must complete all labs or a grade of
0% will be given.
Laboratory Safety: Safety equipment (safety glasses and lab coat) are mandatory at all times.
Long pants give the best protection for your legs, and shoes with socks provide good protection
for your feet (open toed shoes such as sandals are not permitted).
CHL 191 Introductory Chemistry Laboratory I
Laboratory Schedule (Fall 2014)
Week of
Experiment
September 8
Introduction and Safety
Information Project
September 15
Balances and Volumetric Apparatus
September 22
Nomenclature Exercises and Periodic Table
Quiz
September 29
Chemical reactions and stoichiometry
(synthesis of zinc iodide)
October 6
Molecular Models Lab
October 13
Tutorial for CHM 191
(October 14 only)
October 20
Titration of Vinegar
October 27
Permanganate Lab
November 3
Synthesis of Alum
November 10
Calorimetry (Heat of reaction and Hess's
Law)
November 17
Lab Exam
November 24
Tutorial for CHM 191 final exam
(November 25 only)
Balances: It is good to use the same analytical balance throughout the term for all measurements.
Laboratory Manual: This can be purchased at the bookstore. The cost covers the manual and the
report cards. DO NOT FORGET YOUR MANUAL when you come to the laboratory session.
Pieces of paper other than the lab manual and report cards will not be allowed in the laboratory.
Report Cards: Will be provided to you during the laboratory session. Results, observations, and
answers to questions must be submitted on the proper report card. One report card per
experiment per student must be submitted. Report cards are due before 4:30 pm on the day
following the laboratory session. Marks on late report cards will be reduced by 20% per day late.
Course description: The CHL 191 course is an experimental course in which the students will
learn various techniques used in chemistry, applying their knowledge of chemical concepts and
phenomena as described in the CHM 191 course.
General Objective: The general objective of the laboratory course is to initiate students in basic
laboratory techniques and to inform them of the safe manipulation of chemical equipment and
reagents and the correct disposal of chemical reagents and wastes. Students will be able to
improve their observation, measurement and correlation skills.
Specific Objectives: At the end of this laboratory course, the student should have:
-
-
Developed sound safety habits in the laboratory.
Managed first-level chemical wastes in a laboratory.
Applied the common laboratory techniques used in general chemistry. These involved
accurate measurements of masses, temperatures, and liquid volumes, the dilution of
solutions, titration, filtration techniques, and gas volume measurement.
Carried out simple analysis and inorganic synthesis.
Written a formal laboratory report in accordance with standard format.
Properly presented the experimental results in the laboratory report.
Clearly described and discussed the observations and measurements.
Carried out the typical calculations related to an experiment.
Applied and understood the rules that determine the number of significant figures in
experimental readings and results.
Studied simple chemical phenomena in relationship with the theory of the CHM 191
course.
The precision and accuracy of the results of each experiment reported on the cards will be
evaluated. It is an objective of this course to learn how to present a laboratory report. Therefore,
ONE formal laboratory report, based on an experiment of the student's choice and in a suitable
format, must be submitted by the end of the semester (no later than 4:00 pm on November 26,
2014. This report must be done individually and include the sections outlined in the laboratory
manual.
Success in the laboratory depends on preparation and understanding of the experiment before the
laboratory period. At the beginning of each lab session, there will be a short quiz to assess the
level of student preparation.
Laboratory Final Examination (November 17 and 18, 2014):
-
2 hour written examination.
Topics described or discussed in the experiments (safety, procedures, techniques, and
calculations) will be tested in the final examination.
Neither the lab manual nor the report cards will be allowed during the exam.
There will be no supplemental final examination.
Missing Laboratory Sessions: If you miss any laboratory session, during which a new technique
has been introduced, it will be your responsibility to learn it.
Plagiarism: Any offence will be reported to the dean and an automatic grade of 0 on the
assignment will be given. Further offences will be dealt with appropriately according to
university policy.