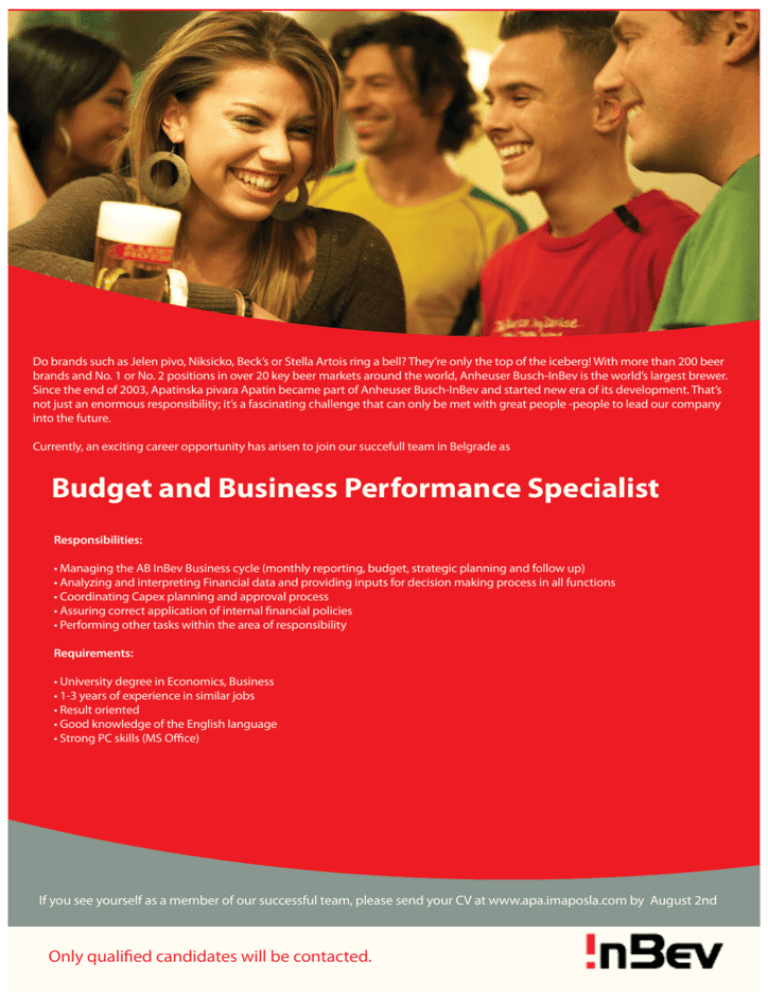 Do brands such as Jelen pivo, Niksicko, Beck's or Stella Artois ring a bell? They're only the top of the iceberg! With more than 200 beer
brands and No. 1 or No. 2 positions in over 20 key beer markets around the world, Anheuser Busch-InBev is the world's largest brewer.
Since the end of 2003, Apatinska pivara Apatin became part of Anheuser Busch-InBev and started new era of its development. That's
not just an enormous responsibility; it's a fascinating challenge that can only be met with great people -people to lead our company
into the future.
Currently, an exciting career opportunity has arisen to join our succefull team in Belgrade as
Budget and Business Performance Specialist
Responsibilities:
• Managing the AB InBev Business cycle (monthly reporting, budget, strategic planning and follow up)
• Analyzing and interpreting Financial data and providing inputs for decision making process in all functions
• Coordinating Capex planning and approval process
• Assuring correct application of internal financial policies
• Performing other tasks within the area of responsibility
Requirements:
• University degree in Economics, Business
• 1-3 years of experience in similar jobs
• Result oriented
• Good knowledge of the English language
• Strong PC skills (MS Office)
If you see yourself as a member of our successful team, please send your CV at www.apa.imaposla.com by August 2nd
Only qualified candidates will be contacted.