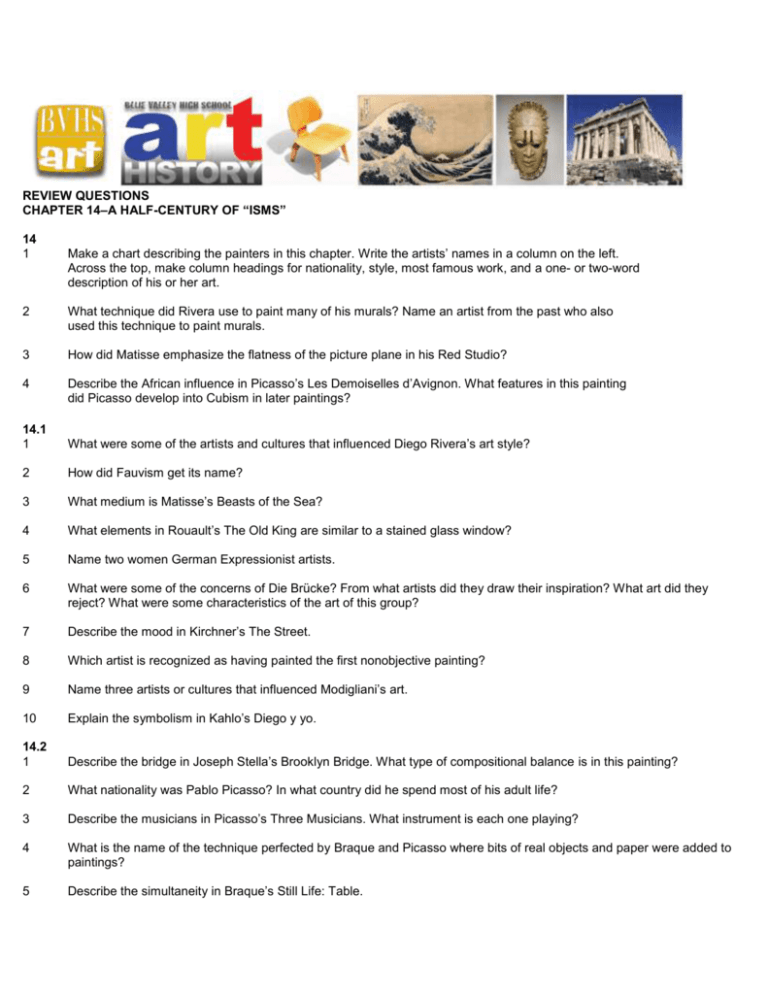 REVIEW QUESTIONS
CHAPTER 14–A HALF-CENTURY OF "ISMS"
14
1
Make a chart describing the painters in this chapter. Write the artists' names in a column on the left.
Across the top, make column headings for nationality, style, most famous work, and a one- or two-word
description of his or her art.
2
What technique did Rivera use to paint many of his murals? Name an artist from the past who also
used this technique to paint murals.
3
How did Matisse emphasize the flatness of the picture plane in his Red Studio?
4
Describe the African influence in Picasso's Les Demoiselles d'Avignon. What features in this painting
did Picasso develop into Cubism in later paintings?
14.1
1
What were some of the artists and cultures that influenced Diego Rivera's art style?
2
How did Fauvism get its name?
3
What medium is Matisse's Beasts of the Sea?
4
What elements in Rouault's The Old King are similar to a stained glass window?
5
Name two women German Expressionist artists.
6
What were some of the concerns of Die Brücke? From what artists did they draw their inspiration? What art did they
reject? What were some characteristics of the art of this group?
7
Describe the mood in Kirchner's The Street.
8
Which artist is recognized as having painted the first nonobjective painting?
9
Name three artists or cultures that influenced Modigliani's art.
10
Explain the symbolism in Kahlo's Diego y yo.
14.2
1
Describe the bridge in Joseph Stella's Brooklyn Bridge. What type of compositional balance is in this painting?
2
What nationality was Pablo Picasso? In what country did he spend most of his adult life?
3
Describe the musicians in Picasso's Three Musicians. What instrument is each one playing?
4
What is the name of the technique perfected by Braque and Picasso where bits of real objects and paper were added to
paintings?
5
Describe the simultaneity in Braque's Still Life: Table.
6
Explain why the 1913 New York Armory Show was important.
7
What is the main subject of Duchamp's Nude Descending a Staircase?
14.3
1
What was Brancusi trying to show in his sculpture?
2
What is the subject of Brancusi's Bird in Space?
3
Which historical art influenced Maillol's sculptures of female figures?
4
What did Giacometti's figure sculpture, such as Man Pointing, come to symbolize?
5
Name four early twentieth-century sculptors and an example of each one's work.
14.4
1
Define Surrealism. List five surrealistic artists.
2
What nationality was Marc Chagall? Describe the subject of I and the Village.
3
In de Chirico's The Mystery and Melancholy of a Street, how does he create a feeling of impending doom, loneliness and
despair?
4
What was Dada?
5
Describe the women in Miró's Women at Sunrise.
6
What unrelated objects does Magritte combine in Time Transfixed, and Oppenheim combine in Object?
14.5
1
What type of photographer was Henri Cartier-Bresson?
2
Describe the contrasts in Stieglitz's The Steerage.
3
Where did Ansel Adams take many of his most famous photographs?
4
Describe the emotions in Dorothea Lange's Migrant Mother, Nipomo Valley. How did this photograph affect a change in
peoples lives?