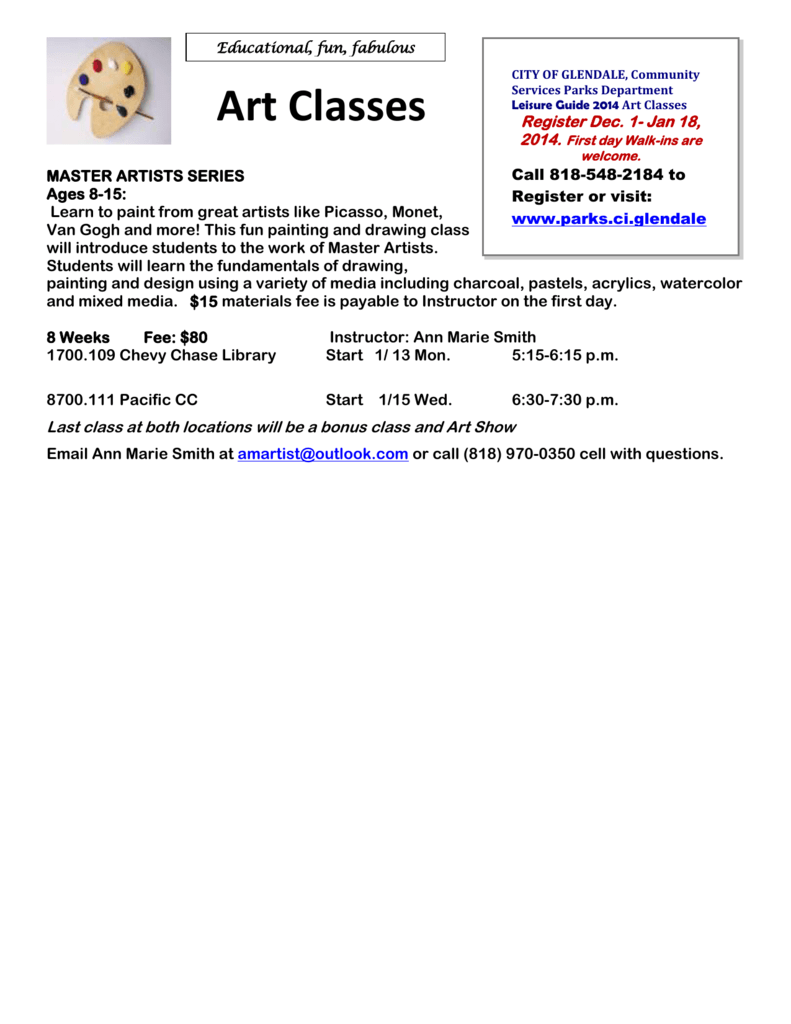 Educational, fun, fabulous
Art Classes
CITY OF GLENDALE, Community
Services Parks Department
Leisure Guide 2014 Art Classes
Register Dec. 1- Jan 18,
2014. First day Walk-ins are
welcome.
Call 818-548-2184 to
Register or visit:
www.parks.ci.glendale
.ca.us
MASTER ARTISTS SERIES
Ages 8-15:
Learn to paint from great artists like Picasso, Monet,
Van Gogh and more! This fun painting and drawing class
will introduce students to the work of Master Artists.
Students will learn the fundamentals of drawing,
painting and design using a variety of media including charcoal, pastels, acrylics, watercolor
and mixed media. $15 materials fee is payable to Instructor on the first day.
8 Weeks
Fee: $80
1700.109 Chevy Chase Library
Instructor: Ann Marie Smith
Start 1/ 13 Mon.
5:15-6:15 p.m.
8700.111 Pacific CC
Start
1/15 Wed.
6:30-7:30 p.m.
Last class at both locations will be a bonus class and Art Show
Email Ann Marie Smith at [email protected] or call (818) 970-0350 cell with questions.