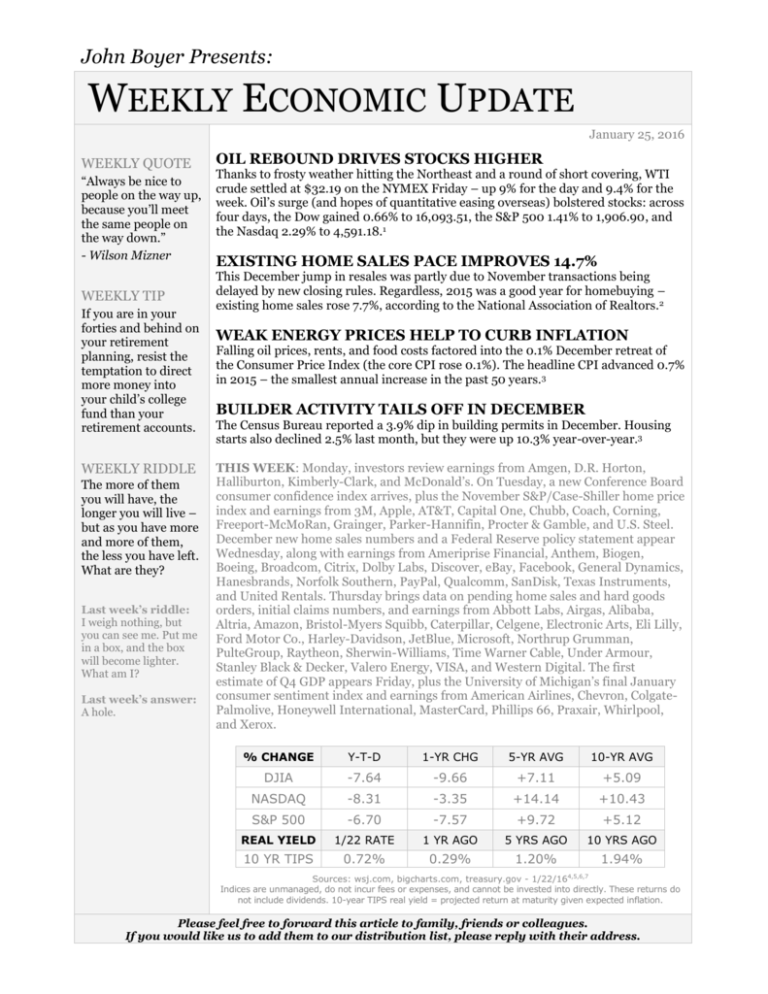 John Boyer Presents:
WEEKLY ECONOMIC UPDATE
January 25, 2016
WEEKLY QUOTE
"Always be nice to
people on the way up,
because you'll meet
the same people on
the way down."
- Wilson Mizner
WEEKLY TIP
If you are in your
forties and behind on
your retirement
planning, resist the
temptation to direct
more money into
your child's college
fund than your
retirement accounts.
WEEKLY RIDDLE
The more of them
you will have, the
longer you will live –
but as you have more
and more of them,
the less you have left.
What are they?
Last week's riddle:
I weigh nothing, but
you can see me. Put me
in a box, and the box
will become lighter.
What am I?
Last week's answer:
A hole.
OIL REBOUND DRIVES STOCKS HIGHER
Thanks to frosty weather hitting the Northeast and a round of short covering, WTI
crude settled at $32.19 on the NYMEX Friday – up 9% for the day and 9.4% for the
week. Oil's surge (and hopes of quantitative easing overseas) bolstered stocks: across
four days, the Dow gained 0.66% to 16,093.51, the S&P 500 1.41% to 1,906.90, and
the Nasdaq 2.29% to 4,591.18.1
EXISTING HOME SALES PACE IMPROVES 14.7%
This December jump in resales was partly due to November transactions being
delayed by new closing rules. Regardless, 2015 was a good year for homebuying –
existing home sales rose 7.7%, according to the National Association of Realtors.2
WEAK ENERGY PRICES HELP TO CURB INFLATION
Falling oil prices, rents, and food costs factored into the 0.1% December retreat of
the Consumer Price Index (the core CPI rose 0.1%). The headline CPI advanced 0.7%
in 2015 – the smallest annual increase in the past 50 years.3
BUILDER ACTIVITY TAILS OFF IN DECEMBER
The Census Bureau reported a 3.9% dip in building permits in December. Housing
starts also declined 2.5% last month, but they were up 10.3% year-over-year.3
THIS WEEK: Monday, investors review earnings from Amgen, D.R. Horton,
Halliburton, Kimberly-Clark, and McDonald's. On Tuesday, a new Conference Board
consumer confidence index arrives, plus the November S&P/Case-Shiller home price
index and earnings from 3M, Apple, AT&T, Capital One, Chubb, Coach, Corning,
Freeport-McMoRan, Grainger, Parker-Hannifin, Procter & Gamble, and U.S. Steel.
December new home sales numbers and a Federal Reserve policy statement appear
Wednesday, along with earnings from Ameriprise Financial, Anthem, Biogen,
Boeing, Broadcom, Citrix, Dolby Labs, Discover, eBay, Facebook, General Dynamics,
Hanesbrands, Norfolk Southern, PayPal, Qualcomm, SanDisk, Texas Instruments,
and United Rentals. Thursday brings data on pending home sales and hard goods
orders, initial claims numbers, and earnings from Abbott Labs, Airgas, Alibaba,
Altria, Amazon, Bristol-Myers Squibb, Caterpillar, Celgene, Electronic Arts, Eli Lilly,
Ford Motor Co., Harley-Davidson, JetBlue, Microsoft, Northrup Grumman,
PulteGroup, Raytheon, Sherwin-Williams, Time Warner Cable, Under Armour,
Stanley Black & Decker, Valero Energy, VISA, and Western Digital. The first
estimate of Q4 GDP appears Friday, plus the University of Michigan's final January
consumer sentiment index and earnings from American Airlines, Chevron, ColgatePalmolive, Honeywell International, MasterCard, Phillips 66, Praxair, Whirlpool,
and Xerox.
% CHANGE
Y-T-D
1-YR CHG
5-YR AVG
10-YR AVG
DJIA
-7.64
-9.66
+7.11
+5.09
NASDAQ
-8.31
-3.35
+14.14
+10.43
S&P 500
-6.70
-7.57
+9.72
+5.12
REAL YIELD
1/22 RATE
1 YR AGO
5 YRS AGO
10 YRS AGO
10 YR TIPS
0.72%
0.29%
1.20%
1.94%
Sources: wsj.com, bigcharts.com, treasury.gov - 1/22/164,5,6,7
Indices are unmanaged, do not incur fees or expenses, and cannot be invested into directly. These returns do
not include dividends. 10-year TIPS real yield = projected return at maturity given expected inflation.
Please feel free to forward this article to family, friends or colleagues.
If you would like us to add them to our distribution list, please reply with their address.
We will contact them first and request their permission to add them to our list.