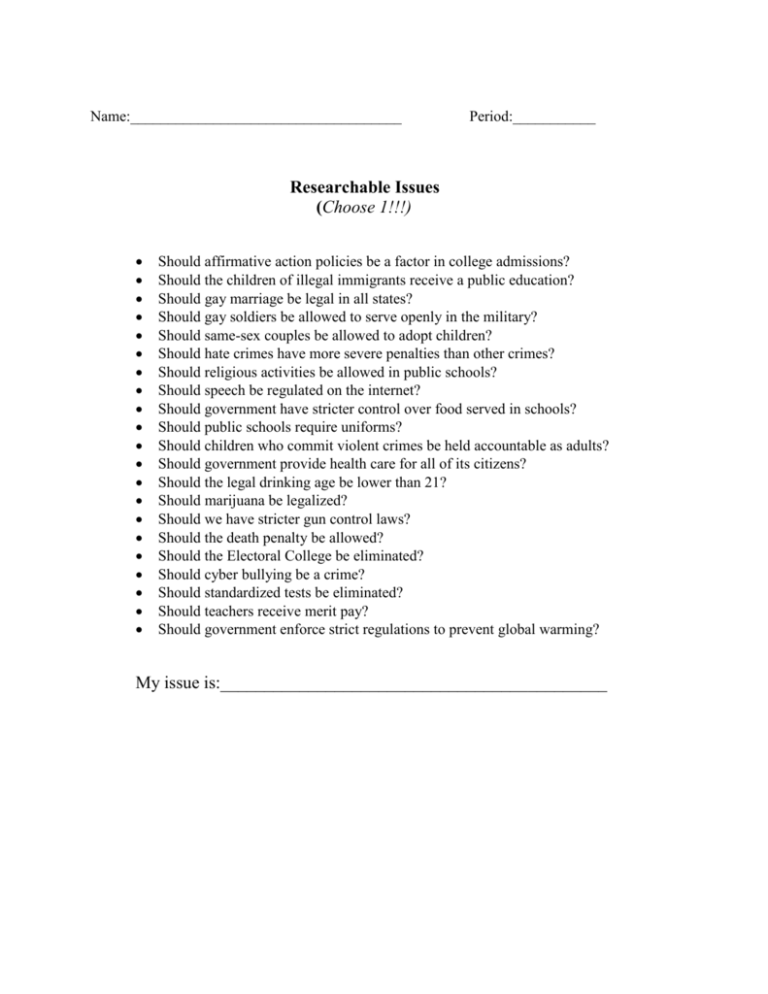 Name:____________________________________
Period:___________
Researchable Issues
(Choose 1!!!)





















Should affirmative action policies be a factor in college admissions?
Should the children of illegal immigrants receive a public education?
Should gay marriage be legal in all states?
Should gay soldiers be allowed to serve openly in the military?
Should same-sex couples be allowed to adopt children?
Should hate crimes have more severe penalties than other crimes?
Should religious activities be allowed in public schools?
Should speech be regulated on the internet?
Should government have stricter control over food served in schools?
Should public schools require uniforms?
Should children who commit violent crimes be held accountable as adults?
Should government provide health care for all of its citizens?
Should the legal drinking age be lower than 21?
Should marijuana be legalized?
Should we have stricter gun control laws?
Should the death penalty be allowed?
Should the Electoral College be eliminated?
Should cyber bullying be a crime?
Should standardized tests be eliminated?
Should teachers receive merit pay?
Should government enforce strict regulations to prevent global warming?
My issue is:____________________________________________
Research Paper Brainstorming:
Questions I have about my topic:
1.
2.
3.
4.
5.
6.
7.
8.
9.
10.