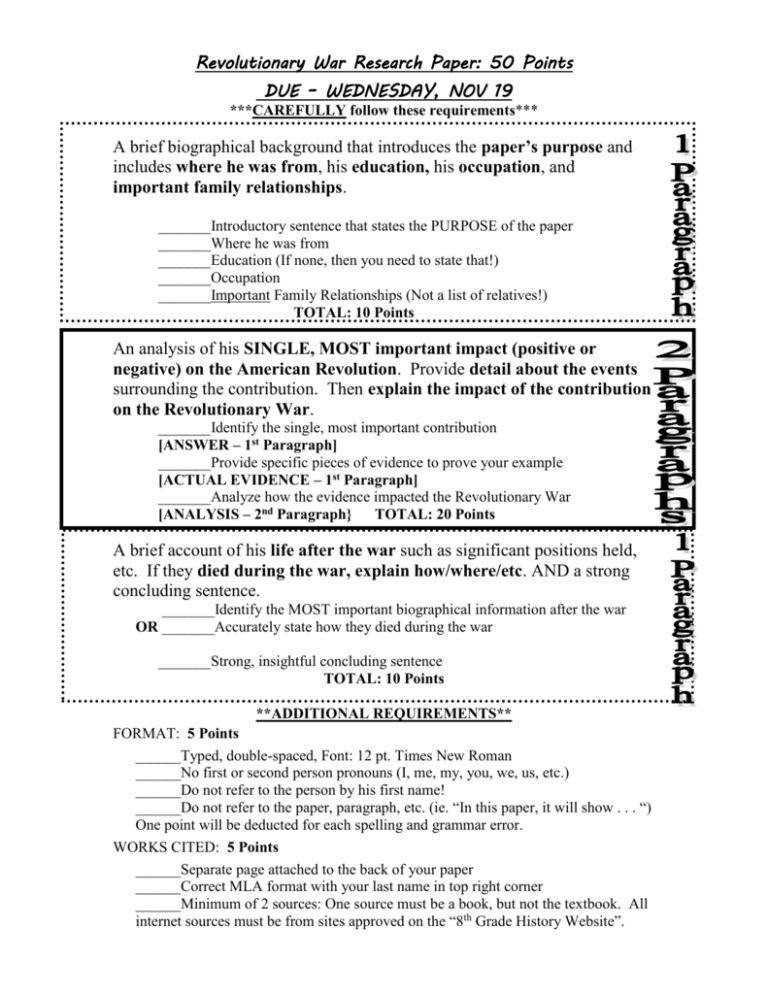 Revolutionary War Research Paper: 50 Points
DUE – WEDNESDAY, NOV 19
***CAREFULLY follow these requirements***
A brief biographical background that introduces the paper's purpose and
includes where he was from, his education, his occupation, and
important family relationships.
_______Introductory sentence that states the PURPOSE of the paper
_______Where he was from
_______Education (If none, then you need to state that!)
_______Occupation
_______Important Family Relationships (Not a list of relatives!)
TOTAL: 10 Points
An analysis of his SINGLE, MOST important impact (positive or
negative) on the American Revolution. Provide detail about the events
surrounding the contribution. Then explain the impact of the contribution
on the Revolutionary War.
_______Identify the single, most important contribution
[ANSWER – 1st Paragraph]
_______Provide specific pieces of evidence to prove your example
[ACTUAL EVIDENCE – 1st Paragraph]
_______Analyze how the evidence impacted the Revolutionary War
[ANALYSIS – 2nd Paragraph} TOTAL: 20 Points
A brief account of his life after the war such as significant positions held,
etc. If they died during the war, explain how/where/etc. AND a strong
concluding sentence.
_______Identify the MOST important biographical information after the war
OR _______Accurately state how they died during the war
_______Strong, insightful concluding sentence
TOTAL: 10 Points
**ADDITIONAL REQUIREMENTS**
FORMAT: 5 Points
______Typed, double-spaced, Font: 12 pt. Times New Roman
______No first or second person pronouns (I, me, my, you, we, us, etc.)
______Do not refer to the person by his first name!
______Do not refer to the paper, paragraph, etc. (ie. "In this paper, it will show . . . ")
One point will be deducted for each spelling and grammar error.
WORKS CITED: 5 Points
______Separate page attached to the back of your paper
______Correct MLA format with your last name in top right corner
______Minimum of 2 sources: One source must be a book, but not the textbook. All
internet sources must be from sites approved on the "8th Grade History Website".
**No paper will be accepted without a Works Cited page.