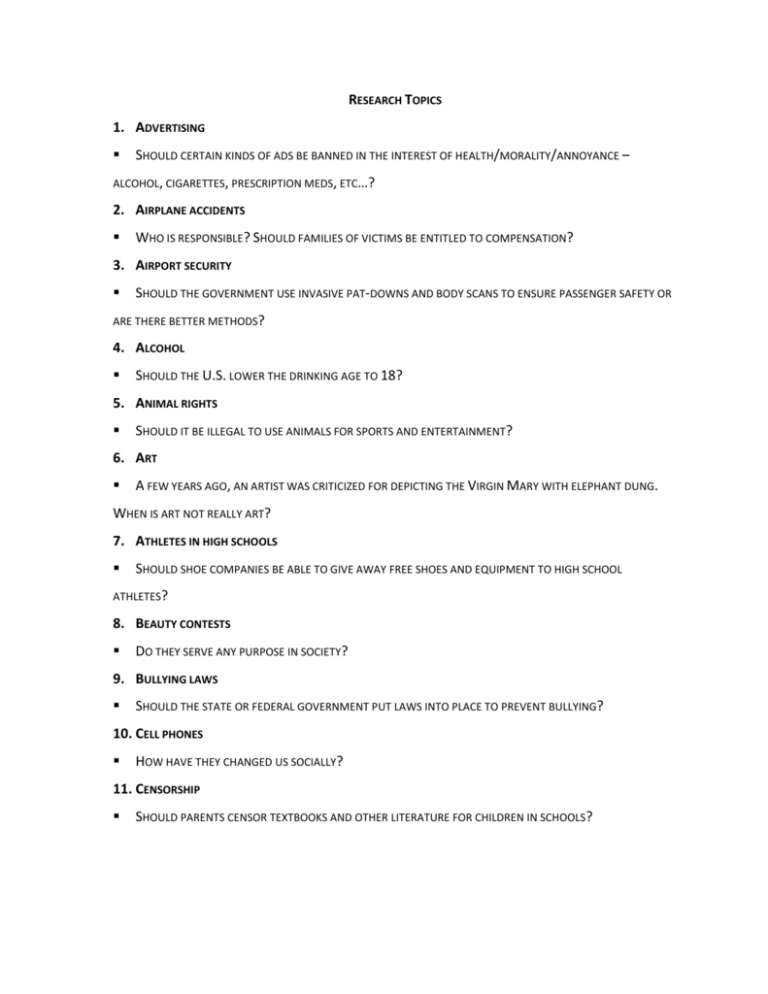 RESEARCH TOPICS
1. ADVERTISING

SHOULD CERTAIN KINDS OF ADS BE BANNED IN THE INTEREST OF HEALTH/MORALITY/ANNOYANCE –
ALCOHOL, CIGARETTES, PRESCRIPTION MEDS, ETC…?
2. AIRPLANE ACCIDENTS

WHO IS RESPONSIBLE? SHOULD FAMILIES OF VICTIMS BE ENTITLED TO COMPENSATION?
3. AIRPORT SECURITY

SHOULD THE GOVERNMENT USE INVASIVE PAT-DOWNS AND BODY SCANS TO ENSURE PASSENGER SAFETY OR
ARE THERE BETTER METHODS?
4. ALCOHOL

SHOULD THE U.S. LOWER THE DRINKING AGE TO 18?
5. ANIMAL RIGHTS

SHOULD IT BE ILLEGAL TO USE ANIMALS FOR SPORTS AND ENTERTAINMENT?
6. ART

A FEW YEARS AGO, AN ARTIST WAS CRITICIZED FOR DEPICTING THE VIRGIN MARY WITH ELEPHANT DUNG.
WHEN IS ART NOT REALLY ART?
7. ATHLETES IN HIGH SCHOOLS

SHOULD SHOE COMPANIES BE ABLE TO GIVE AWAY FREE SHOES AND EQUIPMENT TO HIGH SCHOOL
ATHLETES?
8. BEAUTY CONTESTS

DO THEY SERVE ANY PURPOSE IN SOCIETY?
9. BULLYING LAWS

SHOULD THE STATE OR FEDERAL GOVERNMENT PUT LAWS INTO PLACE TO PREVENT BULLYING?
10. CELL PHONES

HOW HAVE THEY CHANGED US SOCIALLY?
11. CENSORSHIP

SHOULD PARENTS CENSOR TEXTBOOKS AND OTHER LITERATURE FOR CHILDREN IN SCHOOLS?
12. CHEAP LABOR

U.S. COMPANIES THAT MOVE FACTORIES TO UNDEVELOPED NATIONS BARELY PAY EMPLOYEES ENOUGH TO
LIVE ON. IS IT UNETHICAL TO PAY CHEAP WAGES OR ARE COMPANIES DOING THOSE WORKERS A FAVOR?
13. CIVIL DISOBEDIENCE

IS BREAKING THE LAW FOR A CAUSE JUSTIFIABLE?
14. CLIMATE CHANGE

IS GLOBAL WARMING A HOAX? IS IT BEING EXAGGERATED?
15. COLLEGE ATHLETICS

SHOULD COLLEGE ATHLETES BE PAID?
16. DIVORCE

SHOULD WE REFORM LAWS TO MAKE IT HARDER TO GET A DIVORCE?
17. ELECTRONIC INFORMATION PRESERVATION

DOES THE INFORMATION AGE MEAN WE ARE LOSING IMPORTANT HISTORICAL INFORMATION?
18. EXAMS

EXAMS OFTEN DO LITTLE MORE THAN MEASURE A PERSON'S ABILITY TO TAKE EXAMS. SHOULD EXAMS BE
OUTLAWED IN FAVOR OF ANOTHER FORM OF ASSESSMENT?
19. FAST FOOD

ARE WE TAKING IT TOO FAR BY BLAMING FAST FOOD RESTAURANTS FOR OBESITY? WHEN IS IT INDIVIDUAL
RESPONSIBILITY AND WHEN IS IT APPROPRIATE TO PLACE BLAME?
20. FELONS AND VOTING

SHOULD CONVICTED FELONS HAVE THE RIGHT TO VOTE?
21. FEMINISM

IS FEMINISM STILL RELEVANT? HOW DO YOUNG WOMEN VIEW FEMINISM?
22. FITNESS PROGRAMS

SHOULD COMPANIES ALLOW EMPLOYEES TO EXERCISE ON WORK TIME?
23. FLAG

SHOULD CHILDREN BE REQUIRED TO SAY THE PLEDGE OF ALLEGIANCE IN SCHOOLS?
24. GAP YEAR

SHOULD TEENS IN THE U.S. ADOPT THE BRITISH CUSTOM OF TAKING A "GAP YEAR" BETWEEN HIGH SCHOOL
AND COLLEGE?
25. GAY MARRIAGE

SHOULD THERE BE A CONSTITUTIONAL AMENDMENT THAT ALLOWS GAYS AND LESBIANS TO LEGALLY MARRY?
26. GRADES

IN SOME EUROPEAN SCHOOLS, FEWER THAN 10% OF STUDENTS GET AS. IS THERE GRADE INFLATION IN THE
U.S.? WHY SO MANY AS FOR AMERICANS?
27. INFIDELITY

IN SOME STATES, IT IS ILLEGAL TO CHEAT ON A SPOUSE. SHOULD WE PROSECUTE CHEATERS? IS A LAW THAT'S
NOT ENFORCED REALLY A LAW?
28. IMMIGRATION

SHOULD ILLEGAL IMMIGRANTS BE MADE LEGAL CITIZENS?
29. INTERNET AND CHILDREN

ARE CHILDREN SMARTER (OR MORE SOCIALIZED) BECAUSE OF THE INTERNET?
30. INTERNET REGULATION:

SHOULD THE FEDERAL GOVERNMENT BE ALLOWED TO REGULATE INFORMATION ON THE INTERNET?
31. WAR VETS

ARE THEY BEING CHEATED ON MEDICAL BENEFITS?
32. JOURNALISM

SHOULD NEWSPAPER REPORTERS BE REQUIRED TO REVEAL THEIR SOURCES?
33. JUVENILE OFFENDERS

SHOULD JUVENILE OFFENDERS BE TRIED AND PUNISHED AS ADULTS?
34. KYOTO PROTOCOL

SHOULD THE U.S. JOIN KYOTO TO CURB GREENHOUSE GASES?
35. LEAD POISONING

SHOULD THE U.S. STOP IMPORTING CHINESE-MANUFACTURED TOYS?
36. LITERACY

ARE AMERICANS "LITERATE?"
37. MALPRACTICE

HOW CAN WE BALANCE THE NEED TO LOWER THE COST OF MALPRACTICE INSURANCE WITH THE FACT THAT
PHYSICIAN MALPRACTICE IS ONE OF THE LEADING CAUSES OF DEATH?
38. MEDIA

DOES THE MEDIA, BOTH PRINT AND BROADCAST, REPORT FAIRLY? DOES IT EVER CROSS THE LINE BETWEEN
REPORTING THE NEWS AND CREATING THE NEWS?
39. MILITARY

SHOULD THE U.S. HAVE MANDATORY MILITARY CONSCRIPTIONS? FOR WHOM?
40. MODELS

SHOULD THERE BE A MINIMUM WEIGHT LIMIT?
41. MOMS

SHOULD STAY-AT-HOME MOMS GET A SALARY FROM THE GOVERNMENT?
42. NO CHILD LEFT BEHIND ACT

IS IT WORKING?
43. OBESITY AND WEIGHT LOSS

SHOULD THIN PEOPLE HAVE TO PAY MEDICARE AND OTHER HEALTH COSTS FOR THE HEALTH PROBLEMS OF
OBESE PEOPLE? SHOULD OBESE PEOPLE HAVE HIGHER PREMIUMS?
44. OIL COMPANIES

DO OIL COMPANIES MAKE BIG BUCKS WHILE THE REST OF US PAY OVER $3 A GALLON?
45. ORGAN SALE

SHOULD WE LEGALIZE THE SALE OF HUMAN ORGANS?
46. OVERPOPULATION

WHAT WOULD HAPPEN GLOBALLY IF THE DEMAND FOR NATURAL RESOURCES IS GREATER THAN THE SUPPLY?
47. PAPARAZZI

WHAT, IF ANY, LIMITATIONS SHOULD BE APPLIED TO THE PAPARAZZI?
48. PARENTS

SHOULD PARENTS BE HELD RESPONSIBLE WHEN THEIR CHILDREN BREAK LAWS?
49. PRIVACY

SHOULD THE GOVERNMENT BE ALLOWED TO WIRE TAP WITHOUT PERMISSION?
50. PRIVACY

WHAT MEDICAL INFORMATION SHOULD BE CONFIDENTIAL? WHO, IF ANYBODY, SHOULD HAVE ACCESS TO
MEDICAL RECORDS?
51. PUBLIC FIGURES

DOES THE PUBLIC HAVE A RIGHT TO KNOW ABOUT A PUBLIC FIGURE'S PRIVATE LIFE?
52. RACIAL BIAS IN MEDIA

DOES NEWS COVERAGE FAVOR WHITES?
53. RELIGION

IS THERE ONE TRUE RELIGION?
54. SCHOOL LUNCHES

SHOULD GOVERNMENT IMPOSE RESTRICTIONS ON WHAT KINDS OF FOODS CAN BE SERVED IN SCHOOL
CAFETERIAS?
55. SCHOOL UNIFORMS

PROS AND CONS OF SCHOOL UNIFORMS.
56. SEX OFFENDERS

ONCE THEY LEAVE PRISON, ARE LAWS ABOUT WHERE THEY MAY LIVE AND BE EMPLOYED UNFAIR?
57. SINGLE SEX SCHOOLS

DO CHILDREN LEARN BETTER IN BOYS-ONLY AND GIRLS-ONLY SCHOOLS?
58. SMOKING BANS

SHOULD THE FEDERAL GOVERNMENT PASS A NATIONWIDE INDOOR SMOKING BAN?
59. SOCIAL ANXIETY

HOW IS IT DIFFERENT FROM SHYNESS? AND, ARE WE A SOCIETY OF ANXIETY?
60. SPORTS PARENTS

WHAT ARE THE EFFECTS ON CHILDREN WHOSE PARENTS PUSH THEM IN SPORTS?
61. TITLE IX

HAS IT HELPED WOMEN'S SPORTS? HAS IT HARMED MEN'S SPORTS?
62. VACCINES

SHOULD PARENTS AVOID VACCINATING THEIR CHILDREN?
63. WAGE GAP

WOMEN STILL EARN ONLY 75 CENTS FOR EVERY $1 A MAN EARNS. EXPLAIN WHY.
64. WAGES

THERE'S A MINIMUM WAGE, BUT SHOULD THERE ALSO BE A MAXIMUM WAGE/SALARY A PERSON CAN EARN?
65. WIND ENERGY

IS WIND ENERGY REALLY THAT CHEAP? IS IT EFFECTIVE? IS IT PRACTICAL?
66. WOMEN IN THE CLERGY

SHOULD WOMEN BE PRIESTS, PASTORS, MINISTERS, AND RABBIS?
67. WORKAHOLICS

DO AMERICANS WORK TOO HARD? DOES WORKING MORE ACTUALLY REDUCE PRODUCTIVITY? IS A 40-
HOUR WORK WEEK TOO MUCH? SHOULD THERE BE A MANDATORY CAP ON THE NUMBER OF HOURS A PERSON
CAN WORK? SHOULD THERE BE CHANGES IN EMPLOYMENT LAWS TO GIVE AMERICANS MORE RELAXATION TIME?
68. WORKING MOTHERS

WHAT DIFFERENCES, IF ANY, ARE THERE IN CHILDREN WHO ARE RAISED BY STAY-AT-HOME MOMS AND
WORKING MOMS? DOES SOCIETY TODAY STILL DISCRIMINATE AGAINST WORKING MOTHERS WHO WISH TO HAVE
FLEXIBLE WORK SCHEDULES?