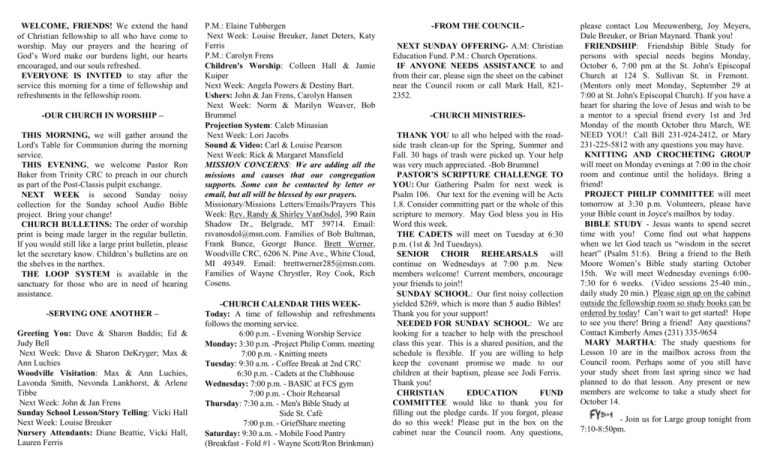 WELCOME, FRIENDS! We extend the hand
of Christian fellowship to all who have come to
worship. May our prayers and the hearing of
God's Word make our burdens light, our hearts
encouraged, and our souls refreshed.
EVERYONE IS INVITED to stay after the
service this morning for a time of fellowship and
refreshments in the fellowship room.
-OUR CHURCH IN WORSHIP –
THIS MORNING, we will gather around the
Lord's Table for Communion during the morning
service.
THIS EVENING, we welcome Pastor Ron
Baker from Trinity CRC to preach in our church
as part of the Post-Classis pulpit exchange.
NEXT WEEK is second Sunday noisy
collection for the Sunday school Audio Bible
project. Bring your change!
CHURCH BULLETINS: The order of worship
print is being made larger in the regular bulletin.
If you would still like a large print bulletin, please
let the secretary know. Children's bulletins are on
the shelves in the narthex.
THE LOOP SYSTEM is available in the
sanctuary for those who are in need of hearing
assistance.
-SERVING ONE ANOTHER –
Greeting You: Dave & Sharon Baddis; Ed &
Judy Bell
Next Week: Dave & Sharon DeKryger; Max &
Ann Luchies
Woodville Visitation: Max & Ann Luchies,
Lavonda Smith, Nevonda Lankhorst, & Arlene
Tibbe
Next Week: John & Jan Frens
Sunday School Lesson/Story Telling: Vicki Hall
Next Week: Louise Breuker
Nursery Attendants: Diane Beattie, Vicki Hall,
Lauren Ferris
P.M.: Elaine Tubbergen
Next Week: Louise Breuker, Janet Deters, Katy
Ferris
P.M.: Carolyn Frens
Children's Worship: Colleen Hall & Jamie
Kuiper
Next Week: Angela Powers & Destiny Bart.
Ushers: John & Jan Frens, Carolyn Hansen
Next Week: Norm & Marilyn Weaver, Bob
Brummel
Projection System: Caleb Minasian
Next Week: Lori Jacobs
Sound & Video: Carl & Louise Pearson
Next Week: Rick & Margaret Mansfield
MISSION CONCERNS: We are adding all the
missions and causes that our congregation
supports. Some can be contacted by letter or
email, but all will be blessed by our prayers.
Missionary/Missions Letters/Emails/Prayers This
Week: Rev. Randy & Shirley VanOsdol, 390 Rain
Shadow Dr., Belgrade, MT 59714. Email:
rsvanosdol@msn.com. Families of Bob Bultman,
Frank Bunce, George Bunce. Brett Werner,
Woodville CRC, 6206 N. Pine Ave., White Cloud,
MI 49349. Email: brettwerner285@msn.com.
Families of Wayne Chrystler, Roy Cook, Rich
Cosens.
-CHURCH CALENDAR THIS WEEKToday: A time of fellowship and refreshments
follows the morning service.
6:00 p.m. - Evening Worship Service
Monday: 3:30 p.m. -Project Philip Comm. meeting
7:00 p.m. - Knitting meets
Tuesday: 9:30 a.m. - Coffee Break at 2nd CRC
6:30 p.m. - Cadets at the Clubhouse
Wednesday: 7:00 p.m. - BASIC at FCS gym
7:00 p.m. - Choir Rehearsal
Thursday: 7:30 a.m. - Men's Bible Study at
Side St. Café
7:00 p.m. - GriefShare meeting
Saturday: 9:30 a.m. - Mobile Food Pantry
(Breakfast - Fold #1 - Wayne Scott/Ron Brinkman)
-FROM THE COUNCILNEXT SUNDAY OFFERING- A.M: Christian
Education Fund. P.M.: Church Operations.
IF ANYONE NEEDS ASSISTANCE to and
from their car, please sign the sheet on the cabinet
near the Council room or call Mark Hall, 8212352.
-CHURCH MINISTRIESTHANK YOU to all who helped with the roadside trash clean-up for the Spring, Summer and
Fall. 30 bags of trash were picked up. Your help
was very much appreciated. -Bob Brummel
PASTOR'S SCRIPTURE CHALLENGE TO
YOU: Our Gathering Psalm for next week is
Psalm 106. Our text for the evening will be Acts
1.8. Consider committing part or the whole of this
scripture to memory. May God bless you in His
Word this week.
THE CADETS will meet on Tuesday at 6:30
p.m. (1st & 3rd Tuesdays).
SENIOR CHOIR REHEARSALS will
continue on Wednesdays at 7:00 p.m. New
members welcome! Current members, encourage
your friends to join!!
SUNDAY SCHOOL: Our first noisy collection
yielded $269, which is more than 5 audio Bibles!
Thank you for your support!
NEEDED FOR SUNDAY SCHOOL: We are
looking for a teacher to help with the preschool
class this year. This is a shared position, and the
schedule is flexible. If you are willing to help
keep the covenant promise we made to our
children at their baptism, please see Jodi Ferris.
Thank you!
CHRISTIAN
EDUCATION
FUND
COMMITTEE would like to thank you for
filling out the pledge cards. If you forgot, please
do so this week! Please put in the box on the
cabinet near the Council room. Any questions,
please contact Lou Meeuwenberg, Joy Meyers,
Dale Breuker, or Brian Maynard. Thank you!
FRIENDSHIP: Friendship Bible Study for
persons with special needs begins Monday,
October 6, 7:00 pm at the St. John's Episcopal
Church at 124 S. Sullivan St. in Fremont.
(Mentors only meet Monday, September 29 at
7:00 at St. John's Episcopal Church). If you have a
heart for sharing the love of Jesus and wish to be
a mentor to a special friend every 1st and 3rd
Monday of the month October thru March, WE
NEED YOU! Call Bill 231-924-2412, or Mary
231-225-5812 with any questions you may have.
KNITTING AND CROCHETING GROUP
will meet on Monday evenings at 7:00 in the choir
room and continue until the holidays. Bring a
friend!
PROJECT PHILIP COMMITTEE will meet
tomorrow at 3:30 p.m. Volunteers, please have
your Bible count in Joyce's mailbox by today.
BIBLE STUDY - Jesus wants to spend secret
time with you! Come find out what happens
when we let God teach us "wisdom in the secret
heart" (Psalm 51:6). Bring a friend to the Beth
Moore Women's Bible study starting October
15th. We will meet Wednesday evenings 6:007:30 for 6 weeks. (Video sessions 25-40 min.,
daily study 20 min.) Please sign up on the cabinet
outside the fellowship room so study books can be
ordered by today! Can't wait to get started! Hope
to see you there! Bring a friend! Any questions?
Contact Kimberly Ames (231) 335-9654
MARY MARTHA: The study questions for
Lesson 10 are in the mailbox across from the
Council room. Perhaps some of you still have
your study sheet from last spring since we had
planned to do that lesson. Any present or new
members are welcome to take a study sheet for
October 14.
- Join us for Large group tonight from
7:10-8:50pm.
Cans for Toys – service project on Saturday
October 18. Meet for pizza at 5:30 before we head
out to collect cans to support "One Day with
God" Camp.
Young Life - All grades 9-12 are welcome to
join us for Club. We meet at the Fremont Rec.
Authority at 7:56pm. Use the main entrance, go to
the second floor, and follow the music.
GRIEFSHARE - Another GriefShare session
has begun. An important aspect of this is our
snack and fellowship time together. Many of you
have helped us out in the past with snacks. IF
anyone is willing to help us out again, please sign
your name on the sheet on the cabinet near the
Council room by a date that works best of you.
We are SO appreciative! We only wish you could
hear all the wonderful comments from the
participants yourselves. Thank-you in advance
for your willingness to help out!
SONG SERVICE LEADERS - We need
leaders beginning in November. There is a sign-up
sheet on the hallway cabinet for people that would
like to lead. Song Service is usually the 2nd & 4th
Sunday evenings of the month.
THE FREMONT CROP WALK to fight local
and global hunger is THIS SUNDAY at 1:30
p.m. Colleen Hall, Katie Ferris, and Lauren Ferris
are our representatives. Please support them with
your gifts and pledges. Thanks!
THE FREMONT SERVICE COMMITTEE
Our Car Ministry "Out of Gas" fundraiser has
received $2,000 toward our goal of $10,000. Our
need to raise this amount is even greater this year
due to funding cuts from the FACF, not only to
our ministry, but to the agencies we partner with
as well. We have established many positive
relationships in the community which also include
non-profits, churches, and mechanics, all with a
goal of assisting low-income residents in getting
to work. Our ministry is well-known by Newaygo
County service providers who rely on us to assist
their client populations. Please consider a
contribution to this ministry as we strive to
improve the quality of life for families in need.
Luke 12:48; "... To whom much has been given,
from him much will be asked." Please put your
envelopes in the offering bag.
"Karin Kids Education Project… In the last
month, 30 children came to daily meetings, taught
by Pamela. The material we used was provided by
Samaritans Purse, and comes with the
Christmas boxes as well. After learning about
Jesus and his love and salvation, all 30 of the kids
decided to follow Jesus. Please pray that they will
remain rooted in him."
It's great to hear of this concrete example of how
God has used Samaritan Purse and the Operation
Christmas Child shoebox gifts in a ministry in
Uganda that our church supports! Boxes and other
information will be available in October.
Collection week this year is Nov. 17-24.
MOBILE FOOD PANTRY - Our next Mobile
Food Pantry will be on Saturday, October 11, at
9:30 a.m. Please come to the church by 9:00 a.m.
if you would like to help with this ministry.
THE BIBLE LEAGUE VOLUNTEERS effort
of collecting NEW and USED books, DVD's,
CD's, cassettes and VHS's is an ongoing project.
A collection box is located under the coat rack
near the Council room or speak with Maxine
Luchies or Mary Folkema for more information.
Thank you for your donations.
FROM OUR CHURCH LIBRARY: Prayers
are needed. Pray that the books purchased are
pleasing to God and a blessing to those who read
them. Pray for the committee, as many hours are
spent choosing, buying, and cataloging them for
an "easy-reading" experience. Some new books of
interest to some readers are as follows: 1. The
Four Blood Moons by John Hagee. 2. Killing
Jesus by Bill O'Reilly (strictly historical). 3.
David and Goliath by Malcolm Gladwell. 4. The
Mystery of the Shemitaha: The Mystery that Holds
the 3,000 Year Old Secrets of America's Future
by Jonathan Cahn (author of The Harbinger). 5. 2
books of The Orphan Trains by Al & Joanne
Lacy. 6. Angels Walking by Karen Kingsbury. 7. 2
books of the Civil War Heroines series. 8. And, of
course, more Amish series. Thanks for your
prayers! -The Committee
www.calvin.edu/symposium/
information.
for
complete
-REQUESTED ANNOUNCEMENTSFOREVER ONE - Invest in a weekend
TWOgether and recommit yourselves to being
ONE in your marriage. Don't miss this
unforgettable weekend experience for you and
your spouse on the shores of Lake Michigan. On
October 24-26, 2014, a Reformed Marriage
Encounter weekend will be held in Holland,
Michigan.
To
register,
go
to:
www.reformedme.org
FLU SHOTS - The Health Department will be
giving Flu Shots at the First Congregational
Church on Wednesday, October 8 from 9-11 a.m.
THE
CHRISTIAN
REFORMED
CONFERENCE GROUNDS - We have a great
opportunity for Fall Camping at the Christian
Reformed Conference Grounds! Please join us
October 22-26 for our Family Fall Harvest
Festival! We have a lot of fun activities planned;
pumpkin carving, hayrides, family dodgeball,
Gagaball, Fall Palooza, community meal times,
and more! The store, grill, craft barn, and activity
center will also be open. Check out all of the
details at www.crcg.org and give us a call @ 616842-2092 to make your camping reservations!
CALVIN SYMPOSIUM ON WORSHIP You are invited to attend the annual Calvin
Symposium on Worship, January 29-31, 2015, at
Calvin College and Calvin Theological Seminary.
This year's worship theme is based on 2
Corinthians. The preachers include M. Craig
Barnes, Tim Blackmon, Denise Kingdom Grier,
Meg Jenista, and Pablo Jimenez. There are
excellent rates for students and groups from
churches. All worship services are free and open
to the public, including the Friday night service
(7:00 p.m. in the Covenant Fine Arts Center). See
Prayer Needs & Praises
* Thank God for Norm Weaver's successful heart
surgery on Tuesday in Ann Arbor.
* Praise God for Amy Wolfsen's successful
cancer surgery on Tuesday in Ann Arbor.
* We are thankful that Carolyn Hansen had
successful hip surgery. Pray for patience and
speedy healing.
* Remember in your prayers those who are
unable to attend our worship services. This week
we remember Wayne Freriks at home and Helen
Deters at the Medical Care Facility.