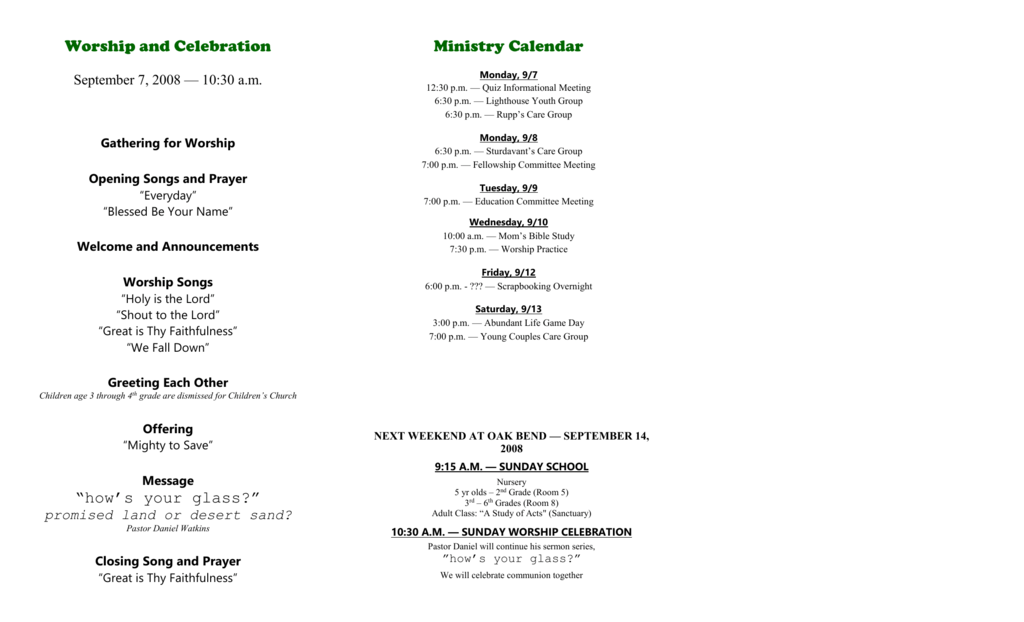 Worship and Celebration
Ministry Calendar
September 7, 2008 — 10:30 a.m.
Monday, 9/7
12:30 p.m. — Quiz Informational Meeting
6:30 p.m. — Lighthouse Youth Group
6:30 p.m. — Rupp's Care Group
Gathering for Worship
Monday, 9/8
6:30 p.m. — Sturdavant's Care Group
7:00 p.m. — Fellowship Committee Meeting
Opening Songs and Prayer
"Everyday"
"Blessed Be Your Name"
Welcome and Announcements
Worship Songs
"Holy is the Lord"
"Shout to the Lord"
"Great is Thy Faithfulness"
"We Fall Down"
Tuesday, 9/9
7:00 p.m. — Education Committee Meeting
Wednesday, 9/10
10:00 a.m. — Mom's Bible Study
7:30 p.m. — Worship Practice
Friday, 9/12
6:00 p.m. - ??? — Scrapbooking Overnight
Saturday, 9/13
3:00 p.m. — Abundant Life Game Day
7:00 p.m. — Young Couples Care Group
Greeting Each Other
Children age 3 through 4th grade are dismissed for Children's Church
Offering
"Mighty to Save"
Message
"how's your glass?"
promised land or desert sand?
Pastor Daniel Watkins
NEXT WEEKEND AT OAK BEND — SEPTEMBER 14,
2008
9:15 A.M. — SUNDAY SCHOOL
Nursery
5 yr olds – 2nd Grade (Room 5)
3rd – 6th Grades (Room 8)
Adult Class: "A Study of Acts" (Sanctuary)
10:30 A.M. — SUNDAY WORSHIP CELEBRATION
Pastor Daniel will continue his sermon series,
Closing Song and Prayer
"Great is Thy Faithfulness"
"how's your glass?"
We will celebrate communion together
Prayer and Praise
RON GRIES asks prayer for his sister, Suzie. Suzie has been diagnosed
with bladder cancer. She lives in Montana and is a Christian. Please pray
wisdom for her doctors and for God's peace and strength for her family.
DOUG DAVIDSON'S dad, Walker, is having open heart surgery on
Wednesday, September 10. Pray for peace for the family and wisdom
and a steady hand for the doctors.
MELINDA ASCHLIMAN asks prayer for her nephew, Ryan Sutton, who
was involved in a roll over car accident in May. He is undergoing
therapy.
Pray for strength, physically and emotionally, and
encouragement. Pray that Ryan's spinal cord would heal and he
would regain full use of his arms & legs.
THE BURTON FAMILY asks for your prayers. The hair Isaac has is
starting to fall out again. Please pray for their family — seeing his hair
falling out again is discouraging.
HEIDI OLSZEWSKI asks prayer for her friend, Christine who has been
diagnosed with a liver disease. Please pray for healing. Also pray for
healing for Heidi's mom who is suffering from skin rashes.
DAVID SANKOVICH asks for continued prayer for his job situation. He
is looking for something in the computer field that would provide
benefits. If you know of any possibilities, please contact him at 1-616915-7995 or [email protected]
Nursery Workers
Today: Jade Frybarger and Nathan Salazar
Next Sunday: Nick and Lexi Haas
Children's Church Workers
Today: Erica Early and Barbie Andrews
Next Sunday: Rick & Beth Burton
Junior Church Worker
Today: Sue Tressel
Next Sunday: Diane Sturdavant
Message Notes
September 7, 2008
"how's your glass?"
promised land or desert sand?
Message Notes
WELCOME TO OAK BEND We come together every weekend to honor
God and grow in our walk with Christ. We hope you sense His presence
and the warmth of our church family as you worship with us today. Let us
know you were here by filling out the communication card in your bulletin.
NEW ADULT SUNDAY SCHOOL CLASS: A new season for Vince Lombardi
could start with "This is a football." For the church, it could start with the
book of Acts. Ever feel like the church's message doesn't fit well in today's
society? The writer Luke could respond, "Been there, done that!" Looking
back at the beginning may provide vision for the present as well as for the
future. Come join the Adult Sunday School class at 9:15 a.m. for "A Study
of Acts." All are welcome; bring a friend!
YOUTH FALL KICK-OFF: Today begins a new Youth Sunday School class at
9:15 a.m. called "I Am Getting To Know God." Tonight, Lighthouse will
resume with a 4 week series on "Identity". Make plans to join us and bring
a friend!
BIBLE QUIZ INFORMATIONAL MEETING will be held TODAY, 12:30 p.m.
in rooms 6 & 7. Bible Quiz is open to all 7th – 12th grade students.
Questions, see or call Diane Sturdavant, 419-874-0219.
MOM'S BIBLE STUDY meets on Wednesdays at 10:00 a.m. This is open to
all moms. We are doing a Beth Moore study, "Stepping Up." Workbook
cost is $13.00. Questions, call Stacia Reynolds at 419-833-9676. Nursery
servants are needed. Call Kathy Watkins at 419-874-1349.
MONDAY EVENING BIBLE STUDY for ladies will begin September 15, 6:30
p.m. We will be doing a study on the book "Captivating", by John & Stasi
Eldredge. To sign up, write Women's Bible Study on the back of your
communication card or talk to Corrine Wheeler.
2008 WALK FOR LIFE, Saturday, September 21 at 9:30 a.m. at Rolf Park in
Maumee. If you would like to walk or make a pledge, see Barbie Andrews
or give her a call at 419-874-6345. Walkers forms are in the lobby.
TUESDAY MORNING CHURCH LADIES Bible Study will hold it's Fall "Kick
Off" coffee/snack on Tuesday, September 23, 9:30 a.m. at Shari Lucyk's
home, 26848 Mingo Drive. All ladies are welcome. Invite a friend.
TAILGATE PARTY & TOLEDO ROCKET FOOTBALL GAME Saturday,
September 27, 4:30 p.m. (game starts at 7:00 p.m.) Tickets are: Adults
$6.00, Youth (18 yrs & under) $2.00. Sign up in the lobby & pay Lillie
TODAY!!!
LAST WEEKEND'S STATS: Worship attendance was 87. Sunday School
was 43. The morning offering totaled $4,019.00.
AUGUST MONTHLY STATS: Average attendance was 99. Average weekly
offering was $3,588.00. To support the budget, we need $4,019.00 weekly.