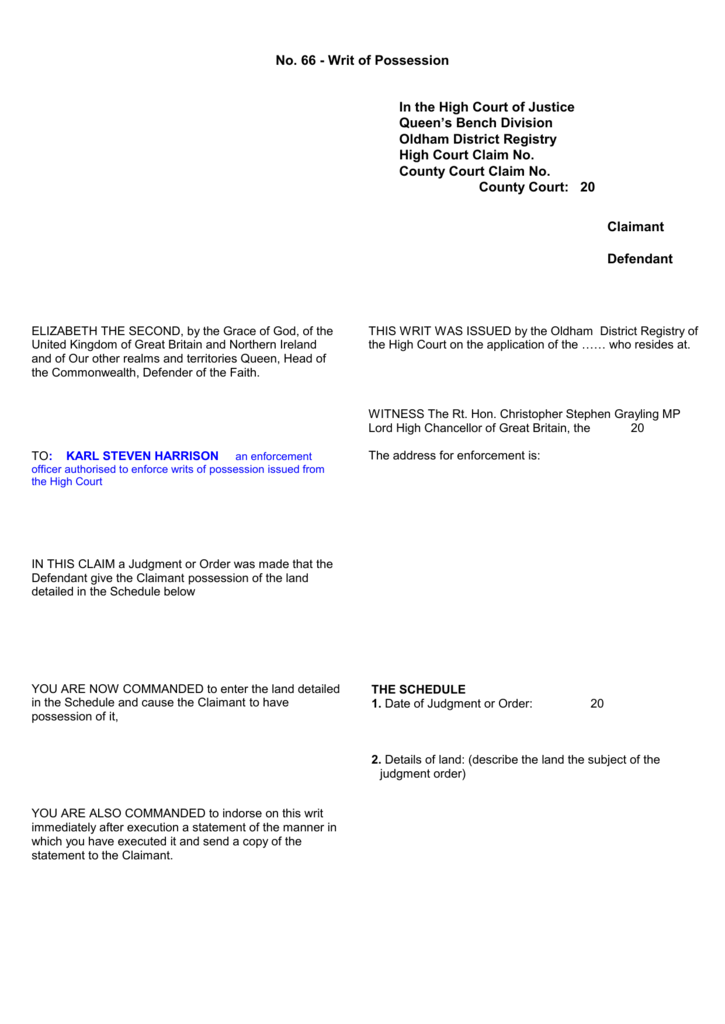 No. 66 - Writ of Possession
In the High Court of Justice
Queen's Bench Division
Oldham District Registry
High Court Claim No.
County Court Claim No.
County Court: 20
Claimant
Defendant
ELIZABETH THE SECOND, by the Grace of God, of the
United Kingdom of Great Britain and Northern Ireland
and of Our other realms and territories Queen, Head of
the Commonwealth, Defender of the Faith.
THIS WRIT WAS ISSUED by the Oldham District Registry of
the High Court on the application of the …… who resides at.
WITNESS The Rt. Hon. Christopher Stephen Grayling MP
Lord High Chancellor of Great Britain, the
20
TO:
KARL STEVEN HARRISON an enforcement
officer authorised to enforce writs of possession issued from
the High Court
The address for enforcement is:
IN THIS CLAIM a Judgment or Order was made that the
Defendant give the Claimant possession of the land
detailed in the Schedule below
YOU ARE NOW COMMANDED to enter the land detailed
in the Schedule and cause the Claimant to have
possession of it,
THE SCHEDULE
1. Date of Judgment or Order:
20
2. Details of land: (describe the land the subject of the
judgment order)
YOU ARE ALSO COMMANDED to indorse on this writ
immediately after execution a statement of the manner in
which you have executed it and send a copy of the
statement to the Claimant.