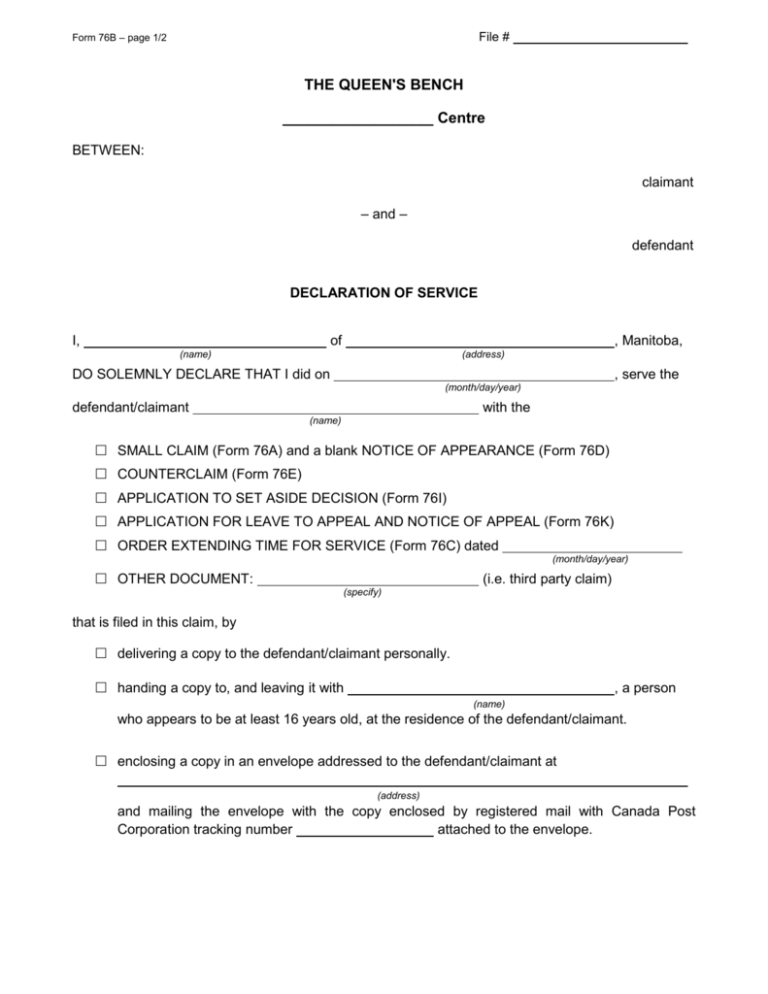 Form 76B – page 1/2
File #
THE QUEEN'S BENCH
__________________ Centre
BETWEEN:
claimant
– and –
defendant
DECLARATION OF SERVICE
I,
of
, Manitoba,
(name)
(address)
DO SOLEMNLY DECLARE THAT I did on
, serve the
(month/day/year)
defendant/claimant
with the
(name)
 SMALL CLAIM (Form 76A) and a blank NOTICE OF APPEARANCE (Form 76D)
 COUNTERCLAIM (Form 76E)
 APPLICATION TO SET ASIDE DECISION (Form 76I)
 APPLICATION FOR LEAVE TO APPEAL AND NOTICE OF APPEAL (Form 76K)
 ORDER EXTENDING TIME FOR SERVICE (Form 76C) dated
(month/day/year)
 OTHER DOCUMENT:
(i.e. third party claim)
(specify)
that is filed in this claim, by
 delivering a copy to the defendant/claimant personally.
 handing a copy to, and leaving it with
, a person
(name)
who appears to be at least 16 years old, at the residence of the defendant/claimant.
 enclosing a copy in an envelope addressed to the defendant/claimant at
(address)
and mailing the envelope with the copy enclosed by registered mail with Canada Post
Corporation tracking number
attached to the envelope.
Form 76B – page 2/2
File #
Attached is confirmation of delivery provided by Canada Post Corporation for tracking
number
showing the envelope was delivered
to
on
.
(name of person served)
(month/day/year)
The tracking number on the confirmation of delivery is identical to the tracking number on the
registered mail receipt received from Canada Post Corporation for the envelope sent to
(address)
AND I make this solemn declaration conscientiously believing it to be true, and knowing that it is of the
same force and effect as if made under oath or affirmation.
Declared before me at
,
(city, town, etc.)
Manitoba, on
.
(month/day/year)
Deputy Registrar for Queen's Bench or
A Commissioner for Oaths in and for the
Province of Manitoba
My commission expires:
Signature
.