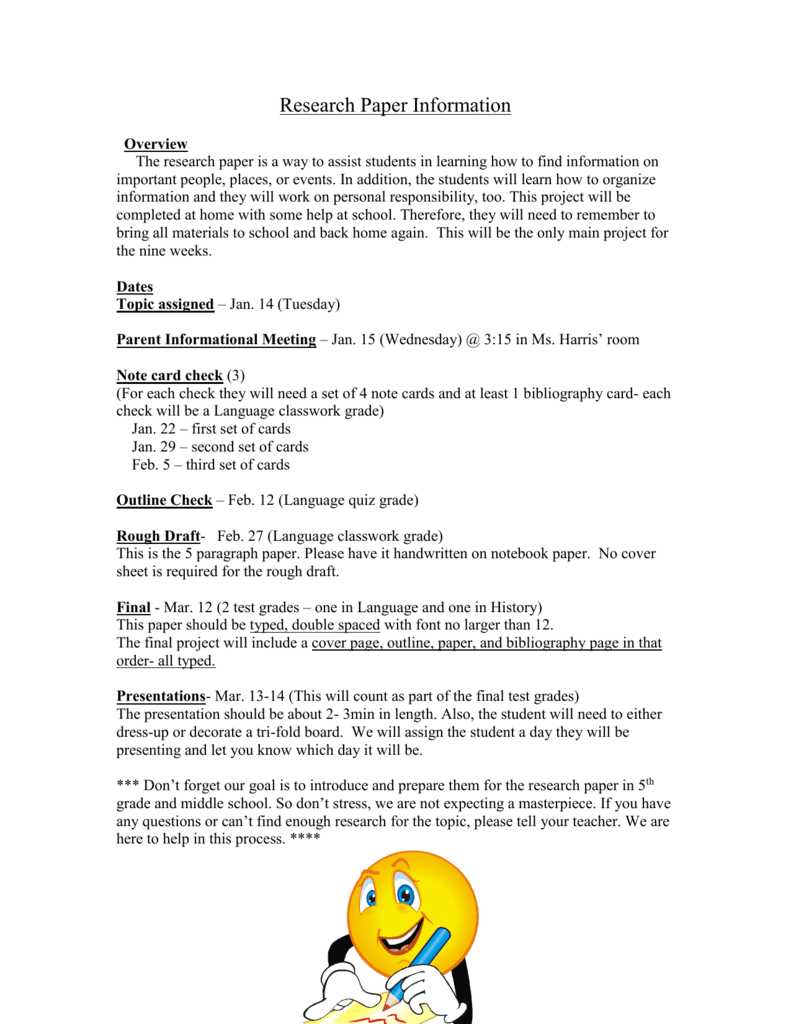 Research Paper Information
Overview
The research paper is a way to assist students in learning how to find information on
important people, places, or events. In addition, the students will learn how to organize
information and they will work on personal responsibility, too. This project will be
completed at home with some help at school. Therefore, they will need to remember to
bring all materials to school and back home again. This will be the only main project for
the nine weeks.
Dates
Topic assigned – Jan. 14 (Tuesday)
Parent Informational Meeting – Jan. 15 (Wednesday) @ 3:15 in Ms. Harris' room
Note card check (3)
(For each check they will need a set of 4 note cards and at least 1 bibliography card- each
check will be a Language classwork grade)
Jan. 22 – first set of cards
Jan. 29 – second set of cards
Feb. 5 – third set of cards
Outline Check – Feb. 12 (Language quiz grade)
Rough Draft- Feb. 27 (Language classwork grade)
This is the 5 paragraph paper. Please have it handwritten on notebook paper. No cover
sheet is required for the rough draft.
Final - Mar. 12 (2 test grades – one in Language and one in History)
This paper should be typed, double spaced with font no larger than 12.
The final project will include a cover page, outline, paper, and bibliography page in that
order- all typed.
Presentations- Mar. 13-14 (This will count as part of the final test grades)
The presentation should be about 2- 3min in length. Also, the student will need to either
dress-up or decorate a tri-fold board. We will assign the student a day they will be
presenting and let you know which day it will be.
*** Don't forget our goal is to introduce and prepare them for the research paper in 5th
grade and middle school. So don't stress, we are not expecting a masterpiece. If you have
any questions or can't find enough research for the topic, please tell your teacher. We are
here to help in this process. ****
Research- Famous Georgians
1. Jimmy Carter
18. Robert Woodruff - Zoey
2. Juliette Gordon Low - Sophie
17. Zell Miller
3. Jackie Robinson - Tim
18. Joel Chandler Harris
4. Martin Luther King - Caden
19. Sydney Lanier - Alyssa
5. Eleanor Roosevelt - Scarlett
20. Crawford Long
6. James Oglethorpe
21. Ivan Allen
7. Hank Aaron - Casey
22. Ralph Abernathy
8. John Pemberton
23. Herman Talmadge
9. Phil Niekro
24. Andrew Young - Jasmine
10. Vince Dooley – Christian M.
25. Asa Candler - Alexis
11. George Whitefield - Bryce
26. Truett Cathy - Chase
12. William T Sherman - Trevor
27. W.E.B. Dubois
13. Margaret Mitchell - Hailey
28. Bobby Dodd - Miles
14. Button Gwinnett
30. Franklin D. Roosevelt
16. Coretta Scott King - Reagan
31. Larry Munson - Andrew
17. Alonzo Herndon
Research Paper Information
Student Name___________________________________
Research Topic__________________________________
* Students will need a research paper folder. The folder should have a place to keep
notecards. This particular type of folder is sometimes hard to find at this time of year, so I
have already purchased several of the folders. (I have enough for the entire class.) If you
would like to send in $3, I will give your child one of those. I have assorted colors and
it's first-come, first-serve for the color choice. You may also be able to find the folder at
Wal-Mart, Staples, or Office Depot. Please try to have the folder by Jan. 21st so we
can begin putting our research information in them. Thanks!
* This folder should be well-cared for and should be brought to school everyday.
* Please feel free to contact your teacher if you have any questions about the research
paper.
Please detach this page and sign below indicating that you have read the
information attached. Please return to your teacher as soon as possible.
Parent signature
______________________________________
Sample Outline
Famous Person's Name
I. Introduction (5 sentence intro. on the person)
A. Early life
B. Career/achievements
C. Impact/importance to Georgia
II. Early life
A. Birth (when/where)
B. Family life (brothers, sisters, etc)
C. Education
III. Career/ Important events
A. Job
B. Marriage -Important events that happen.
C. Is the person still alive? Date of death
IV. Importance or impact on Georgia
A. Achievements/ awards
B. Why is the person famous/ important to Georgia?
V. Conclusion
Example:
Martha Berry
I. Introduction
A. Lived October 7, 1866 – February 27, 1942
B. Founder of Berry College
C. Greatly influenced educational system in Georgia
II. Early life
A. Born October 7, 1866 in Alabama
B. Parents – Frances Margaret Rhea and Thomas Berry
C. Lived with five sisters, two brothers, and three Berry cousins
D. Had governess and tutors
E. Attended Edgeworth School for less than a year
F. No other formal education
III. Career/ Important events
A. Taught neighbor children
B. Established Mount Berry School for Boys and Martha Berry School for Girls
C. Later started Berry Junior College
D. Never married
E. Died February 27, 1942 and buried near Berry College Chapel
IV. Impact on Georgia
A. Awarded honorary doctorates by eight colleges and universities
B. Received honors from Georgia General Assembly, Roosevelt Memorial
Association, Pictorial Review, the Colonial Dames of America, Variety Clubs of
America, American Institute of Social Sciences
C. Appointed to initial Board of Regents of the University System of Georgia
D. Designated by Good Housekeeping as one of America's twelve greatest women
E. Influential in growth of educational system in Georgia
V. Conclusion
A. Educator
B. Honored for contribution to education
C. Motto – "Not to be ministered unto but to minister"
Bibliography
Each student will need at least 3 different sources for their paper – encyclopedia,
online encyclopedia, book, magazine, newspaper. You might not be able to find a book
for certain people or places. If you can only find Internet articles, just let your teacher
know. One more thing, Wikipedia is not a good research site because some information is
opinion and not validated facts. Do not use Wikipedia, Yahoo Answers, or other sites
such as these. You can find many research sites under the ELCA Library page.
Once they have found their sources, students will need to write a bibliography card in
order to give credit to the original writer. There is a page attached with the correct format
for each different source or you can go to www.citationmachine.net.
This site will put the information in the right order for you. Here are some directions
on how to use it.
1. On the left hand panel, click MLA.
2. 2. Choose your source: book, internet article, etc.
3. Then fill in the boxes with all of the information. If you don't fill in every box,
that is okay.
4. Finally, click submit and the site will put your information into the proper format.
5. Write it correctly on your bibliography card and then simply copy and paste into a
Word document for your Bibliography page.